A tattoo is not just a form of art, it's a commitment. Thus, it's necessary for an individual to be aware of what he's making on his body. Such an aware man is the American host, producer, and actor, Carson Daly.
Well known for The Voice (2011), Daly has meaningful lines carved meticulously on his body. Married to Siri Pinter since 2015, Carson is very aware of what he draws in his body. So let's have a look.
Carson Daly's Tattoos
Carson has got eight tattoos, which has sentimental values behind all of them. Moreover, he is the kind of person who prioritizes his family, so everything on his body is about his beloved family.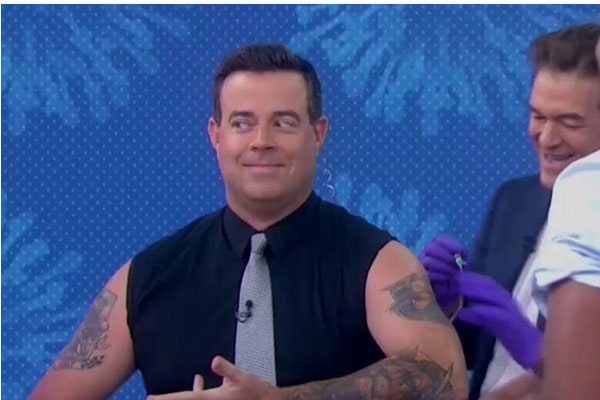 Carson Daly has multiple meaningful tattoos in his body. Image Source: Buzzfeed.
He has a crucifix surrounded by the dual-flag Corvette emblem and his father's initials (JD) on the right forearm. On his right wrist, the tattoo reads 'NYC.' On his lower right leg, the tattoo reads the no. 456, and on his left arm, the United States Army Special Forces motto and logo  'De oppress o liber.' He has also got a tattoo that reads Jaden Patricia and Curly sark (original Pops Whisky). We can also see a crab tattoo on his leg.
Below is more detailed information about Carson Daly's Tattoos.
Tribute To His Son and Remembering 9/11
Carson designed, One-eyed Jack tattoo himself. The tattoo was designed for his son, which has a lot of Jack references. Jack Daly is inked at the bottom of the tattoo while his birth date is written at the top of the card.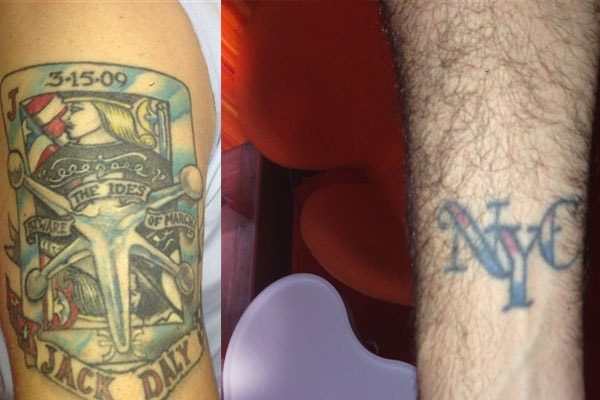 Carson Daly's tattoo reads Jack Daly and NYC. Image Source:- Today
He got this tattoo, NYC, when he was aimlessly roaming around there as a sign of pride/tribute for being a New Yorker. This tattoo also marks as a remembrance of 9/11.
Regarding his Father and Grandfather
JD, aka James Daly, was designed as a tribute to his father, who passed away when he was 5. His father was a Corvette dealer, and the tattoo was designed after a hood ornament of a 1977 Corvette. He carved his father's name on his right inner arm.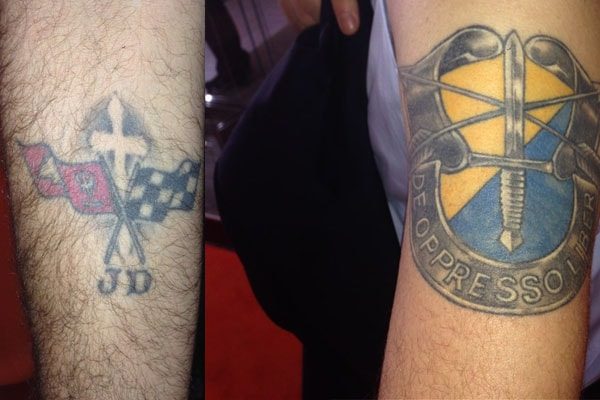 Carson's tattoo reads JD and De OPPRE SSO LIBER. Image Source:- Today
The text "DE OPPRE SSO LIBER" translated into English is' To free the oppressed,' which was designed for his grandfather (Carson's mother's father), who was a green beret in the Army special forces. Carson claims this tattoo as his favorite tattoo.
Honoring his step-father's favorite drink and Niece
Jaden Patricia is Carson's niece, his sister's firstborn. Likewise, Patricia also is his mother's name.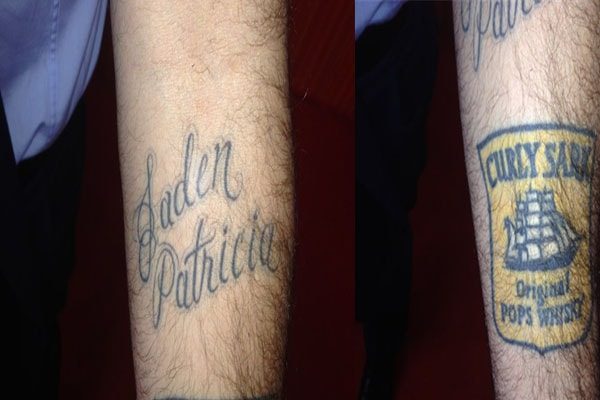 Carson Daly tattoo reads Jaden Patricia and Curly Sark. Image Source:- Today
Similarly, Daly also inked his step father's favorite drink, Curly Sark (original Scotts Whisky, he turned it to POPS Whiskey).  It's a famous old whiskey and changed it from Cutty Sark to Curly Shark as his step dad's nickname is Curly.
Glorifying New York and Crab Claw
Carson also has a logo of a record label which he had in New York City. The tattoo reminds him of the time in New York and his love for music.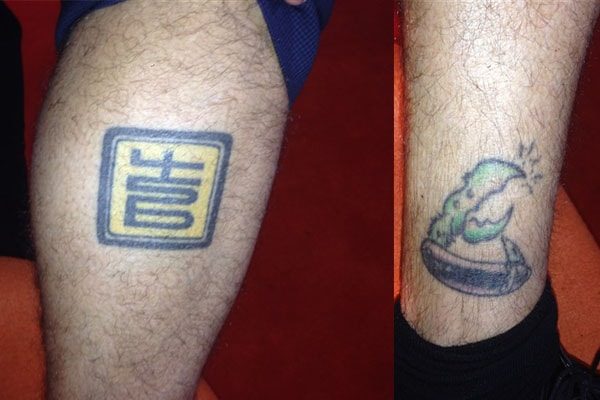 Carson Daly tattooed the logo of his record label and crab on his leg. Image Source: Today.
Well, the Crab was tattooed on his leg on top of the name of an ex-girlfriend. In an interview with Today, he explained that he wanted the name blacked out and allowed the artist to make whatever he wished to. Carson ended up with a crab claw, coming out of the pocket knife.
Tribute To His Daughter
Carson Daly's arms are full of colors and accolades to his family. On his lower arms, he's tattooed two fierce lions with a rose in its mane. This tat symbolizes the strength for his daughters, told Feherty.
View this post on Instagram
He further talks about wanting them to be strong women, so he opted for the symbol of strength. Furthermore, the flower honors his daughter London Rose who is named after Carson's grandmother, Rose.
Similarly, Carson also has a tattoo to honor his older daughter, Etta Jones Daly.  She's a Virgo, so he inked a picture of a woman warrior. He says, "It kinda looks like Wonder Woman, also, here's a Statue of Liberty next to it." Carson is such a sweet father.
Carson Daly is a dedicated man, and the tattoos in his body prove that he is a very thoughtful lad. Hope he continues to add and lets the world know what his priority and values are for.
Follow SuperbHub for more News and Entertainment.