Published Date 03rd Aug. 2018, 15:29 pm
We all know Carson Daly is, a producer and actor, well-known for Last Call (2001), Josie and the Pussycats (2001), and The Voice (2011). What we don't know, is that Carson has quite a few meaningful tattoos on his body.
Carson Daly has been married to Siri Pinter since December 23, 2015. He was born on June 22, 1973, in Santa Monica, California, as Carson Jones Daly.
Carson Daly's Tattoos
Carson has got eight tattoos, which has sentimental values behind all the tattoos. He is a family- first kind of guy, so everything on his body is about his beloved family.
He has a crucifix surrounded by the dual-flag Corvette emblem and his father's initials (JD) on the right forearm. On his right wrist, the tattoo reads 'NYC'. On his lower right leg, the tattoo reads the no. 456, and on his left arm the United States Army Special Forces motto and logo  'De oppress o liber'. He has also got a tattoo which reads Jaden Patricia and Curly sark (original Pops Whisky). We can also see a crab tattoo on his leg.
Carson Daly's meaning behind his tattoos
One-eyed Jack for his son
This tattoo was designed for his son, Jack by himself, which has a lot of Jack references.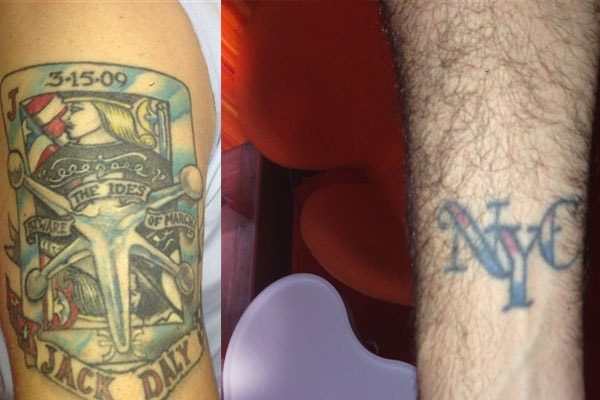 Carson Daly's tattoo reads Jack Daly and NYC. Image Source:- Today
He got this tattoo in New York when he was aimlessly roaming around there as a sign of pride  for being a New Yorker
This tattoo was designed as a tribute to his father. His father JD was a Corvette dealer and the tattoo was designed after a hood ornament of a 1977 Corvette.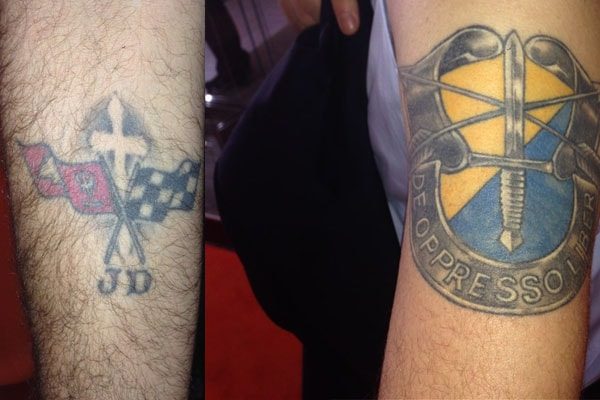 Carson's tattoo reads JD and De OPPRESSO LIBER. Image Source:- today
The text translated into English is' To free the oppressed', which was designed for his grandfather, who was a green beret in the Army special forces.
Jaden Patricia is Carson's niece whereas Patricia is his mother name.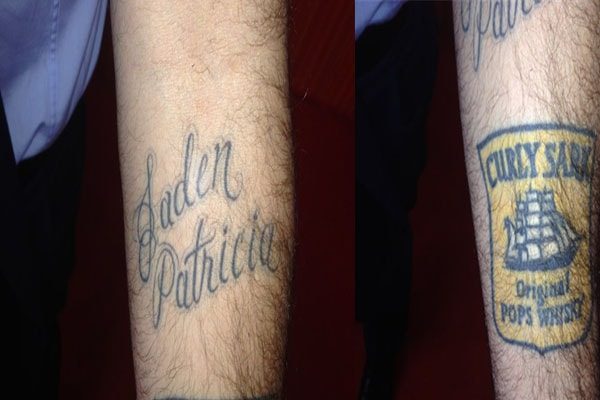 Carson Daly tattoo reads Jaden Patricia and Curly Sark. Image Source:- today
Curly Sark is his step father's favorite drink (original POPS Whisky)
The logo of a record label which he had in New York City reminds him of the time in New York and his love of music.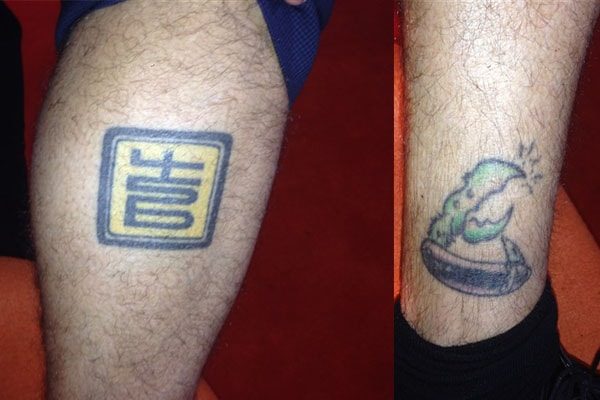 Carson Daly tattooed logo of red label and crab on his leg. Image Source:-today
On top of the name of an ex-girlfriend, the Crab was tattooed on his leg.
Follow SuperbHub for more News and Entertainment.