After a year of fighting differences and stressful marriage, Knicks superstar Carmelo Anthony, 32 and TV star La La Anthony, 37, have now separated their ways from each other as per the reports from TMZ, Daily News and Washington Post. According to the reports, La La has moved out from Anthony's family home and has went to live in her own apartment in New York City.
The fans had started to get the hint of their differences when Anthony has been away and not noticed in his wife's social media accounts for many weeks. Yet, they both were found posting about their love on Valentine's Day.
They had also recently came united at a basketball game for cheering their 10-year- old son Kiyan.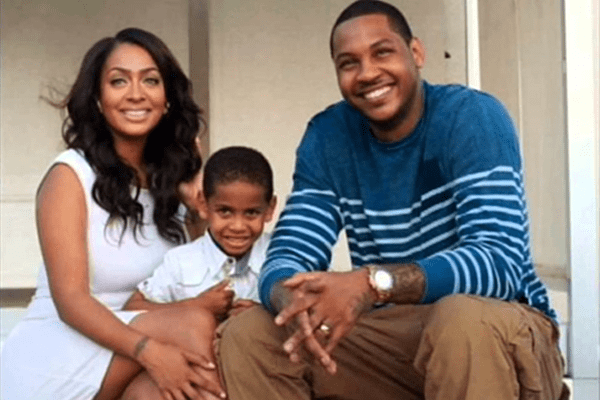 Carmelo Anthony and La la started dating in 2004 and married in 2010, three years after they have given birth to their son Kiyan. The marriage was extravagant and the ceremony was caught on VH1 reality show named as La La's Full Court Wedding. Carmelo Anthony has been playing wonderful basketball games and has been in top with his playing stunts. While La La have been amazing TV personality.
Carmelo Anthony's Top 10 Plays of 2013-2014
The two wedded stars have mostly been in news related to their marriage, rumors, affairs and Carmelo issues related to his public quarrel and criticism to the President of Knicks, Phil Jackson. Jackson has also severely criticized Anthony at the news conference by stating that the whole team has lost and not able to win because he thinks that the direction of the team is with Anthony who " is a player that would be better off somewhere else, and using his talent somewhere he can win or chase that championship." .The Knicks have not been able to win the NBA championship since 1973 and really had high hopes this season but couldn't as they could only maintain a 31-51 record. They have now missed the playoffs for a fourth year in a row.
Phil Jackson on Carmelo Anthony's Future with the Knicks
As per the reports from TMZ, the 12 time all-star of NBA, Carmelo was also rumored to be related with pregnancy of a New York strip club dancer. The rumor further explains that the dancer claims to be pregnant by 6 and a half months baby which belongs to Carmelo Anthony and she expects him to now provide necessary financial support. Though the claim is yet to be proved.
Similarly, Anthony's wife La La was also in rumors to be cheating her husband by having an affair with rapper, Miano. This was reported and rumored by Miano's ex-girlfriend Patrice E who accused La La being involved with her boyfriend in her Instagram posts which are now deleted. However, La La responded to this rumor and shut down all the alleged rumors then.
Their separation and difficulty in relationship shows that they will be having a divorce soon. Only thing we can do is hope for the best for both Carmelo and La La, their career and their son Kiyan.
La La Anthony Reveals How Carmelo Won Her Over