The singer-songwriter Billy Joel is well known as the man behind some of the greatest hits of the 70s and 80s. Some of these hits are still well known today. With his concerts being sold out every month, fans are always dying to know more about the singer and his personal life.
That definitely does not leave out Billy Joel's wife Alexis Roderick. She has been a hot topic among the fans and they want to know more about this lovely duo.
Know More About Billy Joel's Wife, Alexis Roderick
Born in 1982, Alexis is Billy Joel's 4th wife and seems to have captured his heart, unlike the others before her. She graduated from Stony Brook University and has a degree in Political science, Economics, and Latin America. A short time after graduating, Alexis Roderick turned to become a broker for Morgan Stanley Smith Barney Firm and holds over 8 years of experience as a finance professional.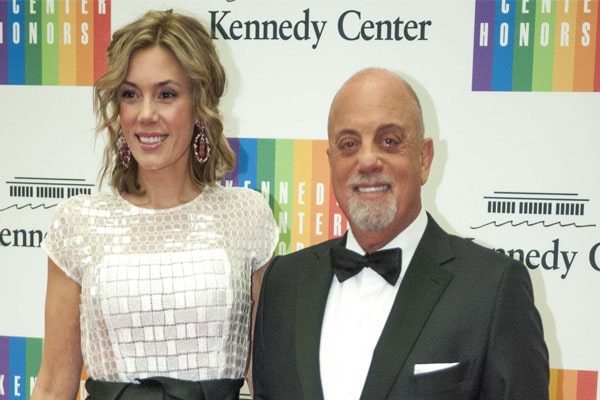 Singer-songwriter's Billy Joel's wife Alexis Roderick is living a great life with her family. image source: AP.
Apart from all these, Billy Joel's wife Alexis Roderick is also a great horse-rider. She enjoys it very much and is so good at it that she has even participated in many horse riding competitions. She owns several horses and sometime in February of 2018 was gifted a ranch by her beloved husband, Billy Joel.
View this post on Instagram
Having met in 2009, it was a huge surprise for the guests when their relationship was announced at Joel's annual 4th of July party. Especially after considering the fact that he was already married thrice. Even after being married to one of the richest musicians, Alexis Roderick has still managed to keep a good amount of her information in the dark.
Happy Couple Since 2015
As mentioned earlier, the guests were shocked to hear about the marriage between the two. Not only because of the great age difference among them but because she was also carrying Billy's child. Billy Joel's wife Alexis Roderick has been living a wonderful life with her family.
Now married for 4 happy years, the lovebirds are still in a strong marital bond as ever. With such a strong start it doesn't seem like it will come to an end.
Proud Parents Of Two
The couple soon became the proud parents to a beautiful baby girl on August 12th, 2015 and named her Della Rosa. On October 22nd, 2017, their second daughter was born. She was named Remy Anne and along with Billy Joel, his then 31-year-old daughter Alexa Ray Joel was with Alexis during the time of Remy's birth.
During the announcement, people were a bit skeptical about whether the marriage would last long or not, but the couple blasted through these doubts with their headstrong relationship. And it doesn't seem like it will come to an end.
For More Updated Information On Celebrity News, Articles, Biography and Entertainment  visit SuperbHub