Chief Meteorologist at ABC, Ginger Zee is now wife of, Ben Aaron and mother of a son, Adrian Benjamin Colonomas. Her husband, Ben Aaron, is a host of show Pickler and Ben at ABC. They look perfect as a couple. People stated that Ben and Ginger exchanged 'I dos' on June 7, 2014, on Saturday.
Ben Aaron and Ginger Zee's Marriage
Ben Aaron and Ginger Zee's marriage ceremony was a beachfront wedding in Ginger's home state of Michigan. Ginger chose the place for her wedding because she went there every summer while she was growing up.
And the best part was that she liked the beautiful weather there.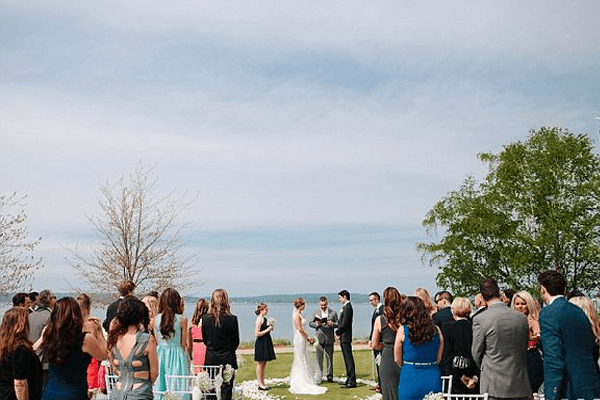 Ben Aaron and Ginger Zee's marriage at Bay Harbour of Michigan.
Image Source- Daily Mail
Moreover, Francesco Bilotto was the wedding planner of their wedding. The couple first had their personal vows ceremony and then another traditional ceremony in front of 55 guests according to Daily Mail.
At the same time, it was a dream wedding for the couple. The bride looked gorgeous in her pretty white Gown, and Groom dashing in his black wedding suit.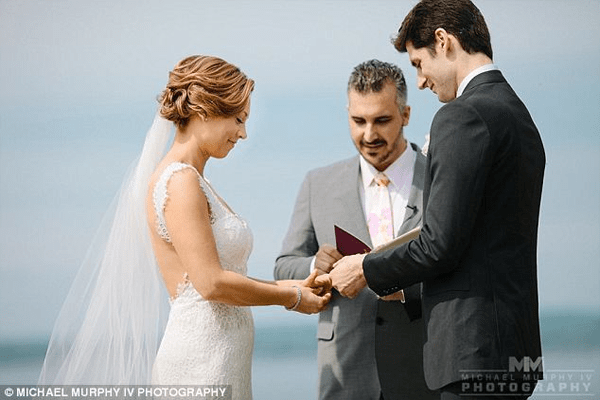 Ginger Zee and Ben Aaron exchanging vows. Ben stated he had been thinking about the vows since he proposed Ginger.
Their First Kiss
In an interview with Racheal Ray, Ben and Ginger shared that they had their first kiss on Lincoln Center Fountain. And Ginger said that it wasn't her best kiss, to be honest as Ben was being careful.
And in his defense, Ben said he was careful because Ginger had asked him to be friends in an email.
Enjoy the video to know the story of their first kiss.

Have a son, Adrian, together: Ginger Zee Pregnant Again
Ginger Zee and husband Ben are already parents of a son Adrian. After a year of their marriage, they were blessed with their son on December 19, 2015, Saturday.  Baby Adrian looks so cute and adorable in the picture.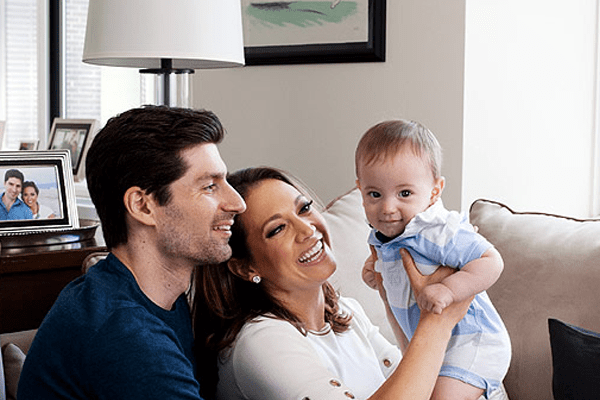 Ginger Zee and Husband Ben Aaron with adorable son Adrian. He was born on December 19, 2015
Image Source: People
And now, Ginger Zee is pregnant again. Yes, Ben and Ginger are ready to welcome a baby boy, in February 2018.
Ginger Zee's husband, Ben Aaron posted a picture of his beautiful pregnant wife, Ginger on Instagram. In the picture, Ginger Zee baby bump is clearly visible. She looks gorgeous in her black overcoat and red outfit.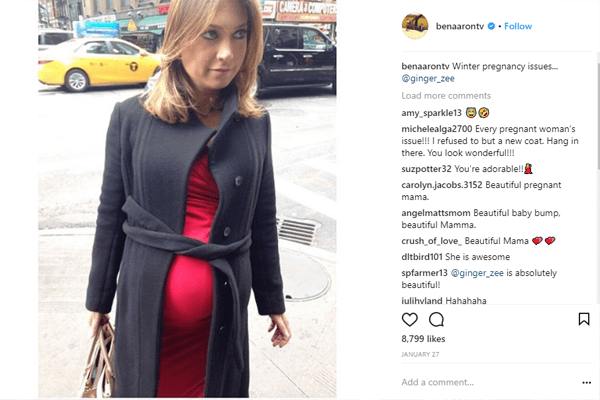 Ginger Zee pregnant and ready to welcome second child, a baby boy
Image Source- Ben's Instagram
The couple also gave the exciting news on Twitter that she and husband Ben are expecting their second child in February. Ginger Zee posted about pregnancy with a picture of son, Adrian. She captioned,
 Adrian already asking to hold his little brothernew baby boy coming February 2018!
Ben Aaron: Awesome Husband and Father
Ben Aaron and Ginger Zee's marriage and relationship look exciting and beautiful even after four years. The duo is all set to raise their sons, and still, share same love and affection.
Ben manages to spend enough time with his family especially his son Adrian.
Who wouldn't love to have a father like him? He is a slightly bigger kid himself. It's so wonderful to see him adding so much fun in these kids' summer camp.
His son is really lucky to have him. So jolly and full of life.
On Ginger Zee's pregnancy days, Ben Aaron is working hard to give his best care for her as a good husband. He's being cautious and making efforts to make the to-be-mother Zee happy.
As per Ginger Zee's Instagram post, Ben has been an awesome father and husband. And she loves him for his gentle caring acts like giving ankle and foot rubs to her.
She captioned;
#MCM @benaarontv is an awesome Dad and has been my rock through this pregnancy. The foot and ankle rubs alone make you my hero Bean. ?

Ginger and Ben's fan has commented "He should take care of his lady. Love his facial expression."
Truly, Ben Aaron is an amazing father and husband.
Quick Facts on Ben Aaron and Ginger Zee's marriage
Ben Aaron and Ginger Zee tied their knot on June 7, 2014, after dating for a short time.
Furthermore, when Adrian was born at 11:05 a.m on Saturday in New York, he weighed 7 pounds and 8 ounces according to abc News.
Ben and Ginger exchanged their vows at Bay Harbour in Michigan.
They are excited and prepared to welcome their second baby boy in February 2018.
Stay with us on SuperbHub for more entertainment news.