Barrett Benjamin Reed is the son of PGA power couple Patrick Reed and Justine Karain. Barrett Benjamin Reed was born on December 6, 2017, at 11:42 am and his father Partick took the happy news on social media to share with his fans.
Barrett is the second child of Patrick and Justine, the couples first child was a daughter named Windsor Wells born on 2014 at 1:42 pm on Memorial Hermann Hospital, Texas. Patrick and Justine were married in 2012 and have a happy family of four.
Barrett Benjamin Reed
Barrett has an older sister Windsor Wells who was born in 2014 and the two are the children of golf power couple Patrick Reed and Justine Karain.  Barrett made his social media debut after his father Patrick a posted picture of him on Twitter on December 8, 2017.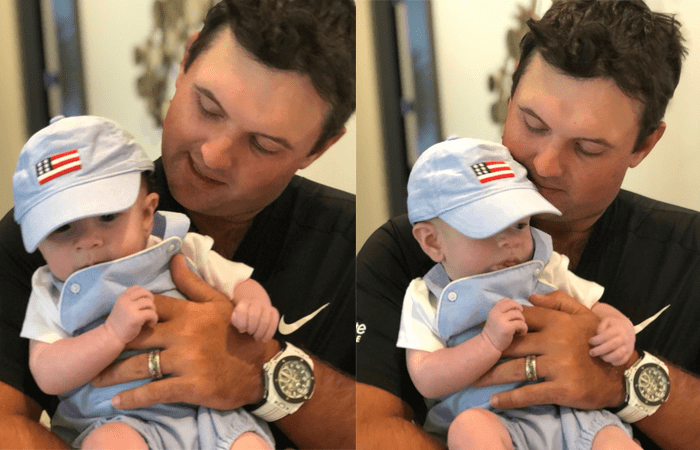 Barrett Benjamin Reed with his father pro golfer five-time PGA tour winner Patrick Reed. 
Image Source: Instagram/Patrick Reed 
Barrett often makes social media appearances as his father Patrick posts some adorable picture holding his son. American Professional golfer Patrick hangs out with his son after playing some rounds of golf and enjoys his time with his son.
It was 2017 when Patrick was playing his 35th event at the Hero World Challenge when his wife Justine was pregnant with their son Barrett. Patrick said that it was a waiting game and was really excited for his son Barrett's arrival. Patrick prayed his son Barrett was healthy and sound.
Gender Reveal of Barrett Benjamin Reed 
Patrick and his wife along with their daughter Windsor Wells had some fun on the gender reveal. Patrick had posted on his Instagram announcing that their child is a boy. Patrick had struck a ball which burst into blue and their daughter Windsor was excited as she was going to be a big sister to brother Barrett Benjamin.
Barrett Benjamin's mother Justine served as Patrick's caddie on his first two years of PGA tours. Patrick would put extra clothes and water to test whether Justine could handle the extra weight. Justine Karain gave up being Patrick's Caddie after she was pregnant with their first daughter Windsor and Justine's brother Kessler Karain filled in her shoes.
For More Celebrity News and Entertainment: SuperbHub.