Relationships comprise two people who are ready to hold heart on their hands and be responsible for it. Unfortunately, people cannot handle the responsibility and end up throwing off the beautiful love. And in some cases, time management becomes the issue.
Similar is the story of the Outlander star, Sam Heughan and Amy Shiels. Let's scroll below to know more about their relationship.
 Are Sam Heughan and Amy Shiels Dating?
In the entertainment industry, relationships are the major hustle. We have heard numerous failed relationships, and unfortunately, our favorite star, Heughan, fell in the pit.
According to US Weekly, it was official that the Doctor star started dating Twin Peaks actress since 2018. Furthermore, the duo has known each other for over a decade, which made the relationship an ultimate goal.
Moreover, Amy Shiels being the Outlander Star, Sam Heughan's girlfriend, began when she reached for the premiere of "The Spy Who Dumped Me." Days after the event, the lovely pair were seen at Chateau Marmont in West Hollywood.
Regardless of the current hype, Sam's fans began questioning their flirtatious friendship in 2014 and 2016. But neither the parties confirmed the rumor. Eventually, Heughan's girlfriend at the time drove fans insane when she liked a tweet that implied Sam and Amy would make another Brad Pitt and Angelina Jolie.
Furthermore, Sam Heughan's former partner made a fuss when she tweeted Heughan would be the perfect choice for the next role of James Bond.
Fans were pretty wide-eyed and curious about what was going on in the on-screen 18th-century heartthrob's love life. However, both the individuals' Instagram remained silent as a mourning house except for a wish-post, Amy made in 2018. Interestingly, the caption "big-brother" does not justify their romantic relationship.
It looks Like The Couple Has Moved On
Most recent interviews made by the charitable man drives fans towards believing that he is a single man. Also, looking for a person who would take him down on his knees and make him feel great love.
In an interview with  Philippine Daily Inquirer, Sam revealed that relationship and romantic interests are not his top priority at the moment. Sam Heughan's love affair with his career is at a peak in the priority hierarchy and has no time to take his eye off of his love for the acting.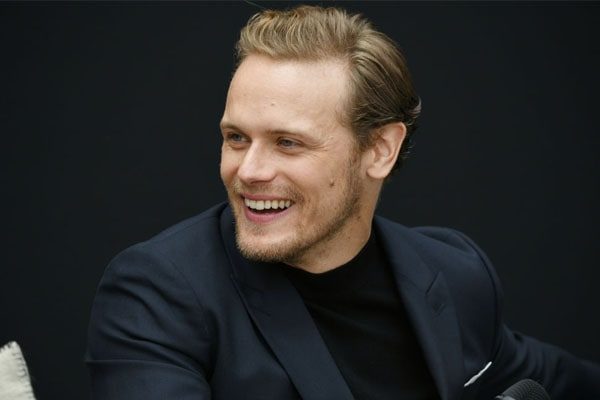 Sam Heughan's first and foremost priority is his career at the moment. Image Source: Michael Kovac/Getty Images. 
This shows that Sam Heughan ad Amy Shiels is done for good. However, Sam looks to be a hopeless romantic. Amidst rising career, the Scottish actor still believes that love as eternal as his on-screen character, Jamie, and Claire exist. Funnily enough, even Heughan's Instagram is full of his promo pictures and fitness photographs.
As he mentioned of no lover, it's almost okay to speculate the Outlander star, and Amy have drifted apart. Although out of romantic feelings, let's hope the friendship continues till the end.
Before Choosing Singularity
First Light star, Sam Heughan, is a pretty secretive person when it comes to his love-life. And he learned it the hard way. The first public relationship, Heughan announced was with American actress  MacKenzie Mauzy from 2015 to 2017.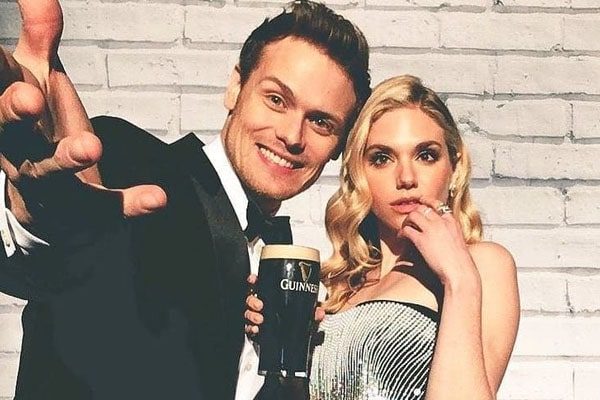 The first-ever public relationship Outlander star is known to have had is with MacKenzie Mauzy. Image Source: Pinterest. 
Unfortunately, publicly announcing their relationship in the world of the internet proved to be a wrong choice. Poor Mauzy fell victim to the cruel internet world and became a subject of the meme. This made a significant impact on both lives that were involved.
The couple made multiple red-carpet appearances together until 2017. Regrettably, the relationship did not make it to the end, and the couple separated.
Let's hope we got the idea that the SAS: Red Notice star is a single man, and Amy is out of the picture as a romantic partner. Sam is waiting for a perfect partner, and let's wish he finds one pretty soon.
Dont's Miss To Follow SuperbHub For More Updates On Celebrity News, Entertainment, and Biography.