Andy Signore, one of the creators of ScreenJunkies, had been suspended following the shocking claim that he sexually abused at least two women. The television personality, Andrew Signore, who won the MTV Movie Award for Best Movie Spoof, is the husband of Miranda Signore.
The sexual harassment claim on Andy Signore brought a significant effect on his married life. Miranda Signore filed a divorce against her husband, Andy after what was heard of. Even the media company, Defy Media, which owns the ScreenJunkies, claimed the immediate termination on Andy clarifying that such behaviours are intolerable.
Andy Signore Sexually Harasses Emma Bowers and April Dawn
The creator of ScreenJunkies, Andy Signore has been involved in a serious situation as he sexually tried to harass two women. The women claimed that Andy persuaded them to do so by promising a good position in the media company.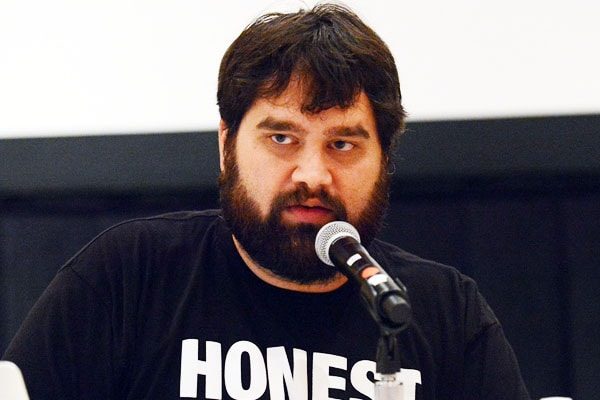 Andy Signore sexually harasses two women promising them to place in better position in the media company. Image Source: Hollywood Reporter
Emma Bowers, who shared her story on the social media, was an intern in the media company during that time. Bowers reportedly claimed that Andy Signore requested her to watch him masturbate pledging her a better place in the company.

The other victim was April Dawn. April, on the other hand, asserted that Andy not only harassed her once but on multiple occasions. The only thing she did wrong was that she failed to take her allegations seriously. She had no proof with her.

Dawn verbally mentioned that Andy promised her a nice position at ScreenJunkies if she accepted sexual favours which included forcing sex toys inside of her.
The whole media and the employees have raised their voice against Andy Signore and responded to the event expressing their dismay. This extreme situation has brought out more cases like this as women have turned to social media sharing their personal experiences of being sexually harassed. Turns out that the former film producer, Harvey Weinstein has been sexually harassing his female employees for decades.
Andy's Wife, Miranda Signore Files Divorce
It was evident that Andy's wife would not stay silent after the incident. What Andy Signore did was unacceptable, and his wife, Miranda responded in the same way.
Miranda Signore filed a divorce case against her husband, Andy Signore on 11/08/2017. The incident had a serious effect on Andy's personal life. He had to part ways with his wife. Moreover, he was fired from the media and company he was associated with. Andy Signore was known as the ScreenJunkies creator.
View this post on Instagram
Andy Signore married Miranda in 2006. They had been together since then and also shared a child. The couple has a son named Sawyer Signore.
Andy Signore Denies The Claim
While Andy Signore is engaged in this complicated situation, he has something different to say. Andy states that it was an unfair decision to fire him for sexual harassment. He mentions that he was wrongfully dismissed.
To clarify his statement,  Andy adds that Andy and Emma Bowers had sex on mutual consent and had agreed to share flirty texts afterwards.
For more News and Entertainment: SuperbHub