If we say Faheem Rashad Najm, then few only might have clue about what we're talking about. But if someone were to say, T-Pain then there wouldn't be a soul in this world who wouldn't know him. Likewise, another name  Amber Najm is quite under the limelight which came in the media attention only after it was attached to rapper T-Pain.
Amber Najm is not as popular as her husband T-Pain. She is famous as the singer T-Pain's wife and a mother of three kids with him. Amber is the first lady in Nappy Boy Entertainment, an American record label founded by her hubby T-Pain.
Amber Najm, Rapper T-Pain's wife
T-Pain and his wife Amber Najm got married on 30th September 2003. The couple had dated for around 8 months before getting hitched. T-Pain and Amber were together from around 2002 before they got engaged in April 2003 and finally tied the knot on September 2003.
Amber is lucky to have a celebrity as well as a loving husband. Amber's husband T-Pain never misses out to show his love towards his long-term wife. He keeps on posting photos with Amber in his social pages. Once he threatened his wife in a weird Instagram love letter along with his photo with Amber.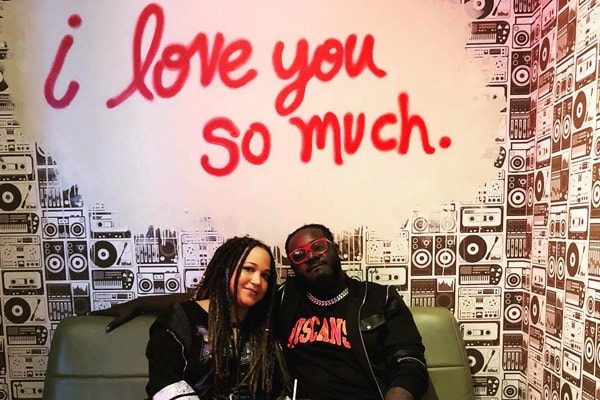 American Rapper T-Pain posted a love note for his wife Amber on his Instagram page. Image Source: Instagram, T-Pain
T-Pain had mentioned about his nightly routine with his wife Amber on his Twitter page. He didn't forget to express his love through his post. After he posted the tweet on 28th February 2018, many of his fans were shocked to hear the news of T-Pain being a married man.
Amber along with her husband T-Pain are proud parents of three children. Two of them are sons, Muziq Najm and Kaydnz Kodaz Najm and one daughter Lyriq Najm. Amber is living a lavish life with her husband and three lovely kids.
Facts about Amber Najm
Amber Najm is the daughter-in-law of Aliyah Najm and Shasheem Najm.
The long-term wife of T-Pain is active on Twitter with the name @painzgirl. 
The mother of three kids has an Instagram account named Teddz Girl.
Najm is a fan of tattoos. She has got tattoos on her both hands and legs.
She has got hazel eyes and naturally curly hair.
Visit SuperbHub for more Celebrity Entertainment.