Youtuber Alissa Violet and her Ex-Boyfriend Jake Paul were once a power couple Jalissa of the social media group Team 10. Jake and Alissa had once set an example of a perfect couple but the truth between them remained hidden which came out pretty ugly. Things got worst between them and both were accusing each other of physical and emotional abuse allegations.
Things between Jake and Alissa ended up in a long and twisty drama which literally continued for months. Just as things were settling down Jake strikes the silence by saying that Allisa and his brother Logan had a physical relationship so he had kicked her out of the group.
Alissa had her response to it and both of them are now in a different relationship, Jake with Erika Costell and Alissa with Youtuber Faze Banks. Let's jump to the details on the nasty relationship feud:
Jake Paul and Alissa Violet Relationship
Alissa had met her Ex-boyfriend Jake when she was 18 years old and had just graduated high school in Ohio. Alissa and Jake had met in a shopping mall and exchanged numbers which started their relationship. In summer of 2015, Alissa decided to move in with Jake in Los Angeles and join the Team 10, signing a five-year contract the couple started working together on contents.
Everything seemed fine between Alissa and Jake but things started taking turns in 2016. Alissa took to her Snapchat to share a video of her packing things and moving from the Team 10 house saying Jake had kicked her out. Jake responded on his twitter to accuse Alissa of cheating on him with someone close which had hurt him.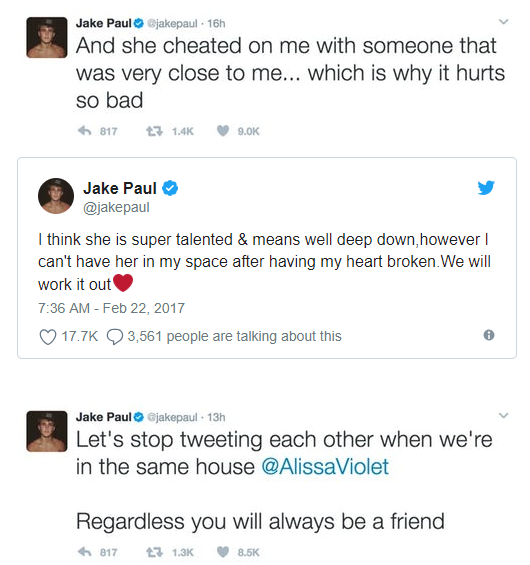 Alissa Violet's Ex-boyfriend Jake Paul accuses her of cheating. 
Alissa then started to speak about her side of the story and claimed that Jake was the one to constantly cheat on her and she could never do anything about it. Alissa started to pour out her feeling on twitter slamming Jake with every possible word she could put up.
Did Logan Paul and Alissa Violet Hook up?
Both Alissa and Jake felt they were not going well together and had to conclude the drama of their unhealthy relationship. Their relationship feud was transparent as both of them had publicly accused each other.
As things starting to cool down Jake came with something no one had imagined by accusing his brother Logan Paul of hooking with Alissa Violet. Jake took to his twitter to break the silence by saying that Alissa had a physical relationship with his brother Logan and that was the reason why he had kicked Alissa out of his house.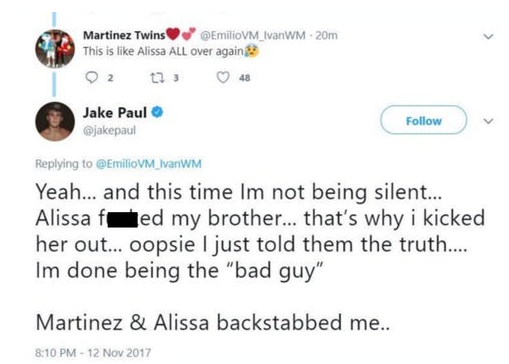 Jake Paul said that Alissa had cheated on him by sleeping with his brother Logan Paul.
Responding to this particular tweet of Jake, Alissa seemed very confused and tweeted saying, "wait what hahaha" and Jake's brother Logan has made no comments on the accusation. It was unusual for Alissa Violet's ex-boyfriend to come out of nowhere to accuse his brother and girlfriend of sleeping with each other after the feud was finally coming to an end.
Alissa and Jake both had their share of emotional pains and an amazing time working and living together. The best thing to do in a complicated relationship is to let go of people and continue to live happily. Likewise Jake mingled with musician Erika Costell and Alissa started dating fellow YouTuber, Faze Banks.
Alissa Violet and Faze Banks
Alissa did take her time to get over Jake and their relationship and started dating fellow Youtuber Ricky "Faze" Banks in late June 2017. Banks and Alissa have shown their love publicly on social media and took their relationship to a next level by getting engaged.
While Alissa Violet' s Ex-boyfriend Jake has been the center of a number of controversies after he confessed that he and Team 10 member Erika Costell weren't dating. Jake confessed that their videos about their relationship and their marriage were totally fake.
For More Celebrity News and Entertainment: SuperbHub