Alia Shawkat has earned her stardom as a sarcastic teenager Maeby Funke on Fox' Emmy winning TV  Series Arrested Development. Unlike her character, Alia has an enigmatic side offscreen which some people might consider very weird.
American Actress Alia's passion for abstract and cartoonish painting is presented in her Instagram account @_mutantalia where she often posts her arts. It is not only sketches and arts but Alia has also inked some tattoos on her skin which is weird yet meaningful.
A written script "Mister Baby" on Alia's shoulder is a tribute to 1989 film Mystery Train and other doodles on her forearm and a smile doodle on her chest.
Wierd Tattoos yet Meaningful
Art and Sketches is a hobby for Alia as she starts to draw or write when she is in her free time. Shawkat has a cozy studio in her place which she uses to pull out paintings. Alia first sketches with pen and ink and then finishes by painting with oil. Her sketches are vibrant and apply more abstract meaning but some are also grotesque and cartoonish.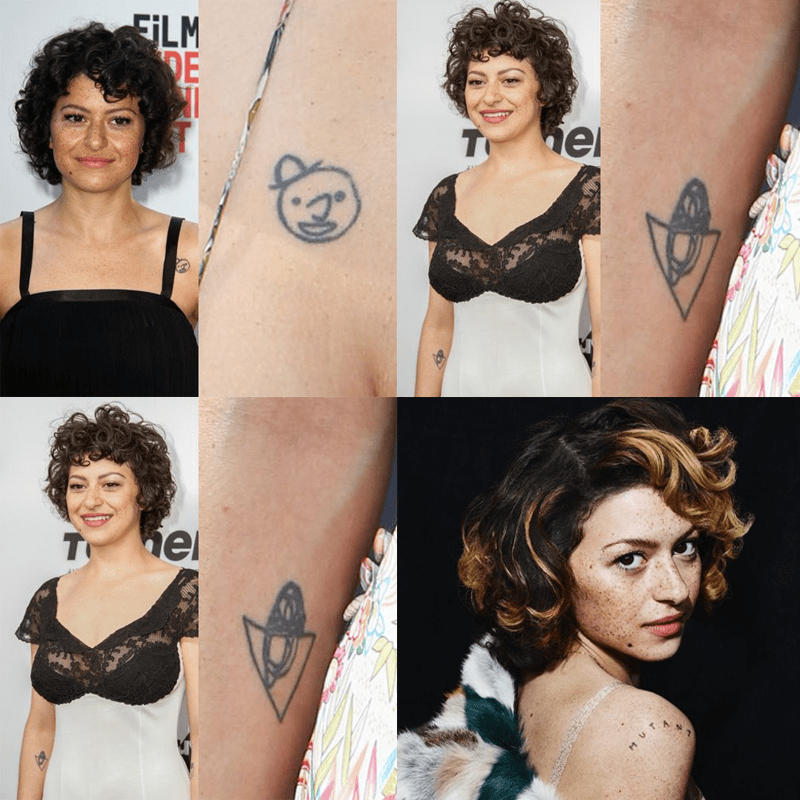 American Actress Alia Shawkat's doodle tattoos and Mutant scripted in her shoulder. 
Image Source: Pinterest/Steal her Style
Over the years Alia has shown her love for body art. In tribute to a character in Jim Jarmusch's 1989 film, Mystery Train Alia has inked a script tattoo in her left shoulder which reads mystery baby. Alia's tattoo is a simple script in a decent dark color.
Alia Shawkat's Tattoos are doodles which must be definitely designed by herself as she has a fond of cartoonish and abstract arts. There are two different tattoos on both of her forearms among which one appears to look like an acorn inside of a triangle whereas the other one seems like a geometric design having rather enigmatic meaning.

Alia has a smiley face doodle with a hat on the left side of her chest. All of Shawkat's tattoos have a same color of ink. Another attractive tattoo of Alia is MUTANT written on her top of her right arm. Alia also sketches abstract arts with hidden meanings which she often posts on her Instagram.
For More Celebrity News and Entertainment: SuperbHub.