The world is not short of great actors, and every time a movie is released, the number seems to increase. While the number of great actors is many, the number of excellent actors is quite less. And even among these few, some are just exceptional, and it is all because someone was willing to give their all.
The same can be said about the legendary actor, Al Pacino. Since the actor is quite famous, it would be an understatement to say that he is rich. Al Pacino's net worth is estimated to be at a grand of $120 million. Let's find out more about what made the star so rich.
Net Worth And Earnings
As stated earlier, Al Pacino's net worth is estimated at $120 million. The legendary actor has made appearances in movies for more than 50 years. And his decisions of taking on challenging roles is what brought the fame and fortune for the actor.
Al Pacino has an estimated net worth of $120 million. Image Source: Pinterest.
Starting from a TV series in 1968, Al has been appearing in various movies and TV shows, rarely taking a leave year. Among the many roles Al has played, he is well known for his role as Michael Corleone in The Godfather. It is also thanks to this role that the star began accumulating his fame.
Aside from acting, Al Pacino is also a producer, writer, and director. According to IMDb, Pacino is credited as the producer for The Humbling along with three other movies, one of which is in its pre-production stage. The star is also credited as the director of Salomé and a few other well-known works for which he must have earned a notable amount.
Salary As An Actor
Al Pacino's works have indeed earned him a lot, and some of his works are among the all-time bests. But with Al Pacino's net worth so high, many wonder what his salary for certain movies is.
So, with reference to IMDb, here is a list of Al Pacino's movies as well as the salary he got for playing a part in it.
| Movie | Release Date | Salary |
| --- | --- | --- |
| The Godfather | 1972 | $35,000 |
| ... And justice for all. | 1979 | $1 million |
| The Godfather Part III | 1990 | $5 million |
| Carlito's Way | 1993 | $6 million |
| Insomnia | 2002 | $11 million |
As surprised as you may be, it is true that Al Pacino's salary for appearing in the first Godfather movie was $35,000. With his salary reaching $11 million in 2002, it would not be wrong to say that Al makes a lot more now. While it has not been revealed to the public, it is believed that Al received a good amount for The Irishman as well as the yet to release TV series Hunters.
Best Of Friends
When you are involved in something for a long time, it would make sense to pick up a good friend along the way. The same could be said for Al Pacino and Robert De Niro.
Al and Robert is a duo well known to be the best of friends with their history as friends being around 5 decades old. The most recent appearance of the two is in the movie The Irishman. The oscar winners Al and De Niro aren't usually in a film together but when they do, they make sure the world knows about it. Speaking of Robert, he has an estimated net worth of $500 million.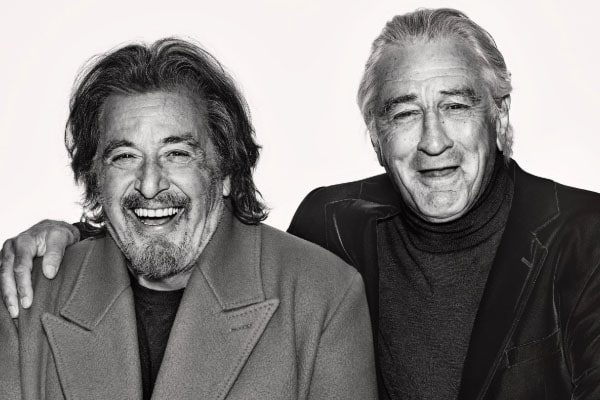 Al Pacino and Robert De Niro have been friends for around 5 decades. Image Source: GQ.
Fans keep their hopes up for when the 2019 men of the year announce their next movie together. The two may be great friends but fans can't wait to see them again on screen.
Al Pacino's House Sold
The legendary actor, Al Pacino, is as stated, well…., legendary. So when the star put up his house for sale, he received a lot of attention. In 2016, the house of the late author Jackie Collins, as well as her neighbor Al Pacino's guesthouse was put up for sale.
Real estate investor, Ben Nehmadi, became the lucky buyer who purchased both the properties. Collins' house was put up for $30 million later reduced to $24.5. Paying $30 million, Ben managed to buy the homes of two celebrities, hitting two birds with one stone.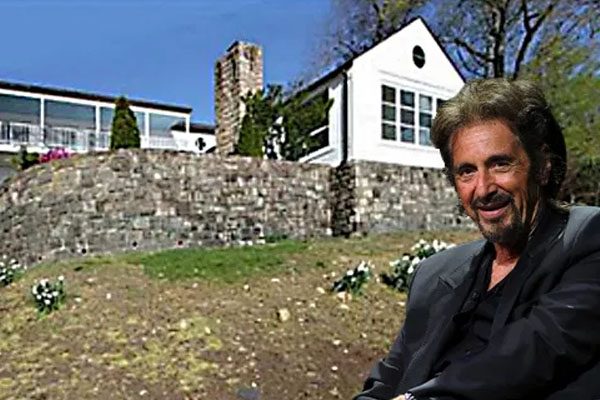 Ben Nehmadi bought two celebrity properties for the price of one. Image Source: Radar Online.
Aside from this house, Al Pachino's guest house was also sold for $3.3 million back in 2013 to Curt Frasca and Sabelle Frasca. This also added up in making Al Pacino's net worth so high.
To Find Out More About Your Favorite Celebrity, Make Sure To Check SuperbHub For More Updates On Celebrity Entertainment, News, and Biography.