LFW Maybelline Bring on the Night party was a star-studded event. Supermodels like Adriana Lima and Jordan Dunn were among the models that graced us with their presence. Even so, we were mesmerized by their shimmering thigh and their hot dresses. Let's get an insight on the LFW Maybelline Bring on the Night party!
LFW Maybelline Bring on the Night party seemed to bring out the best of the stars. We saw many stars gracing the hot pink carpet in the event. But what caught our eyes the most? None other than the phenomenal Veteran Victoria Secret Angel Adriana Lima! With Adriana Lima come beauty, grace, fashion, and hotness. We saw Adriana Lima bring out her all this night!
The 35 year old supermodel looked like an absolute babe with her thighs in full display in a sultry skintight leather mini dress. She also gave us a peak of her shimmering upper body in the dangerous and sexy metal zips across the hem and bust.
The sexy leather dress perfectly hugged her figure. With hair dangling down her shoulder and eyes as perfect as crystal Adriana Lima without any words made us realize that she is most certainly a true angel. Lima had worn her shiny hair in a deep parting and let it smoothly fall sown her shoulder.
With no accessories around her neck, she proved that she needs none to make her look sexy and classy at the same time. Adrian, however, had just a ring on her hand that shimmered as bright as her in the LFW Maybelline Bring on the Night party.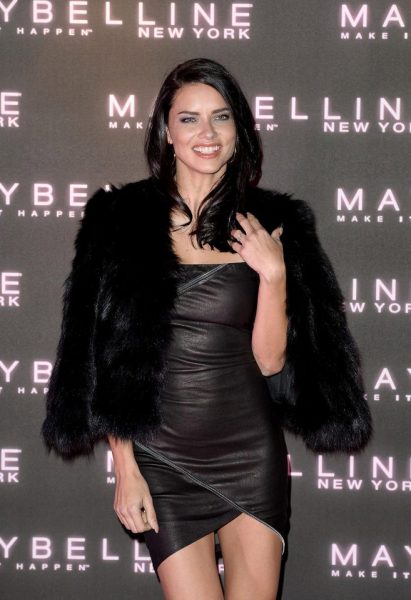 Adriana Lima looked absolutely perfect by pairing her long slender legs with those calf-high heeled boots. All eyes were on Adriana when she entered the pink carpet but all hearts melted when she blew kisses to her fans.
It is obviously hard to believe through her figure and her attire that she is the mother of two. She absolutely rocks every look.
Jourdan Dunn looked as fabulous as Lima in her skimpy skirt and black jumper. She too graced us with her slender thighs and her every bubbly curly hair. Both models, Adriana Lima and Jourdan Dunn looked like absolute stunners when they posed together.
The event also saw many stars like Tinie Tempah, DJ Neels Visser, Jourdan Dunn Lucy Mecklenburgh, Daisy Lowe and much more that looked absolutely stylish.
Read: all Celebrity News