Picture credit:ArticleBio
Bar Refaeli is the name that sounds like a pleasant melody for a majority of people around the world, but that sensation might come to an end with a personal fact. Bar is already a married woman and her husband's name is Adi Ezra.
Not heard this name often right. But Adi Ezra is a great businessman when it comes to business career.
Adi Ezra
Adi Ezra is an Israeli based billionaire who was born on January 19, 1975. Mr. Ezra serves as the Chief Business Development Officer in Neto.
Neto is one among the five popular food conglomerates in Israel. Neto is involved in producing, marketing, and distributing a wide variety of high-quality kashrut and delish edible products.
He is also as Director of Williger.
His position is Director of Neto Malinda Trading Ltd. since 2003 and serves as its Chairman of the Board.
As a combines venture, Adi Ezra is a Chairman of the Board for both Neto Malinda Trading Ltd and Neto M.E Holdings Ltd.
Talking about his education, he holds a BA in business administration from Interdisciplinary Center Herzliya (IDC). His net worth is in billions with 3 Million USD as an annual salary.
Bar Refaeli and Adi Ezra Wedding: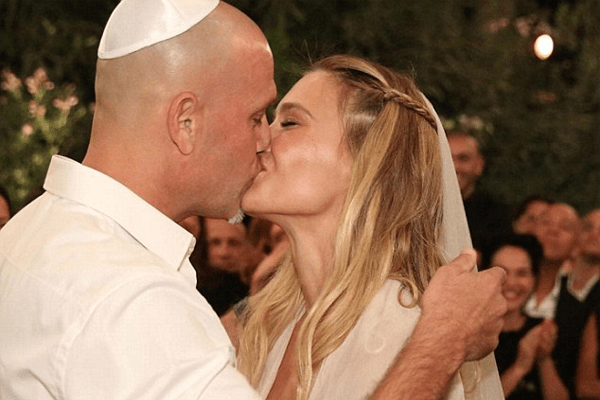 Photo credit:Daily Mail
The Israeli Model Bar married her fiance Adi Ezra on September 24, 2015, in a classical ceremony in the Carmel Forest Spa in Haifa, Israel.
If we have a look at her Instagram, we can see her wedding post which seems like she is in a deep love with this businessman.
Her caption is: "This is the happiest day of my life! Married my best friend. Laugh, love and live forever."
In the traditional marriage ceremony, there were 300 friends and family, the duo exchanged their vows in a traditionally Jewish way. The ceremony was more charming in presence of famous Israeli stars and models.
According to Vogue, the wedding cost an expected amount of 330000 USD, had a helicopter, hot air balloon and few drones flying over the venue.
Soon after a year later, they welcomed their first daughter Liv Ezra. They invited the second baby girl in October 2017. Her name is Elle Ezra.
They don't expose their daughters too much in public.