Picture credit: brecorder.com Cristiano Ronaldo And Georgina Rodriguez have been dating since the November of 2016. A father of four children, Cristiano and Georgina, has not been dating for too long. Let's dive in to see their relationship and their kindergartens.
The Affair
Ronaldo first met Georgia in Dolce & Gabbana even when the footballer had spotted Georgia in the VIP area.
After that, they appeared as a romantic couple in November 2016 in Disneyland Paris.
Since then Cristiano Ronaldo And Georgina Rodriguez has been together in public events. They share their loving moments on their Instagram.
Picture credit:Jetss
They are parents of four children.
Georgina Rodriguez
Rodriguez is originally from Jaca, the city located in northeastern part of Spain.
Before moving with a family in Bristol, England, she had worked as a waitress in her hometown. More recently, she was also a shop assistant in Jaca.
She is also a dancer and has studied English in England. But then after meeting Ronaldo, she has been pursuing a career as a model.
Their Family
Cristiano Ronaldo and Georgina Rodriguez are in a serious relationship since breaking up with Irina two years ago. The recent thing that made their bond more strong is birth of a little baby. The baby girl, Alana Martina has given Georgina an identity of a Mom among the four of his children.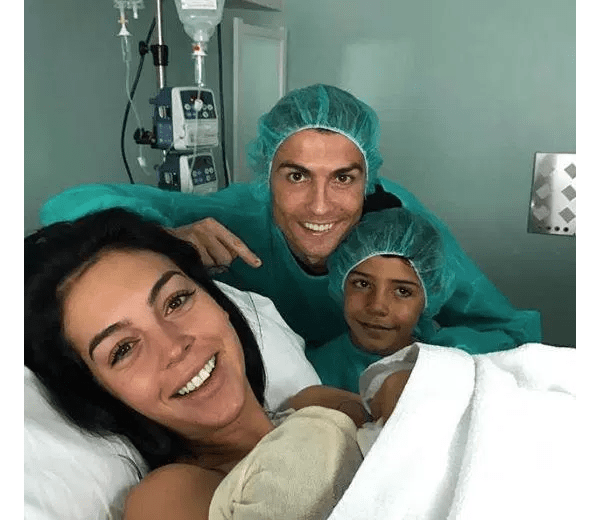 Picture credit: Daily Express
Georgina also appears getting friendly Mummy with his son, Cristiano Jr. Ronaldo has full custody of Cristiano Jr. and cares for with his mother, Dolores. The identity of Cristiano Jr's biological mother is a secret stuff in media. Ronaldo said, only Cristiano Jr. has right to know about his mother, and I'll disclose only to him. He was known to be born in the United States in 2010.
The two little twins of Ronaldo was known to be born through Surrogate mother.
Indeed, Georgina is seen much caring and loving with all of Ronaldo's children and regularly shares Mummy moments in social media.