Published Date 04th Jul. 2017, 01:34 am Update Date: July 17th, 2017 11:15 pm
Whether it is silky white sand and azure blue water or parasailing, surfing and snorkeling, beaches have everything that makes a visitor's travel memorable and exciting. If you are seeking the peaceful sunrise with sound of waves or cruising to observe golden setting sun, these 10 exquisite beaches in the U.S.A. bestows you with all that you have ever wanted. You know why these beaches are in the best ten beaches list if you have already been to these places. If not but you are seeking quality time, the list offers you with the best vacation choices.
Hollywood Beach, Florida


Voted as TripAdvisor's no. 1 beach in the U.S., Hollywood Beach innovatively combines the broad walkway and the sandy beach perfect for both leisure and travel. That's why it attracts all kind of visitors wanting to spend time swimming, resting or walking. Moreover, this 2.5 mile-long beach houses a number of restaurants, boutiques, shops and hotels. As a result, it makes traveling here easier and more fascinating. Visit this beach for positively answering the question why Hollywood Beach in Florida became the first in the list of 10 exquisite beaches of the U.S.A.
Manele Bay, Hawaii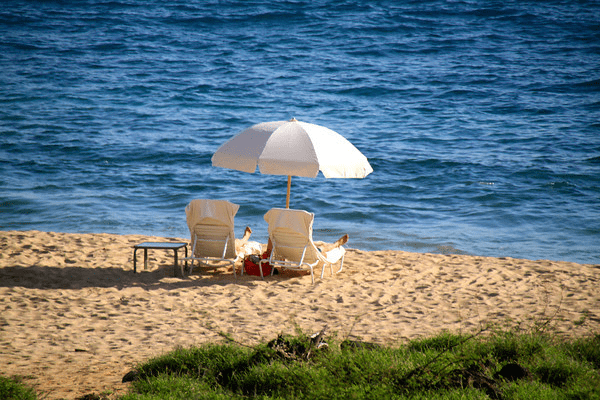 Located at the base of the Four Seasons Lana'i at Manele Bay, Hulopo'e Beach has a lot to offer more than clear water and perfect sand stretch. The visitors can catch the glimpses of colorful water life. It provides the sight of colorful fish along with spinner dolphin occasionally. Furthermore, the finest spot lures the snorkeler and divers with 70-degree water.
Myrtle Beach, South Carolina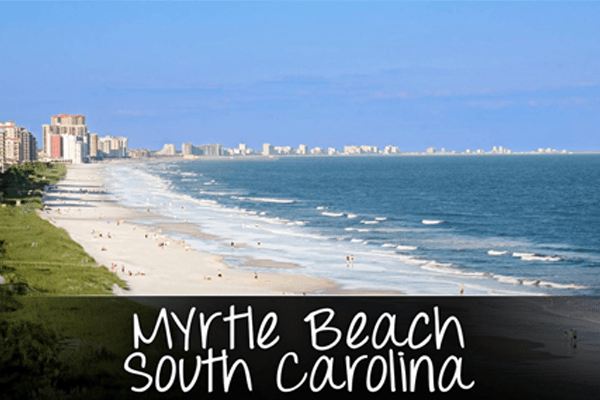 The 60-mile-long beach along South Carolina, Myrtle Beach makes an unquestionable vacation spot. One of the 10 exquisite beaches of the U.S.A., Myrtle Beach entices all kind of visitors. The major reason for this is  the location of amusement and water parks, restaurants and live entertainment. Besides, the beach is famous for silky white sand and provides excellent opportunities for swimming, sailing and surfing.
St. Pete Beach Florida
Parasail over the crystal clear water of St. Pete or go on a small group cruising, St. Pete Beach in Florida offers you all the enthralling attractions a visitor would love to have. Snorkeling and dolphin watch cruise are the other temptations you can't refrain from when you get into this magical expanse of white sand alongside pristine, blue water.
Kapalua Bay Beach, Maui, Hawaii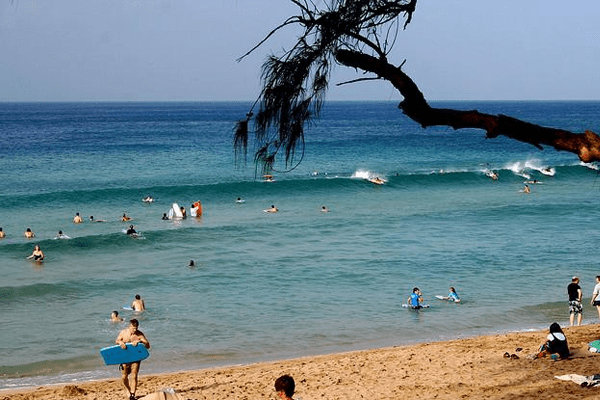 Kapalua Bay Beach gifts its visitors with clear, azure water falling among the 10 exquisite beaches of the U.S.A. The water in this crescent-shaped beach is perfect for swimming and snorkeling. Surprisingly, the snorkelers can catch the sight of brightly colored tropical fish. In addition, the fine white sand makes a perfect place to spend a memorable holiday here.
Nantucket Beach, Massachusetts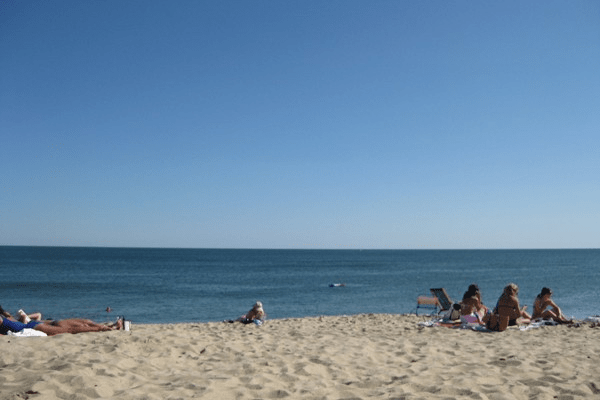 If someone is the fan of fairy tale settings, the one should visit Nantucket beach in Massachusetts. The beach features blue water in the background of the sandy coast with weathered white cottages. Further, wild roses surrounded area makes Nantucket beach one of the 10 exquisite beaches of the U.S.A. Nantucket has Surfside Beach and Children's Beach making the place appropriate for all group of people.
Siesta Beach, Sarasota, Florida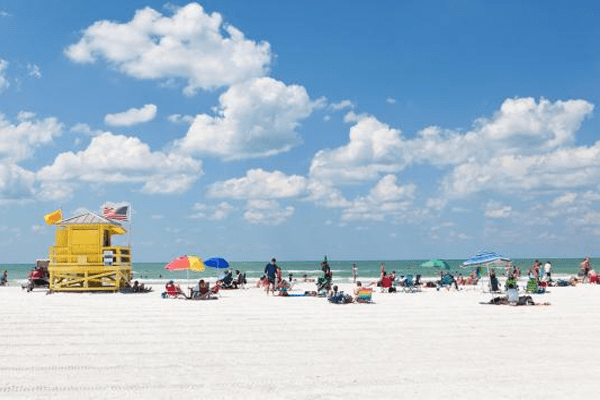 One of the 10 exquisite beach, Siesta Beach gives visitors the enthralling view that combines white sand and clear, warm water. The clear blue water is attracts swimmers while white sand fascinates the volleyball players. The sand is also quite fit for other kind of recreational purposes. There is parking facilities and free trolley giving visitors access to the beach.
Hapuna Beach, Big Island, Hawaii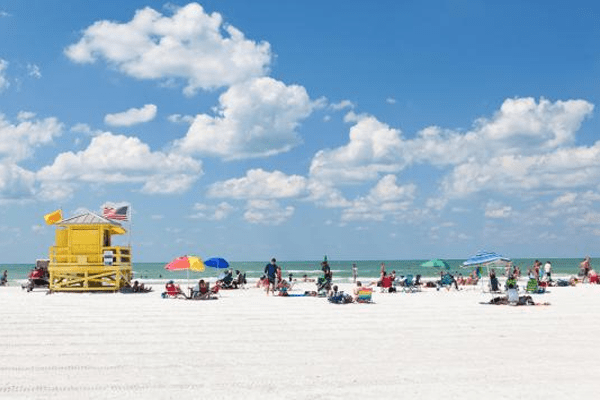 Hapuna Beach presents clear blue water perfect for swimming, snorkeling and scuba diving in summer. However, the beach has a different face in winter as there are powerful current rising from the sea. Nevertheless, there are well trained coast guards in the beach always ready to save lives.
Clearwater Beach, Florida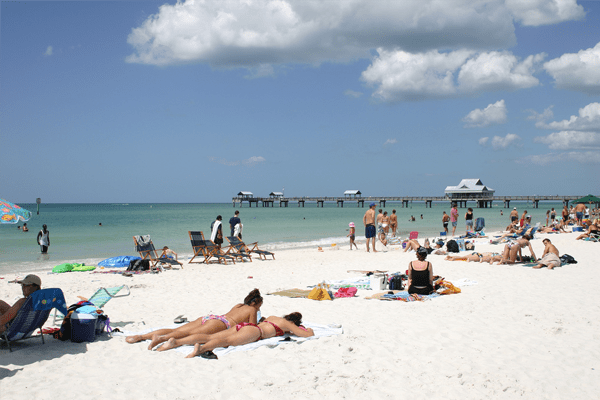 Spreading across 3 miles, Clearwater Beach has allured many families and couples with its broad, sandy shores. Moreover, this beach gets into the list of 10 exquisite beaches due to the comfort hotels facing beautiful beach. Clearwater Beach offers clear blue water of the Gulf of Mexico that soothes eyes of the visitors. Apart from sunbathing in white sand, the beach also offers rental fishing boats. Moreover, dolphin watching cruise and parasailing are the additional attractions of Clearwater Beach.
Coronado Beach, California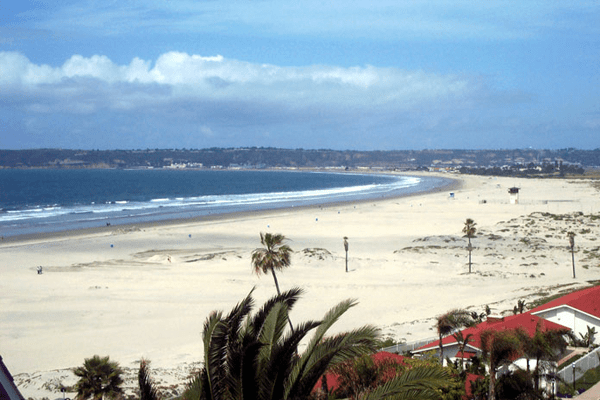 This 1.5 mile-long beach gives visitors the delight of staying in glamorous hotel with beach view. The visitors can enjoy swimming, surfing, boogie boarding, sand sculpting and whale watching. Coronado beach showers its charm especially during the morning.
Read more at Superbhub