Will Guidara is a most accomplished personality in the field of hospitality. He is general manager and co-owner of New York City's most liked hospitality group, Make it Nice. Make it Nice includes Eleven Madison Park, NoMad branches, NoMad bar and the counter service restaurant, Made Nice.
Will along with co-owner and head chef, Daniel Humm is making their guest happy with the delectable food and overwhelming hospitality.
Eleven Madison Park is situated in New York and has 51 to 200 employees which make $1 million to $5 million annually as revenue. In fact,  entrepreneurship and his hospitality group is a vital source of Will Guidara's net worth.
Will was calm and patience since his childhood. Born on November 25, 1979, in Sleepy Hollow, New York, he has immersed himself in the hospitality industry.
His father, Frank Guidara and business partner, Chef Daniel Humm are most influential people in his life. He learned the value of ambition and to think huge from his father. And patience and ability to appreciate people from his business partner.
Will completed his graduation from the Cornell University School of Hotel Administration in 2001.
He began his career when he was just 13-year-old working at Baskin Robbins. He was keen to learn about the dining room as he became a busboy at Spago Beverly Hills.
Apparently, his dedication, enthusiasm, and experience counted when he became a general manager of Eleven Madison Park at the age of Twenty-one.
Five years later in 2011, his business partner, Humm joined him to buy the restaurant from Meyer's Union Square Hospitality Group. Chef Humm's entry into his life became fruitful.
One year later, the duo launched NoMad. In 2013, Eleven Madison Park was selected as the fifth best restaurants on S. Pellegrino's list of the World's 50 best restaurants.
In 2017, they opened Made Nice, a casual restaurant and NoMad Los Angeles in 2018.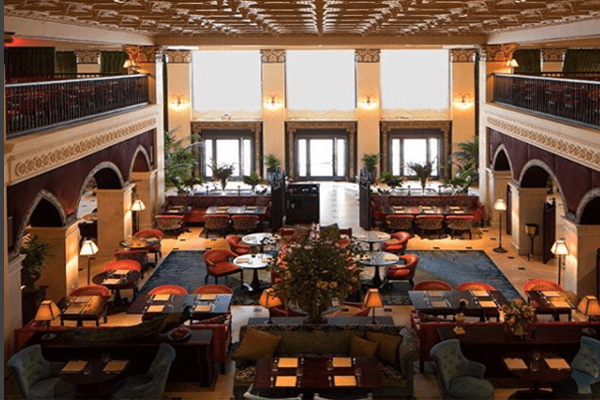 The NoMad hotel in Los Angeles owned by Will Guidara and Daniel Humm.
Image Source– Instagram
Moreover, Guidara is a co-author of four books with Chef Daniel. And they are Eleven Madison Park; The Cookbook, I Love New York; Ingredients and Recipes, The NoMad Cookbook and Eleven Madison Park; the next chapter.
Guidara got married to Christina Tosi, Chef and Owner of Milk Bar Stores on July 31, 2016. Christina and Will's wedding ceremony was adventurous and cool. It was a rainy cam-themed wedding where everyone including the bride and groom was wearing Ponchos.

The matrimonial ceremony took place at Cedar Lakes Estate in Port Jervis, New York. In fact, Bride covered her J.Crew cap-sleeve gown with a real poncho. Karlie Kloss, Chef David Chang, and Momofuku founder were also present in the ceremony as a guest.
The themed wedding weekend was then enlightened with a garden lunch, poolside cocktails, tug of war, relay races and blobbing.
Will Guidara is co-owner of number one restaurant of 2017, Eleven Madison Park. Being a number one restaurant, it generates a huge amount of revenue. The annual revenue from Eleven Madison Park is $1 million to $5 million.
The love, honor, and prestige he has earned through his hospitality are truly Will Guidara's net worth.  He lives in his Manhattan Apartment furnished with pristine wooden floors.
Will Guidara lives in his Manhattan house designed by Will himself.
Source: Wine Spectator
Also, he is a co-author of four books. Revenue from bookselling also adds to Will Guidara's net worth. Here is the list of books and their costs according to Amazon.
| Name of the Book | Type | Cost |
| --- | --- | --- |
| Eleven Madison Park: The Cookbook | HardCover | $207.03 |
| The NoMad Cookbook | Hardcover | $58.57 |
| I Love New York: Ingredients and Recipes | Hardcover | $38.28 |
| Eleven Madison Park: the Next Chapter | Hardcover | $129.69 |
Stay with un on SuperbHub for more Celebrity Biographies.