Whitney Mercilus is an American football player born on July 21, 1990, to parents Yvrose Mercilus and Wilner Mercilus. He plays as an outside linebacker and has been awarded as AFC's Defensive Player of the Week in 2019.
Mercilus started playing football when he was just a college kid. He started off playing at the University of Illinois. Mercilus was selected by Texans in the first round of 2012's NFL Draft and was even considered as one of the best defensive end prospects in 2012.
Early Life & Career
Whitney Mercilus started playing football when he studied at Garfield High School. Later on, he moved to Illinois University and still continued his football career. He played for head coach Ron Zook in Illinois Fighting Illini football from 2009 to 2011.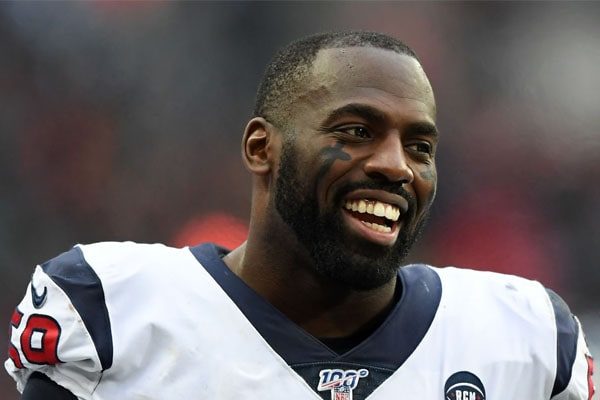 Whitney Mercilus started off playing football in Garfield High School. Image Source: Getty Images.
Early on in his career, Whitney won the 2011 Ted Hendricks Award, 2011 Bill Willis Award, and 2011 CFPA Defensive Performer of the Year. People also started recognizing Mercilus as a unanimous first-team All-American.
It was the year 2012 when Mercilus finally got the breakthrough he wanted. On January 3, 2012, he announced his decision to forgo his remaining eligibility and entered the 2012 NFL Draft.
View this post on Instagram
Soon after the draft began, Mercilus was picked by Houston Texans in the first round. Quickly after the Draft was completed, Texans' defensive coordinator Wade Phillips stated that Mercilus could be moved to outside linebacker.
Net Worth & Earnings
Whitney Mercilus's net worth is said to be of thousands of dollars as he is one of the best footballers of our era. His career started when he was signed by Houston Texans. He signed a four-year contract worth $7.63 million that included $6.20 million guaranteed and a signing bonus of $3.99 million.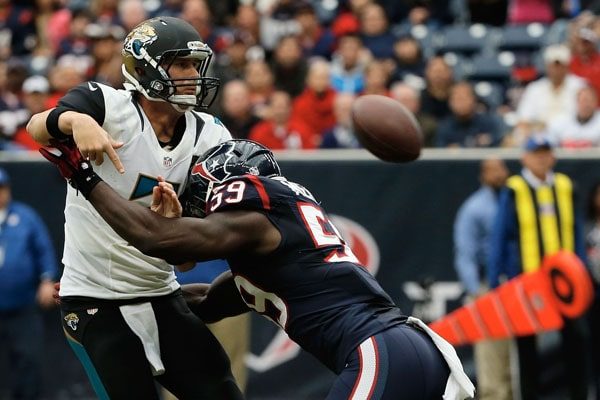 Whitney Mercilus has been awarded as AFC's Defensive Player of the Week in 2019. Image Source: Getty Images.
Moreover, he has earned quite a load of money playing for Texans. We can clearly see how comfortable of a life Mercilus lives with his family. As for his Cap hits, it is enlisted below,
| Years | Team | Base Salary | Signing | Roster | Cap Hits |
| --- | --- | --- | --- | --- | --- |
| 2015 | Houston Texans | $931,012 | $2,048,018 | | $2,979,030 |
| 2016 | Houston Texans | $4,500,000 | $1,050,000 | $234,375 | $5,784,375 |
| 2017 | Houston Texans | $4,500,000 | $1,050,000 | $468,750 | $6,018,750 |
| 2018 | Houston Texans | $4,750,000 | $1,050,000 | $500,000 | $6,300,000 |
| 2019 | Houston Texans | $5,750,000 | $1,050,000 | $500,000 | $7,300,000 |
Furthermore, besides being a fabulous football player he is also a style icon. He has been featured in numerous magazine covers for which he must have got his fair share of money.
Family & Relationship
Whitney Mercilus was brought up by his parents Wilner and Yvrose Mercilus. He has two siblings Glory Mercilus and Donald Mercilus. Whitney is quite close to his family and shares a special bond with them. He is never behind on keeping his fans up to date about his family.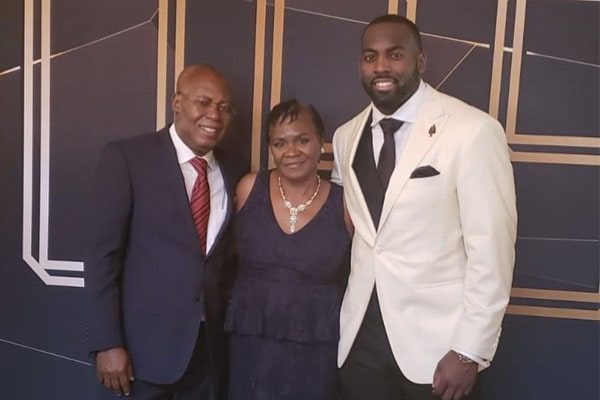 Whitney Mercilus spending quality time with his parents in an award function. Image Source: Whitney's Twitter.
Moreover, Whitney uses his Instagram account to often wish his fellow partners and family members on special occasions.
Furthermore, Whitney's girlfriend's name has not been revealed yet. Maybe he doesn't want the public to interfere in his love life. However, many sites state that Channing Grigsby is Whitney Mercilus' girlfriend. Though no official statement has been made by the footballer. Plus one thing is sure that, Mercilus doesn't have a wife yet.
Besides his relationship status, he is quite open about his personal life. He likes to chill with his childhood pals and even his current teammates.
Whitney Mercilus is also quite active as a social worker. He and his friends have done many charitable works and also meet people during special days. He once visited the Texas Children's Hospital on thanksgiving and shared joy and happiness. It was a very kind thing to do. He also thanked his friends, family, and volunteers for their help in providing a proper thanksgiving dinner to the families of the patients.
For More Updates on Celebrity News, Articles, Entertainment and Biography visit SuperbHub