Reality television shows are the new craze today. Several reality television shows show their lifestyles, their family, and many more. Among many, "Bringing Up Bates" is also one that has amassed considerable fans, and people have their favorites.
The American reality television show on UP TV is centered around Gil Bates and Kelly Jo Bates and their 19 children. Here, we will talk about Trace Bates, one of the pair's children. Let's stick together if you are curious about Trace Bates' unique relationship with his girlfriend.
Who Is Trace Bates' Girlfriend?
Living is a difficult task to do unless you find a partner who can accompany you genuinely and devotedly. Reality tv star, Bates is fortunate enough to find a hand that is genuinely supportive of him.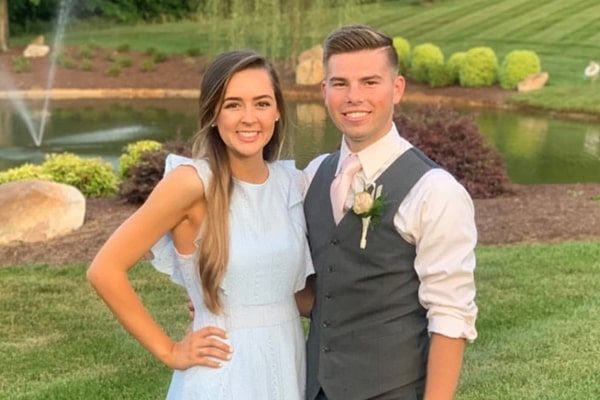 Trace Bates and his former girlfriend looked pretty good together. Image Source: Pinterest.
Trace Bates' girlfriend, Chaney Grace, is a lovely girl. The couple met on a skiing trip to Colorado. Trace and Chaney kept in touch and eventually fell in love with one another. For Trace thought it would be complicated to know someone over phone calls and thus decided to introduce her to his family on the "I Love You Day" party.
The public first had their eye on Chaney during Trace's sister's wedding. Trace and Chaney publicly announced their relationship via their show on September 11, 2019. The couple shared a decent length of memories to cherish. However, it looks like the courtship did not last long.
Did Trace Bates' Courtship End?
Unfortunately, the courtship between Trace and Chaney did not last long. After all the introduction and their love confessions, fans had expected for another wedding bells soon. However, things do not go as we hope it to be. Hence, Trace Bates announced that he and Chaney Grace had broken up through Instagram.
View this post on Instagram
In Trace's Instagram post, he wrote that after several talks and visits, Chaney felt like they were not meant to continue their relationship. He supports Chaney and further extends to accept that they are still young and learning about relationships and communication. Both Trace and his former girlfriend are thankful as they grew up as a result of their time together. He clearly stated, "To avoid confusion, and because so many on social media have asked, I thought it would be best to do a post to explain that we are no longer dating."
Let's hope Trace Bates' girlfriend took the right decision, and both of them find a way to learn and live.
What Is Trace Bates' Net Worth?
Trace bates is a grown man with responsibilities. Although there are no accounts recorded for Trace Bates' net worth, we do see him living comfortably. "Bringing Up Bates" is compared with The Duggars. As both the series are similar, one significant difference among them is that Bates family has jobs outside the home.
According to the Cheatsheet, Trace Bates has followed the footsteps of his brother, Zach Bates, and became a police officer, Sheriff's Deputy Officer to be specific. Trace reportedly took over Lawson Bates' lawn care business. Furthermore, he also aspires to be a trick rider at the Dixie Stampede. The family earns from reality tv shows as well.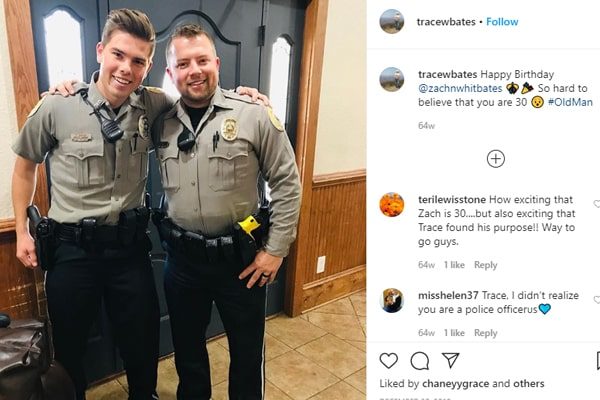 Trace Bates' net worth is aided by his job as a police officer and multiple ventures. Image Source: Trace's Instagram. 
Although there isn't much information about what boost Trace Bates' net worth, it is evident that he is living a comfortable life with his family. Let's hope we get to hear more from him and his luxuries.
Nevertheless, Trace's father Gil Bates' net worth is estimated at $250K.
What Was Trace Bates Childhood Like?
Born on February 1, 1997, Trace was the eighth member welcomed by Gil Bates and Kelly Jo Bates. Trace Bates' parents got married on December 19, 1987, when Gil was 22, and Kelly was 21. Since then, Mr. and Mrs. Bates have had nine boys and ten girls, born between 1988 and 2012.
Bates has a pretty long line of siblings with whom he got to enjoy his childhood surrounded by his family. By the looks of it, Trace had a pretty happy childhood. He was homeschooled growing up and was raised as active participants of Bill Gothard's Institute in Basic Life Principles.
Furthermore, Trace and his sister, Carlin graduated from high school in 2016. Their graduation party was planned by Carlin at Mount Moriah Camp and was open to the public. Trace Bates' siblings, Erin Bates, Lawson Bates, Tori Bates, and Carlin, performed the song "All Along" by Rebecca J. Peck and Mark Lanier at the party. Furthermore, he received a one year Bible certificate from Crown College on May 7, 2018,
According to Fandom, Born as Trace Whitfield Bates, he is a fun and spunky child as he enjoys playing games. As of now, Trace has fully grown up and is doing his best to become a man everyone could admire. Let's hope we get to learn more about Trace Bates in the future.
Don't Miss To Follow SuperbHub For More Updates On Celebrity News, Entertainment, and Biography.