Tomaso Trussardi is an Italian businessman who is currently the owner and CEO of the Italian Fashion Wear company Trussardi. He is also the managing director of the company's production company TRS Evolution SpA.
Tomaso's net worth sums up from the global success of his ventures and profound company.
Italian businessman, Tomaso Trussardi is known around the globe for his position of CEO of the famous Italian fashion house, Trussardi. He also acts as the managing director for Trussardi's production company.
He not only focuses on the business part of his company but also is actively engaged in the advertisement of his company's products.
He has modeled for some of the company's products. Tomaso Trussardi net worth is clearly displayed from his lavish lifestyles. The Italian lives in luxury and his wife Michelle also appear in public in designer clothes and accessories.
Tomaso Trussardi was born in 1983 in Bergamo, Milan, Italy. He was born to parents- father, Nicola Trussardi, and mother, Maria Luisa Gavazzeni. His father is a fashion designer. His grandfather, Dante Trussardi was the one who laid the foundations for the Trussardi Empire with his noble glove company Sosir.
Tomaso Trussardi was raised by his parents along with a sister, Beatrice Trussardi and a brother, Francesco Trussardi. Sadly his brother passed away a few years ago because of a tragic accident.
Tomaso spent most of his childhood in his birth city. Trussardi earned his master degree from the SDA Bocconi EMCFB, Milan in corporate finance and banking.
After completing his studies from the University of Milan, Tomaso Trussardi started his career in Libero's Motori magazine. Finally, in the year 2010, Tomaso joined his family company, Trussardi.
Trussardi co. is a family heritage of Tomaso's family founded in 1910 by Dante Trussardi as a small-town glove manufacturer. The company was eventually transformed from a supplier of leather goods to the carriage trade into an internationally known manufacturer.
Ultimately the company evolved in the production of stylish luggage and readymade exotics.
At present Trussardi is a reputed Italian fashion house. The company quickly became a leading brand in the international accessories market. In 1970 Dante's grandson, Nicolas Trussardi, took over the business and turned the company into an industrial group.
Nicolas has his fingerprints in diversifying its product range and entering the sectors of clothing and luxury accessories. Trussardi presently is an extended Enterprise including Trussardi Perfumes, Trussardi Eyewear and Trussardi mainline collection, Tru Trussardi (the casual and younger collection) and Trussardi Jeans.
Tomaso work as the CEO of the company is responsible for the current success of the company. He is also the managing director of the company's production company TRS Evolution SpA. Tomaso also appeared in the company's advertising campaigns of the men's perfume My Land. 
As the CEO and owner of the International reputed company, Tomasso Trussardi Net Worth is without a doubt in millions. Trussardi Company itself stands at a revenue of 152 million EUR. In 2002 the retail sales for the company were $478.1 million from operated 8 company and 10 franchise worldwide stores.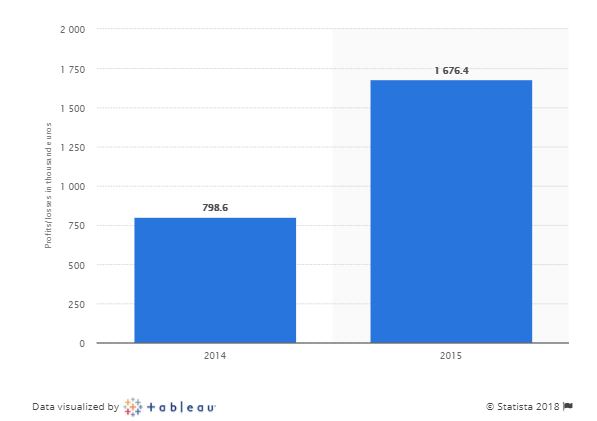 The timeline above depicts the net profits and losses of the Trussardi company between 2014 and 2015. The net profits accumulated of roughly 1.7 million euros in 2015 as compared to 2014.
Trussardi had underwritten a 15 million euro capital increase resulting in 40 million euro of the amount invested for three years by the company.
In 2014 and 2015, the turnover remained stable at 150 million euro, subsequently helping in restructuring and increasing worldwide sales.Tomaso Trussardi Net Worth peaked as soon as he took over his heritage business.
All companies and ventures co-related with the Trussardi company amass up to Tomaso Trussardi Net Worth.
The crucial partnership between Juventus and Trussardi continues for the  2017/18 football season. Trussardi will provide a sophisticated Suit, bags, wallets, belts, leather accessories to Juventus Formalwear of players and staffs. The collection is composed of main six accessories made with high quality and prestige materials.
The partnership with the € 550 million club Juventus will possibly skyrocket Tomaso Trussardi Net Worth.
Following on his personal life, Tomaso Trussardi was in a relationship with his ex-girlfriend, Lucia Fabiani. After being in a living together relationship for a couple of months, the pair broke up.
Trussardi then moved to being in a relationship with a television hostess, actress, model and singer, Michelle Hunziker. The couple married after a brief relationship at the Palace of the Bergamo Region in 2014.
Tomaso Trussardi wife has given birth to two children, Sole and Celeste Trussardi, both daughters. The family of four is living happily together.
Originally Published October 21, 2017, on Superbhub, Updated on February 9, 2018.