A successful British journalist, Tim Wilcox is presenter for BBC News and reporter for BBC World News.  Well-known for his TV shows, Global(2013), GMT (201o) and BBC World News America (2007), Tim Wilcox net worth is impressive.
Though he is not among the big money earners of BBC like Chris Evans who is paid highest with annual salary of £2,200,000-£2,249,999, Graham Norton paid £850,000-£899,999 and Jeremy Vine of £ 700,000-£749,999; Tim Wilcox has earned a lot in his BBC journey almost close to the well paid journalists.
In 2018, however, after BBC pay gap parity issue revealed by China's Editor Carrie Gracie, BBC had suggested to put a pay cap of £320,000 on BBC news presenters, Editors, Correspondents causing reduction on the male Journalists's salary. The same is applied to Tim Wilcox, so his salary would also have a pay cap.
Let's get into detail to know more about Tim Wilcox net worth, his family life and also about Tim cheating his wife.
Wilcox was born on May 28, 1963 in Wellington, Somerset.  Tim studied at Taunton School, which is an independent school in Somerset. Wilcox also studied Spanish at Durham University. There, he became the member of the British Youth Orchestra, as he was very good at playing the trumpet.
Wilcox also has a brother, Reuben Wilcox, who is a great Baritone Opera singer.
Tim Wilcox started making his living from being part of Fleet Street News Agency. There, he reported mostly about love lives of celebrities and royals like Princess Diana and Andrew Lloyd Webber.
One of his colleague in Fleet Street said that Tim in his twenties became a royal correspondent who had an ability to mix well with Lords and ladies as reported by Scottish Daily News.
In 1990s, Tim Wilcox started working at Sunday Mirror, where he met his first wife, Sarah. She was the sub-editor at the Mirror Group Newspapers. Being married at 1995, Tim worked for ITN News for years. He was working as a networks Arts and Media Correspondent there.  He also appeared in a movie 102 Dalmations as an ITN reporter.
Tim Wilcox net worth and career started to blossom with his work at BBC. He represented bulletins at weekends on BBC One and served as regular Friday presenter on World News Today on BBC Four, BBC World News, and the BBC News Channel.
Tim also appeared in TV shows like World News Today in 2006, BBC World News America in 2007.
Tim is probably most recognizable for presenting the BBC's live coverage from Chile during events surrounding the Copiapo Mining accident. In October 2010, he did a live coverage. His coverage was of the operation to bring the trapped miners back to the surface. He also interviewed Chilean President Sebastian Pinera in the same year.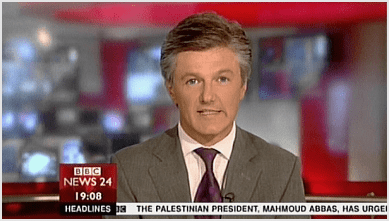 Tim Wilcox net worth increased with his noteworthy work at BBC. 
Source: The TV Room
His noteworthy work paid him well making his and his family life more glamorous.Wilcox also presented the networks live reports from New York City during the 11 September terrorist attacks, after joining the news team.
He also played a significant role in reporting the Japanese earthquake and tsunami in March 2011. He also reports live for the BBC from the disaster zone and then just a few weeks later he was reporting from Libya on the 2011 Libyan civil war.
Tim also anchored the BBC's live daytime coverage during the early days of the Cairo January 2011 Egyptian revolution. In 2013, Tim Wilcox presented Global with Matthew Amroliwala news program on BBC World News.
Tim has written, produced and presented many documentaries in his career. He has produced documentaries for Channel 4 and Channel 5, and also news for the BBC.
His documentation and presentation include Paul Burrell (The Butler's Story), Di's Guys, The Spencers, and Diana (Her Life, BBC world news America with Tim Wilcox).
Tim Wilcox net worth today is the result of his sheer hard work and intelligence and he is still working with the same energy.
Tim Wilcox met his wife Sarah while working at Sunday Mirror. She was the sub-editor there and both started dating each other. Sarah became Tim Wilcox's wife in September 1995 in Dry Sandford, Oxfordshire exchanging vows at the 13th century Parish Church according to Scottish Daily News.
The newlywed settled their home at Islington, North London. The couple then welcomed their first two children there and then moved to Oxfordshire. As Sarah left her job, Tim Wilcox became the bread winner of the family maintaining the upper middle class lifestyle.
However, Tim Wilcox left his wife after 17 years of marriage and four children in 2012 to be with his co-worker Sophie Long.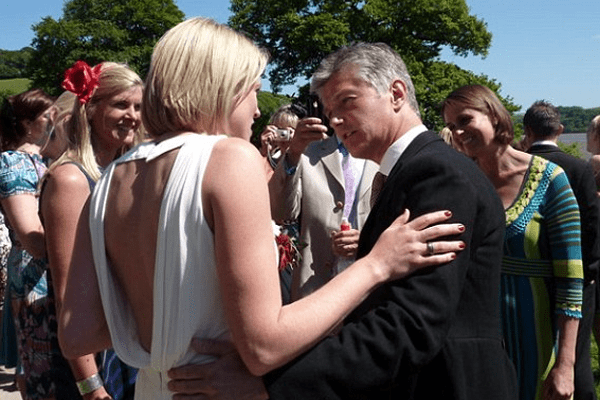 Tim Wilcox with colleague Sophie Long on her wedding day accompanied by wife Sarah Wilcox standing behind him on the right. Sophie was getting married to Will Green in 2010. Source: Scottish Daily News
Well, they were close and his wife Sarah didn't have any sign or doubt about her husband cheating on her. Tim Wilcox's wife Sarah was a strict Catholic wife and mother and she didn't see this coming.
Their affair news became public in November 2012 when BBC sources revealed that Tim and Sophie who had been co-presenting BBC News Channel will not be appearing on the screen together.

After having extra marital affair, both Sophie and Tim left their exs behind and was in living relationship. However in 2015, Tim Wilcox and Sophie Long moved on with another partners. Tim got involved with Telecoms multi-millionaire Warren Hardy's wife Tessa Hardy.
They met each other at a dinner party in 2013 when Wilcox was still with Sophie. Most of Hardy's friends have said that Tim Wilcox net worth couldn't be able to handle Tessa's finances like her ex-husband Warren did.
While Tim Wilcox's ex Sophie split and moved on with Kamal Ahmed, BBC's Economics Editor, who had also divorced with his wife in 2015. Now Sophie is known to have left him too.
BBC published a report in July 2017 of how much does BBC 's highest paid stars earn. It had the salary range of all the famous stars getting above £150,000 annual salary.
The list started with Radio 2's Breakfast Show host, Chris Evans salary of around £2,200,000. However, Tim Wilcox name wasn't mentioned in the list which makes it clear that Tim Wilcox net worth includes BBC's salary near to £150,000 ($210,919) including bonus, and approximate equity.
However, after the pay cap suggestion by BBC, the salary of BBC journalists may vary. Six of the leading male BBC journalists Nicky Campbell, Jon Sopel, Nick Robinson along with Vine, Edwards and Humphrys have agreed to receive reduced salaries as they also think pay cut is fair.
Though Tim Wilcox hasn't made to BBC's highest earning stars list, his profile has increased massively enabling him to finance his luxurious expenses and maintaining Tim Wilcox net worth to be not less than a million.
Tim Wilcox had been maintaining a great lifestyle after marriage as he was the bread winner. He had purchased a Riverside home in Oxford shire worth £700,000 and also a flat in London.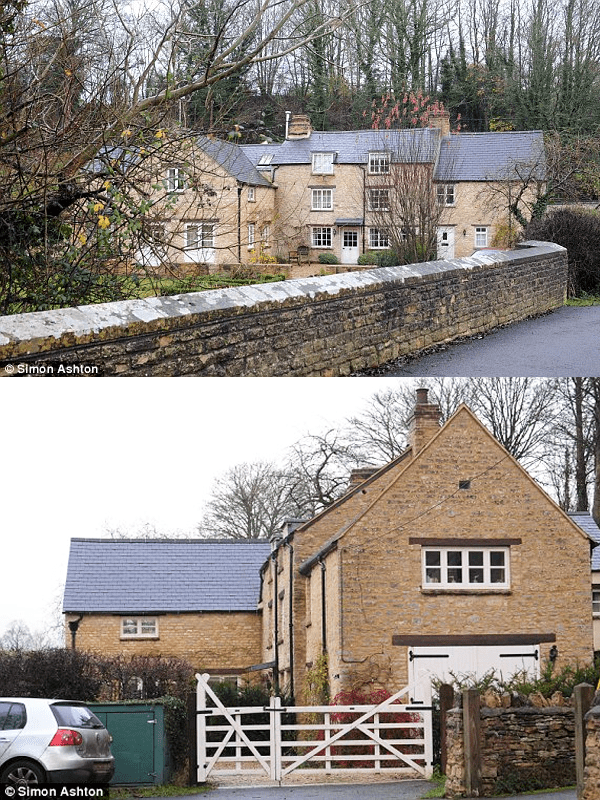 Tim Wilcox net worth: Tim Wilcox's family home at Wootton by Woodstock and home where Tim Wilcox lived with his four children and wife at Oxford shire. 
Tim even enrolled his children to top private schools. His one son was known to have studied at an expensive school with annual fee of £31,000.
After divorce with his wife and affair with Sophie, Tim has been involved with European telecom business tycoon who was listed in Sunday Times Rich List with worth £115 million in 2000, Warren Hardy's ex-wife Tessa Hardy. She has her own business website Exceptional Pieces that sells art and other items.
For more new and exciting celebrity biographies, news and entertainment, be with SuperbHub.