Susan Aikens was born in 1963 and originally from Chicago, United States. Aikens is a celebrity from Alaska, popular for her appearance on the show "Life below zero" of National Geographic Channel. She attended the Lowell Whiteman School in her early days.
Aikens was just 12 years old when she and her mother moved to Alaska to leave her father. Eventually, her mother left, leaving Sue to solely survive and adapt the cold wilderness of Alaska. Aikens has been in Alaska for 30 years and has thrived bravely in the ultimate cold environment with limited resources.
55-year-old Aikens is the exclusive warden of Kavik River Camp, a base for hunters where she has lived for 7 years and also calls it her home. The camp can house 83 hunters at a time which is 500 miles from the closest city.
"If it Hurts, Don't Think About It", Aikens's motto.
Sue Aikens Net Worth
Sue Aiken's Net Worth is a measure over $500k which she earns from the reality show Life Below Zero and other many stage performances. Sue relies on hunting and fishing for her livelihood for which all the pieces of equipment are provided by her show.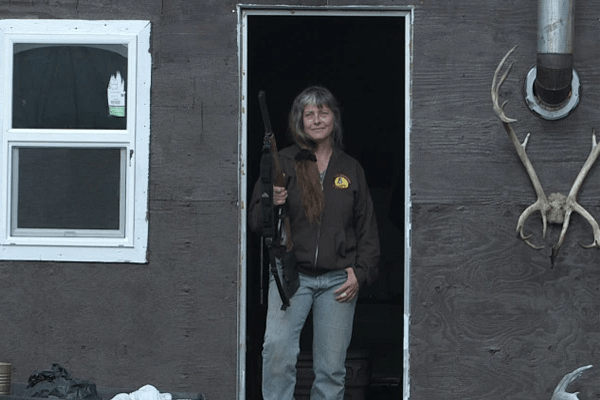 Life Below Zero Legend, Sue Aikens
Image Source: Discovery
Sue's other TV series include;
Life Below Zero(2013-present)
Today(2015)
Access Hollywood Live(2015)
The Joe Rogan Experience(2014)
Fox and Friends(2014)
Flying Wild Alaska(2011-2012)
Sarah Palin's Alaska(2010)
Sue's estimated Annual salary is around $200,000 and earns through her camp which she charges $350 per day. Her monthly income calculates to $16,000 and $4,000 weekly which lead to the net worth of Sue Aikens of 2018.
Sue Aikens Husband and Family
Sue had 3 husbands, 2 of them had passed away and another left her for a younger woman. Ever since she has been enjoying her freedom and living in her solitude.
She has also lived in Oregon with one of her late husbands but was tempted to return to Alaska by the beauty of nature and her desire to live in isolation.
Aikens is blessed with two children a son and a daughter who's identity is kept out of the limelight whereas she also has a granddaughter aside from her grandson. Not much is known about her as Aikens is too secretive about her personal life.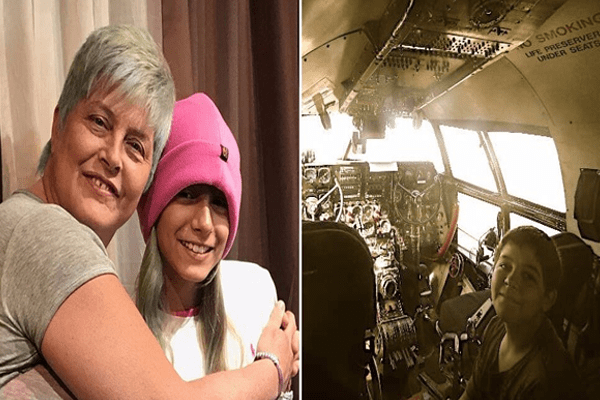 Legendary Sue Aikens with her grandkids.
Image Source: Twitter (@sueaikens)
Life below Zero, Sue Aikens TV Career
Sue Aikens began her TV career from the survival show Life below Zero which became a deserved digital platform to present Aikens's lifelong experiences to survive in the wilderness of Alaska.
The documentary focuses on the survival technique of 6 individual hunters (with their family) who inhabit the remote places of Alaska.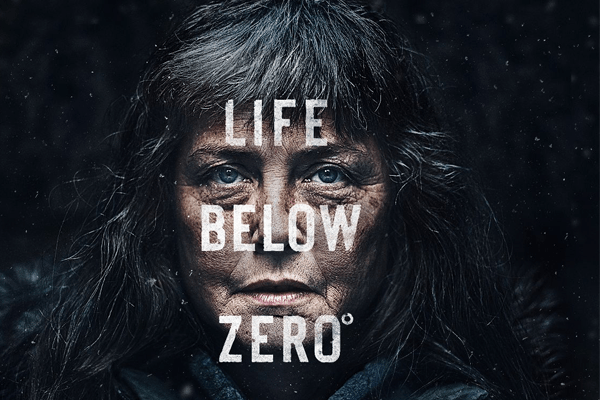 Sue Aikens Candid in Life Below Zero on Discovery Channel                                      Image Source: Pinterest
Sue is the only resident of Kavik River Camp, in Northern Alaska which is an exploration camp providing accommodation to adventurers in hunting season.
Sue joined 5 other residents of The Last Frontier in 2013 on the Life below Zero show. Before Life below Zero, Sue was featured on "Sarah Palin's Alaska" reality series and Flying Wild Alaska in 2011.
The LBZ show, 67th Primetime Creative Arts Emmy Award winner in 2016 used to premiere on Sunday night but later switched to Tuesday night at 8 p.m. Eastern time from Season 4.
Life below Zero has 8.1/10 IMDb rating.
Bear Attack and Sue Aiken Facts
How and why Sue Aikens killed a Grizzly bear?
In an interview with National Geographic presenters, Sue Aikens explained about an incident when a Grizzly bear attacked her and almost left her dead in 2007.
I had to sew my head together, my arm, and before my hips popped out, I went across the river, found the bear, shot him, called the trooper and lay there 10 days.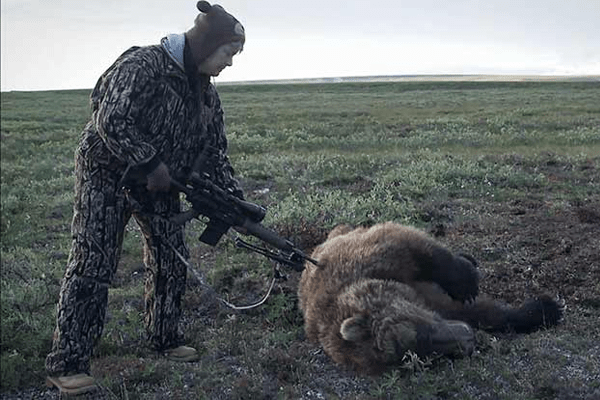 Sue Aikens's bear attack in the Life Below Zero
Image Source: Discovery
Aikens was severely injured and was rescued by one of the pilots after ten days.
In 2017, Sue filed a lawsuit against BBC Worldwide Reality Productions for forcing her to do risky activities to build up a storyline. Aikens was badly injured in a staged snowmachine crash set up by the producers. The fifth season"The Crash" presents the accident of Sue hitting an ice heave which left her severely injured.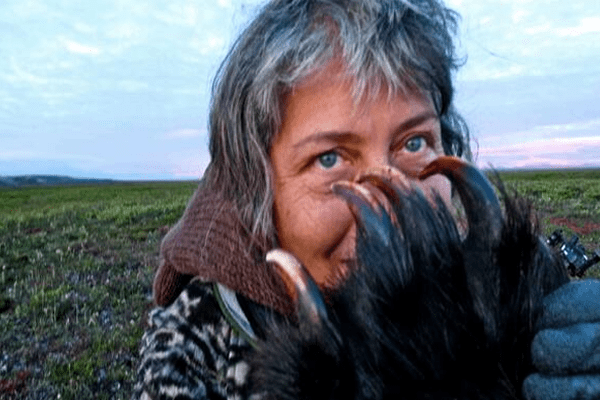 Life Below Zero Star Sue Aikens with a huge bear claw
Image Source: Twitter(@sueaikens)
In Alaska, the ground is frozen all year leaving no way to dig a well for water and Sue has to decontaminate the river water herself. The electricity generator goes down often in the extreme conditions and it is Sue who has to repair it.
Sue accommodates the hunters with hot showers and food during hunting season but from October to May, she battles freezing temperatures as low as -100 F and winds over 100 miles an hour.
Visit SuperBhub for more celebrity News, Biography, and Entertainment.