Samuel James Champion well known as Sam Champion is an American weather anchor. He is best known for his combined 25-year career on the ABC flagship station WABC-TV and Good Morning America. Sam Champion's Net worth is estimated to be around $10 million.
Champion is the former co-anchor to AMHQ: American's Morning Headquarters and 23.5 Degrees With Sam Champion on The Weather Channel.
American weather anchor, Sam Champion was born on August 13, 1961, in Paducah, Kentucky, United States. He was born to the parents Sylvia and James H. Champion.
Champion has one sibling sister. Her name is Teresa. Sam's father died on October 25, 2010.
He completed his graduation from Fairfax High School in Fairfax, Virginia, 1979. He has done B.A. in broadcast news from Eastern Kentucky University. Later, he interned at WKYT-TV in Lexington, Kentucky.
American anchor, Sam Champion started his career at WPSD-TV in Paducah, Kentucky. Later, he became a weather forecaster for WABC-TV's Eyewitness News in New York City in 1988.
He began to work on Good Morning America at a salary of $1  million per year. Champion debuted as the host of Sea Rescue on April 7, 2008. He also worked in ABC in 2006. After his way to success, he moved from ABC on December 2, 2013, and became an on-air presence at managing editor of The Weather Channel.
Sam mostly appeared on Live! With Kelly and Michael in the daily talk show. The show was produced by WABC- TV and CNN's Larry King Live. Samuel  mostly started his 30-second weathercasts by saying, "Let's get to the boards."
Additionally, after his quit from GMA, he joined The Weather Channel on March 17, 2014, to host his morning show, named as America's Morning Headquarters.
In 2015, Champion was known to soon leave AMHQ in September 2015, to serve as a contributor to its prime-time programs. Then, Champion and The Weather Channel decided not to renew their contract in December 2016. And Sam quit the company.
On December 27, 2016, Samuel's final episode aired, 23.5 degrees and he returned to ABC on February 17, 2018, as one of the fill-in weather forecasters on the weekend edition of Good Morning America.
Sam Champion had love affairs with Brazilian visual artist, Rubem Robierb for several years. Yes, he is gay!
The sweethearts also got engaged on October 5, 2012. After two months of their successful engagement, the couple announced that they got married on December 21, 2012. The couple met one another at a New Year's Eve party in Miami.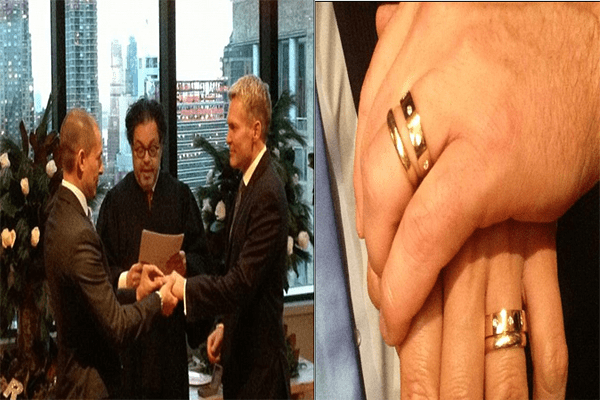 Champion, tied the knot with Rubem Robierb, in an 'intimate ceremony at Champion's Manhattan apartment. 
Image source: People Magazine
The couple's marriage ceremony took place in New York and was conducted by New York State Supreme Court Justice George J. Silver. Sam and Rubem later decided to again celebrate their vows before a group of 100 friends and family.
Sam Champion is living a happy and luxurious life with his loving husband, Rubem Robierb. The couple does not have any children yet.
Sam Champion's net worth is estimated to be at $10 million. He earns a massive amount from his successful career.
He made a huge salary from Good Morning America as he got $1.5 million per year in 2012. We can assume that his annual salary in this year is above $1.5 million, compared to last year. Michael Strahan is paid $20 million salary in the show.
Champion sold his East Hampton four-bedroom, 4.5- bath home for $2.55 million in 2014. He also sold his Upper West Side Pad for $4.7 million.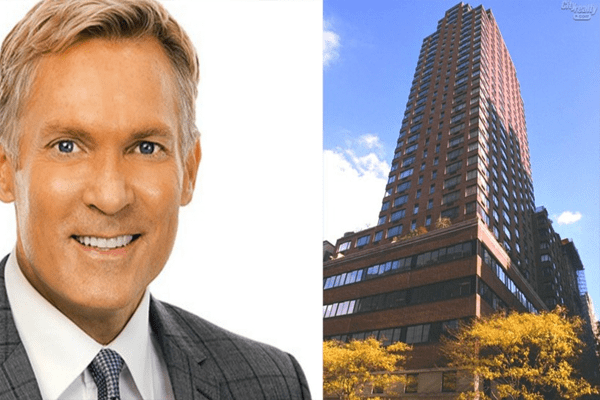 Sam Champion's net worth includes $4.7 million, he received after selling his Upper West Side Pad house. 
Image source: City Reality
Moreover, Champion is a kind-hearted personality, who is active in many charitable organisations in the New York City area. He used to donate thousands of dollars to charity.
Be connected with SuperbHub, for Celebrities Biography.