Sadie Sink is an American film, theatre and television actress who is renowned for her performance as Max in the hit Netflix series Stranger Things as well as for portraying Suzanne Ballard in American Odyssey. Having started her acting career at the tender age of 10, she has gone on to become a successful actor and has a bright future ahead of her. Sadie Sink's Net Worth is estimated to be $1 million.
Born on April 16, 2002, in Brenham, Texas, Sadie originally started her acting career in Broadway with the play Annie. Since then, she has starred in TV and films alike with the appearances in the likes of Blue Bloods and The Americans on her resume. In addition, she has also branched out to commercials and has appeared in Paris fashion week amassing a stunning net worth.
Sadie Sink Net Worth and Earnings
As of 2018, Sadie Sink's net worth is $1 million. She makes most of her money through her acting endeavors in Broadway, TV, and movies. Having starred in a handful of these, she has collected quite a lot of cash contributing directly to Sadie Sink's Net Worth of $1 million.
Sadie's biggest acting role till date has been her role of Max in Stranger Things and it also provides her with her biggest paycheck. Though her exact salary is unknown, stars like Millie Bobby Brown are set to earn $350,000 per episode in season 3. So we can expect Sadie to receive a six-figure salary per episode as well adding up to her Net Worth of $1 million.
In addition, Sadie has also appeared in commercials for Clean & Clear as well as Stony Brook Children's commercials, further enhancing her net worth. Moreover, she also modeled at Paris Fashion Week in July, receiving a lot of cash in the process.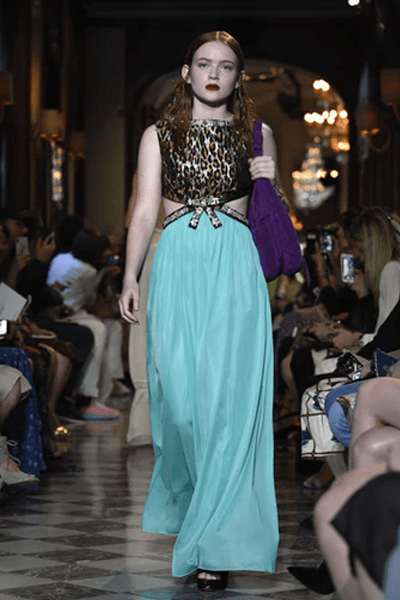 Sadie Sink during Paris Fashion Week.
Image Source: Bustle
Personal Life, On-Screen Romance, Millie Bobby Brown
With the success of Stranger Things, all the cast members are closely observed by the media. Sadie is no different as people are keen to know about her love life. But she hasn't revealed who her boyfriend and has constantly implied that she is single.
But Sadie did engage in an on-screen kiss with co-star Caleb McLaughlin, who plays the role of Lucas. Sadie revealed that the kiss was actually not on the script originally but was later added on. She said that she felt very uncomfortable as it was her first on-screen kiss.
Her real-life best friend is Milley Bobby Brown who played Eleven in "Stranger Things". The BFF's have pictures of them on their social media. Millie shared a picture of the two's vacation in Mexico.
Sadie Sink Career Summary
Sadie Sink's Career began at age seven after being inspired to cover Disney's High School Musical with her brother, Mitchell. Sink then started taking acting classes in a community theatre in Houston.
In 2012, after starting in theaters, Sink gave a Broadway Audition and got a role in the revival of the Broadway Annie. Sink took dance lessons and vocal training to prepare her for the role. Sink also appeared in the Emmy-winning series The Americans.
Sink co-starred with Helen Mirren in The Audience as Queen Elizabeth II. Sadie Sink is a Vegan; Makani, Woody Harrelson's daughter inspired her to be a vegan while appearing alongside on The Glass Castle
Sink played the drama movie The Glass Castle as Young Lori Walls. Sink plays as Maxine "Max" Mayfield in Netflix's Stranger Things in 2017 and on December starring in the horror film "Eli".
For more News, Biography, and Entertainment visit SuperbHub.