The American YouTuber Rosanna Pansino was born on the 8th June 1985 in the United States. She is also a baker, actress, and author. Pansino is famous for the cooking series Nerdy Nummies, which is one of the most well-known baking shows on YouTube. Her YouTube channel has reached over 11 million subscribers as of July 2019.
Rosanna Pansino's net worth is estimated to be at $9 million. She is currently in a relationship with her boyfriend Mike Lamond a.k.a. Husky. She generally collaborates with the popular YouTuber iJustine aka Justine Ezarik and Sofie Dossi.  Plus she had also starred as Violet on the YouTube series Broken Quest.
Net worth and Earnings
As mentioned above, Rosanna Pansino's net worth is estimated at $9 million. Pansino has made good earnings in her career and that is in view of her revenue from YouTube alone. In an interview with CNBC, Rosanna revealed that she did not monetize her channel until about one-and-half years into her YouTube days. She created her YouTube channel on 7th April 2010.
Pansino has also talked about how she turned down about 90 percent of sponsorships. Her reason was that they do not align with her passion and vision for the channel. Still, with some online advertisements, her number of views and her loyal subscribers, Rosanna's net worth is now in millions. Here is the brief description of Pansino's earnings from her YouTube Channel:
| YouTube Channel | Estimated Monthly Earnings | Estimated Yearly Earnings |
| --- | --- | --- |
| Rosanna Pansino | $6.8K - $109.5K | $82.1K - $1.3M |
Besides her successful YouTube career, Rosanna is also a singer. She released her first single named Perfect together in February 2015.
Earnings From Merchandise
Alongside this, Rosanna also earns a decent amount of money from her merchandises. She has got a website of her own, where she provides different products to her customer at a reasonable price. Her website consists of her own shop, where she sells her cooking recipe books, cooking and baking kits, baking line, and many more. She also creates blogs relating to her recipe, DIY, and lifestyle.
View this post on Instagram
Family
Till date, Rosanna hasn't revealed a lot about her parents. Though she has got a sister named Molly Lu. Her sister appears frequently on her challenge videos. Learning to bake at a young age from her grandma, Rosanna's skills as a baker even got her to win the Shorty's Award in the food category in the year 2013. We don't have much information regarding her family apart from the fact that they are involved in her YouTube career as her managers.
Dating, Relationship, and Boyfriend
In the past, Rosanna Pansino used to be very quiet about her relationship. Actually, she kept her private life to herself without revealing it to the media. On September 14, 2016, she tweeted that she had a boyfriend but she didn't disclose the name or any other information about her boyfriend, leaving her fans confused.
As of now, the gorgeous actress is currently dating Mike Lamond a.k.a. Husky, who is a former e-sports commentator. Moreover, Rosanna Pansino's boyfriend is now a YouTube personality and also a director and producer in YouTube channel Nerdy Nummies.
As a matter of fact, he as well as his girlfriend run this channel. The pair first met via YouTube channel and started dating in 2013. Since then, the couple is still together and is enjoying each other's company. The duo is not married and doesn't share any children yet but who knows, they might be getting married pretty soon. Rosanna Pansino stated this on her Youtube channel.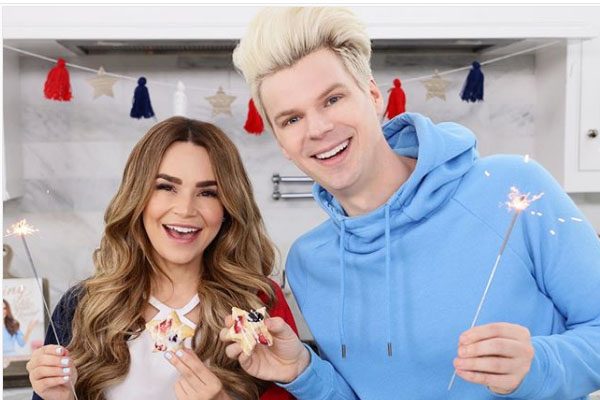 Rosanna Pansino and her boyfriend Husky are a cute couple. Image source: Instagram/Rosanna Pansino.
Before her relationship with Mike, Pansino had an affair with her co-star from the Glee, Josh Sussman. They attended a lot of red carpets and events together, but they never explained anything about their affair and relationship.
Keep everything aside, Rosanna Pansino also has a pet dog named Cookie.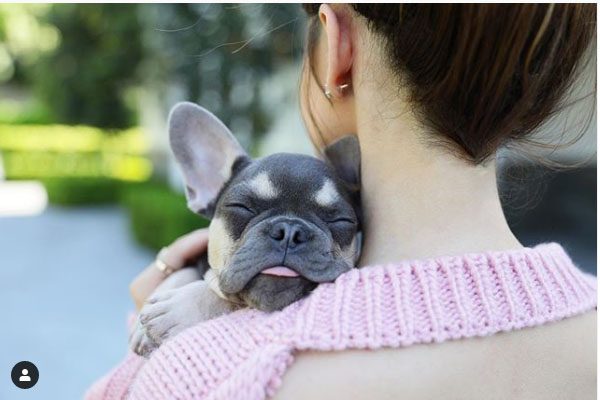 Rosanna Pansino loves her pet dog Cookie a lot. Image source: Instagram/Rosanna Pansino.
The Cookie is a French bulldog who has also appeared in many of her YouTube videos.
For more Entertainment, Biography and Articles, stay tuned with SuperbHub.