Music artist Ricco Barrino was born on 20th of March 1980 in High Point, NC, US. Famous R&B singer Ricco Barrino's net worth is estimated to be $1.5 million. Ricco is also recognized as the brother of Fantasia Barrino, the winner of the third season of the American Idol.
Ricco Barrino's full name is Kassim Vonricco Washington, and he was passionate about singing since his childhood. He had his band when he was just 11 years old. The R&B singer, Ricco has been highly inspired by Eminem. Plus his family roots also include the talented and successful personality like The Barrino Brothers.
Ricco Barrino Net Worth and Songs
The famous R&B singer, Ricco has accumulated an estimated net worth of $1.5 million from his music career. He has been serving the Hollywood music industry since 2004. As for his sister Fantasia Barrino, she has a net worth of $5 million.
The "Come to the Money" singer Ricco has also signed a recording contract with rapper T.I.'s Grand Hustle Records.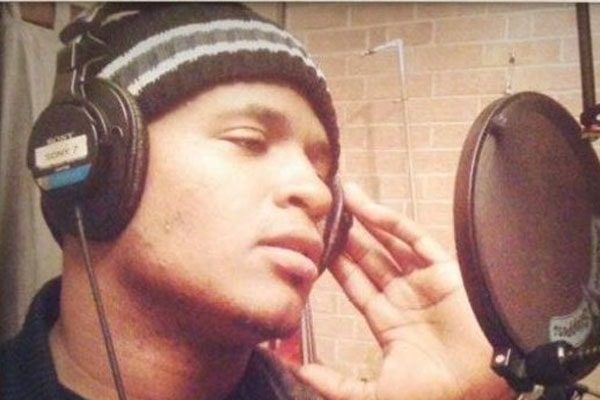 Ricco Barrino in the recording of one of his song, Image Source: My Space.
The 38-year-old Ricco has won the hearts of millions of people with his songs. He has got a YouTube channel named "Ricco Barrino" where he uploads his songs. Here are some of Ricco Barrino's songs:
---

Vibe

Remembers My Name
5th Dimension
Gone
Futuristic Love
Bubble Gum


---
Ricco is not only a singer but also an R&B producer and a songwriter. Ricco Barrino's net worth is estimated at $1.5 million from which he lives a lavish life.
View this post on Instagram
Ricco's Son Tyquan Murdered
In February 2018, the singer Ricco went through a tough time. He lost his 18 years son Tyquan Vonricco Washington. Tyquan was shot in Greensboro North California. Later, police arrested a 21 years old David Lee White Jr for killing Tyquan. The murder, David is currently imprisoned in the Guilford County Jail.
Ricco and his sister Fantasia were devasted following the death of a young member of the family. Barrino family expressed their heartfelt sympathy to Tyaquan death on their social account. Ricco wrote a very emotional letter showing love for his late son Tyaquan on his Instagram which brought down the tears of many fans. As for his baby mama, no details have been disclosed yet.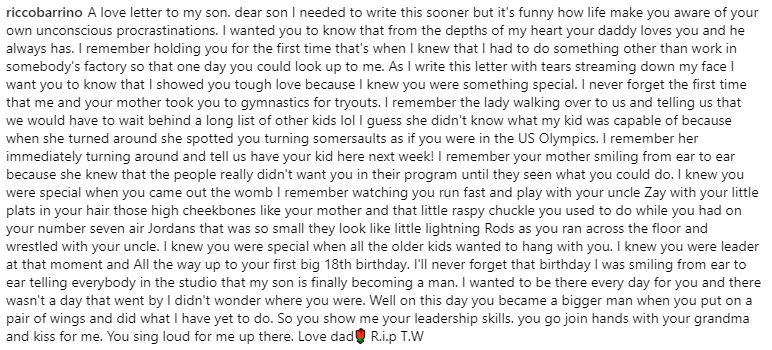 The Letter which was written by Ricco Barrino for his late son Tyquan Vonricco Washington. Snip Source: Ricco's Instagram.
Siblings And Parents
Ricco who was born to parents Diane Barrino and Joseph Barrino spent most of his childhood in High Point, NC with his parents and siblings: Fantasia Barrino, Xavier Barrino, and  Joseph Barrino.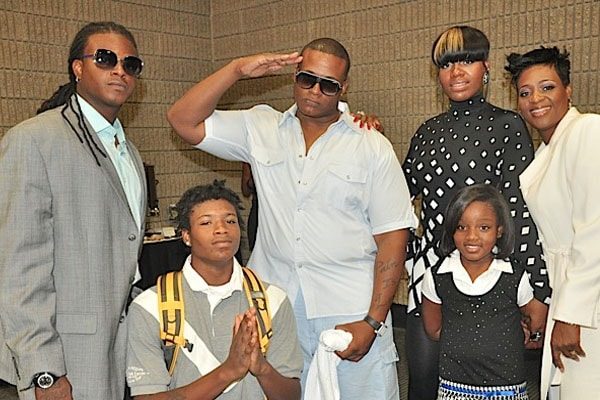 Ricco Barrino with his sibling Fantasia, Xavier, and Joseph. Image Source: Instagram.
The singer, Ricco shares a close bonding with his siblings and frequently post pictures with them on his social media account. We can see Ricco is a caring and loving brother. His brother Xavier was injured in a bike accident in 2017, and at that time Ricco was the one to take care of Xavier.
SuperHub For More Celebrity News And Entertainment.