Born on August 15th, 1984, Quinton Aaron is well known for portraying the role of Big Mike in the Academy award-winning movie, The Blind Side. Since then, the number of his fans has been growing quite remarkably, and it doesn't seem to be coming to an end any time soon.
Quinton began his silver-screen debut as The Lion King Guy in Be Kind Rewind. Following his debut, he has played many numbers of roles, and while some may not be so well known, he still has a great number of fans nonetheless.
Relationship Status
Quinton Aaron is possibly single currently. Previously, he made a reputation of himself for announcing new girlfriends every so often.
The actor once dated a 'playboy' model, Jenna Bently. During their relationship, they made many public appearances and even were seen together at the 39th 'Annual People's Choice Awards' in LA in January of 2013.
Quinton Aaron and his then-girlfriend Jenna Bently together at People's Choice Awards 2013. Image source: Zimbio.
After his separation with the model, he went to date numbers of ladies. His last reporter girlfriend was Taryn Marie Stejskal.
Net Worth and Earnings
Quinton Aaron's net worth is estimated at $3 million, and it is safe to assume that the main source of it is his acting career. His monthly salary/income is unknown to the public. However, seeing his contributions to the industry, it can be assumed to be somewhere along the lines of $100,000.
Furthermore, the actor worked in a number of movies and TV series. Some of them include The Blind Side, Be Kind Rewind, and Law and Order. He made his big break as Michael Oher, but appearing in some other shows was also enough to increase the number of his fans.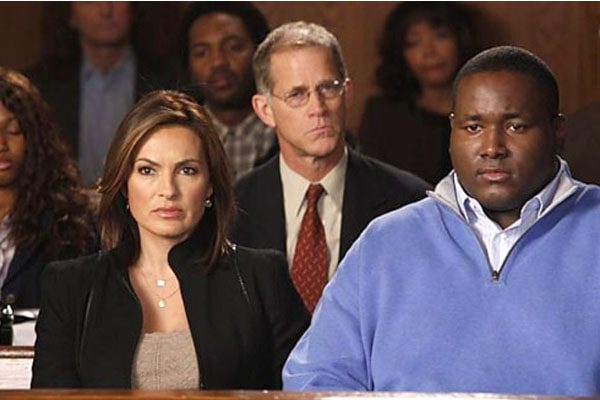 Actor Quinton Aaron guest-starring on Law and Order as a member of the jury. Image source: TV Guide.
In addition, Quinton has guest-starred in a few television shows and has been doing minor acting roles for a while now. While people do recognize his works, some of them were left forgotten like Mothers and Daughters, and the teen flicks My First Miracle.
Besides, it is believed that he owns an apartment in Los Angeles, California. It's a big change considering that he was almost kicked out from his previous apartment before becoming a star. Guess it all turned around for the better.
Charity
The actor is fond of giving back to society and is a part of several organizations. He is also the founder of The Quinton Aaron Foundation, which is used to fulfill his mission of spreading anti-bullying awareness among children and teenagers.
The star is also an advocate of 'Celebrities against Bullying' and uses his own experiences to help the kids in any way he can. He is a life coach and a proud mentor to more than 525,000 children in 43 states of the US. These are all children who were having a hard time due to bullying.
Childhood & Family
The prolific actor is the son of author Laura Aaron, writer of the book Leave Me Alone. While his mother may have made a name, the information of his father has not been revealed yet.
After finishing his elementary school from The Bronx, New York City, he moved to Augusta, Georgia.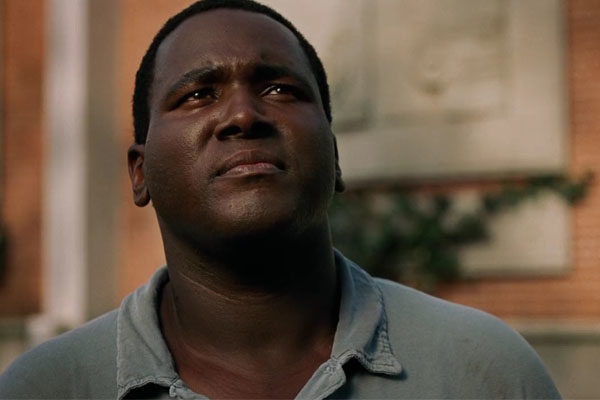 Young Quinton Aaron had many social problems while growing up and was constantly teased about being obese. Image source: IMDb.
Sadly while growing up, Quinton Aaron had to face financial as well as social problems, usually because of his obesity. This resulted in him being bullied, and according to Famous People, his first experience of bullying was back in 1990 at just 6 years of age.
Aaron further had already been interested in music and drama since a young age wanting to be an actor. He had apparently told his mother of how he would be the first black 'James Bond.'
Hospitalized
Back in June 2019, Quinton Aaron was hospitalized. Since early May 2019, Quinton believed to be having bad congestion and didn't think much of it. But it only got worse.
By the end of May, he started feeling worse, and in June finally decided to have it checked out. In the beginning, the doctors found him with high blood pressure and, just to be sure, kept him overnight for further tests.
Later, the severity of the situation was revealed. What he was suffering from wasn't just a bad cold but an upper respiratory infection. It did not take long to fully cure him because he had it checked out in time. Since then, he has encouraged his fans to have any abnormality checked out before it turns into anything serious.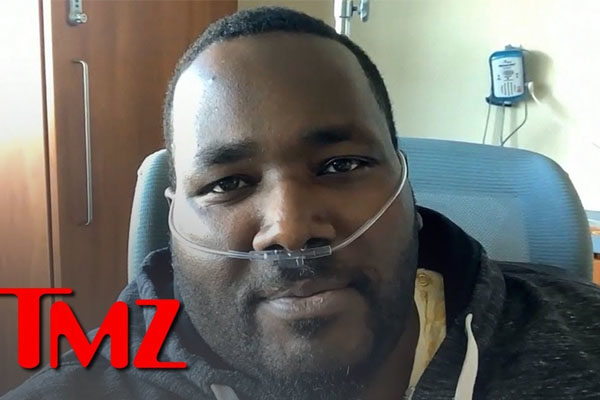 Quinton Aaron hospitalized and urged his fans to have any abnormality checked. Image source: TMZ.
The star moreover has made many contributions not only to the screen but also to society. With all of these, it is highly unlikely that Quinton will be forgotten any time soon. While no one can guarantee the future, it won't be wrong to say that he will shine brightly, not only for himself but also for those around him.
For More Updates On  News,  Articles,  Entertainment, and visit SuperbHub.