Jwan Yosef's beautiful piece of art always makes incredible sense of self-reference. His paintings reflect ideas, message, and attraction. His specialization is in plastic arts, and he is an artist of Kurdish and Armenian ancestry. His work says it all. No wonder he's a versatile painter. This incredible and creative person is openly gay and his bio has lots of interesting facts to peek into!
Yosef has been part of many art fairs and group exhibitions. His unique way of painting got recognition in 2013 when his paintings "Painting about Sex" and "Flesh and Violence" got released.
Early Life and Education
33-year-old artist, Jwan Yosef is a Syrian born Swedish painter. He was born on September 6, 1984, in Syria. His mother was Christian, and his father Syrian Kurdish. After Jwan Yosef was born, they decided to shift to the capital of Sweden for sustainable living.
His enthusiasm towards painting was in height as he started studying in Pernby School of Painting in Stockholm. Later, he moved to Konstfack University College of Arts, Crafts, and Design.
Jwan graduated with BA in Fine Arts from Stockholm and MA in Fine Arts from Central Saint Martins, London.
His shift to the UK became beneficial for Jwan as an artist. London's art scene was much better and dynamic than the Stockholm.
His Aspiring Career
In 2013, he was part of Threadneedle Prize exhibition and BEERS Contemporary Award for emerging art.
In 2015, along with his colleague, he exhibited at Galleri Bon with painting named There and Back Again.
Currently, he is studio holder and founding member at The Bomb Factory Art Foundation in Archway, North London.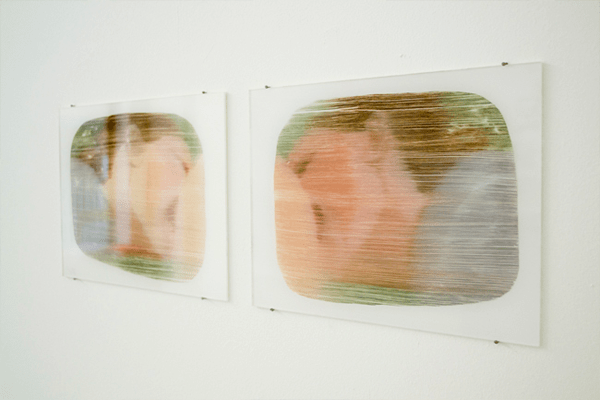 Image Source: Jwan Yosef.com
Like many, Jwan must also have some inspirations
Jwan acclaims that, a piece of Joom Toomik, Gerhard Richter, and Neo Rauch always has been his source of inspiration. Although, these art masters never made any personal approach to encourage him.
Wanted to hear someone else's name?
Ricky Martin. Yes, he is the love of Yosef's life.
Ricky Martin is a singer, actor, and author. Although, he is known for his contribution to music. His fame soared when it came to his sexuality. He came out as gay in 2010. The year when he dated Carlos Gonzalez Abella, a stock broker. They dated for three years and separated.
Ricky is also a father to twins but through a surrogate. In 2008, he became a happy parent to two cute angels, Valentino and Matteo .
How did Ricky Martin and Jwan Yosef meet?
Ricky Martin publicly revealed how he met his future husband in the talk show with Radio Host Andy Cohen.
He said, "I met my fiance on Instagram. I'm scrolling and I see this beautiful piece of art, and I'm like, 'Ooh, how cool! Who's this? I start checking and all of a sudden I'm like ,'Ooh, Ooh.' And then I wrote to him.'
The  'Livin' La Vida Loca' singer added,
"Then we talked for like six months without hearing each other's voice. We talked about art-nothing sexy..I swear, nothing sexy. It was all about art and life. He used to live in London, I went to London and I met him."
Caption: Ricky Martin talks he met his fiance Jwan Yosef through Instagram with Radio Host Andy Cohen (Published on 15, 2017)
It was Ricky who got down in his knees and asked Jwan to spend the rest of his life with him. Isn't that romantic?
In April 2016, when Jwan was in Sao Paulo, Brazil, he publicly announced his relationship with singer Ricky Martin.
Apparently, in early 2018 they announced their marriage officially. They are now married couple!
Being a versatile painter, Jwan Yosef will be trying something new! 
He is young and striking, and there is the only bright thing that will surround Yosef.
Jwan recently announced, he will try some form of 3D arts, but he hasn't revealed what he is bringing next.
Net Worth
Jwan hasn't revealed any data on his earnings. Though we can understand, he earns enough from his profession.
If we include the net worth of his spouse, Ricky Martin, they together have net worth grossing $60 million.