Oksana Alexandrovna Bondarchuk aka Oksana Masters is a four-time Paralympian and eight-time Paralympic medalist. Masters is one of the most popular athletes at the Paralympic Games. Till date, she has participated in numerous Paralympic games winning many gold and silver medals.
Oksana Masters was born on 19th June 1989 in Khmelnitsky, Ukraine. Born with several radiation-induced birth defects, Masters' birth parents abandoned her in a Ukrainian Orphanage. She lived there until age 7 and later an unmarried American woman Gay Masters adopted her. Despite her legs disability, Oksana succeded to establish herself as a known Paralympian and skier in the present day.
Oksana Masters' Net Worth and Earnings
The talented cross-country skier Oksana Masters' Net worth is estimated to $500 thousand. Masters accumulated thousands of dollars to her Net value from her career as an athlete.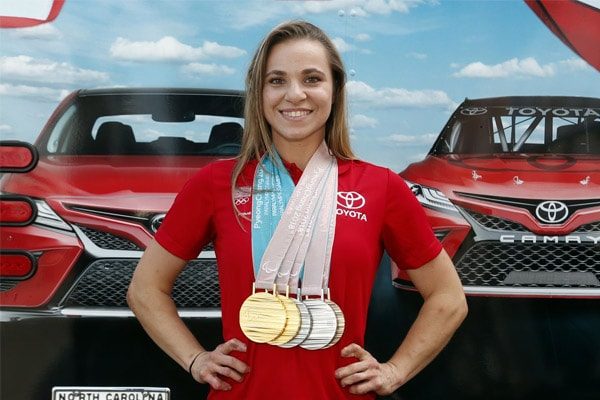 Oksana Masters won the title Sportsman of the Year in October 2018.
Image Credit: Twitter/ Team Toyota
After having a passion for rowing at the age of 13, Masters began competing in adaptive rowing. Along with winning the competitions, she earned certain cash prize too. Moreover, the transition from adaptive rowing to skiing also helped her to add more amount to her bank account.
Apart from rowing and skiing, Masters also takes part in various hand cycling games earning hundreds of dollars. Also, she amasses some sum of money being featured in commercials for Toyota and Proctor & Gamble.
Before 2018, Paralympians used to get paid fewer medal bonuses than Olympians. But after September 2018, the U.S. Olympic Committee decided to give the same bonuses to Olympians and Paralympians. So, probably the eight-time Paralympic medalist Masters' Net worth also might increase in upcoming years.
Oksana Masters' Relationships and Husband
Oksana Masters' is in a romantic relationship with fellow skier Aaron Pike. The couple began dating since 2014 and their romance is as still as new love-birds. Although it has been almost five years Masters and Pike are living together, they have not planned to get married yet.
View this post on Instagram

Masters keeps on uploading photos with her boyfriend Pike on her social pages. Both of the lovebirds never miss out to show their love for each other through their social page.
Masters' Injury and Birth Defects
Oksana Masters' was born with a rare congenital abnormality called Tibial Hemimelia. She had six toes on each foot, five webbed fingers on both hands without thumbs. Masters' left leg was 6 inches shorter than her right one. Also, both of her legs were missing weight-bearing bones.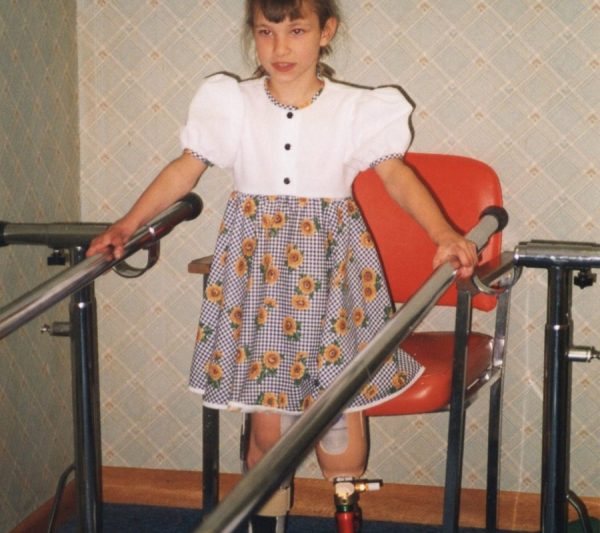 Oksana Masters' left leg was amputated when she was 9 years old.
Photo Source: WBUR
Masters' left leg was amputated at the age of 9 and right leg at the age of 14. Moreover, her both hands' reconstructive surgeries were done when she was 13 years old. Despite all these disabilities, Masters believed in her strength and that's what brought her in present stardom.
Back in 2013, Oksana suffered a serious back injury and could not row again. It devastated her but soon she found another sport 'cross-country skiing.' Masters quickly learned and became excellent at it too.
Some Facts about Masters
---
Oksana Masters won a Silver and Bronze medal at the 2014 Paralympic Games.
Masters is an animal lover and a world traveler with a passion for sports.
In 2012 Paralympic Games at London, Oksana won the first-ever United States medal in trunk and arms mixed double sculls.
Her birth defects were due to in-utero radiation poisoning from the Chernobyl nuclear reactor incident of 1986.