Popularly known by appearing in the reality show Love And Hip-hop of Vh1, Nikki Mudarris is an entrepreneur, socialite, and reality television personality. Her estimated Net Worth is $800 thousand according to Celebrity Net Worth.
She was born rich. Nikki's parents stepped into the business world very early. The family owns their chain of clubs called The Body Shop. Nikki father is called God of Burlesque.
Nikki has never faced any financial issues so far. She has lived to ravish lifestyle since childhood.
When Nikki was very young, her dream was to be Hollywood actress in the future. Nikki was doing good when she was walking runways and posting for editorials. These days Nikki work occasionally, it seems she has improved a lot in the modeling field. Having the rich background, Nikki always kept herself grounded and was focused on her education and career.
Nikki Mudarrris holds a degree in Business from the University of Southern California. After completing her graduation, She has been helping her family business to grow, she is actively managing the family business in both Hollywood and Las Vegas. We must say she using her business degree in a right place.
Apart from family business and modeling, she has launched her own company named Nude by Nikki. It is an online-designer lingerie. Nude By Nikki is company helping women to feel beautiful from inside-out.
If she continues her hard work in future, she is definitely going to write a new chapter in history.
Nikki Net Worth include car, According to TMZ, Mally Mall gifted a brand new car worth $250,000 to Nikki to fix their relationship issues after a season of reality show bull.
Nikki Mudarris have net worth of $800 thousand.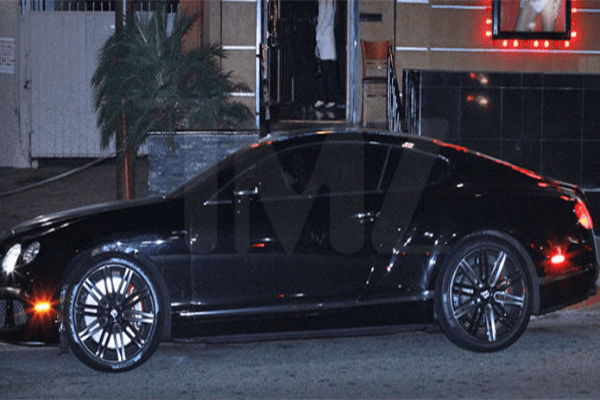 Nikki Mudarris car gifted by her beau Mally MallImage source: TMZ
According to Who Dated Who,  bisexual Nicki has dated multiple people in the past. Nicki has dated basketeer Austen Daye, Stephen Belafonte, Rosa Acosta, Safaree Samuels ex of Nikki Minaj, Lil Fizz, Jamal Rashid. Later she was again spotted with Austin after she broke up with Mally Mall.
In 2015, her sex tape with Mally was unknowingly recorded and was leaked which left her so embarrassed. Nicki told in the Hollywood reunion of Love and Hip-hop that, it was my intimate moment with my boyfriend and I don't think the world was shocked to see my video.
Check out the video where Nikki destroyed the house of Mally completely, the cops were called to out her from Mally's home.

Currently, she is probably single and more focused on managing her businesses.
Also read: Jhonni Blaze's net worth, Mugshot, Relationships
Nikki was born on June 28, 1990, in Hollywood Hills, California. She often called 'Nikki' or 'Nikki baby'. She is of Moroccan and Lebanese descent. Neither her father nor her mother is Spaniards, She is very fluent in Spanish. Maybe, that was her part of interest. She is indeed a talented girl.
Nikki has one sister named Monique and a brother named Tony. Nikki's another brother Anthony Omar sadly passed away in 2015 from the drug overdose.
Nikki never chose a wrong path even though she was born to a world where no parents want their children to go. She is completely different from her other siblings. She has been making her parents proud by her deeds.
For more Entertainment, stay tuned to SuperbHub.