Narendra Modi is a leading Indian politician who took oath as the 14th Prime Minister of India. He's becoming the first ever PM born after the state got its independence from the UK.
Narendra Modi is recognized as the Narendra Damodardas Modi. Currently, he is 67 years old political leader of Bharatiya Janata Party. Born in the small town of Vadnagar, Mehsana, Gujarat on September 17, 1950, he belongs to the Hindu religion.  He had an arranged marriage with Jashodaben Modi at the age of 18. His net worth is $212,000 USD (RS.1.51 Crore) as of April 2014. He is passionate about photography and poetry. He is awarded CNN-IBN Indian of the year 2014.
Narendra Modi grew-up in a marginalized society of Gujarat. He is the third child of his parents among six children. His father, Damodardas Mulchand Modi was a street merchant. His father had to struggle for the rearing and caring of his family. That's why Narendra Modi spent his childhood period helping his father by selling tea at Vadnagar railway. Later, he started a tea shop with his brother near to the bus terminus. During the childhood period, Soma Modi became his closest sibling.
He would spend hours in the library and also, he was very fond of swimming. He had celebrated both Hindu and Muslim festivals as a young child. This enabled him to make strong networks with his friends and neighbors in the community. He was always ahead and ready for serving and helping people in need at such an early age. For instance, when Modi was 9 years old, floods wrecked-havoc in the Tapi River. Modi and his friends started the food stalls and donation to support and relief the flood victims.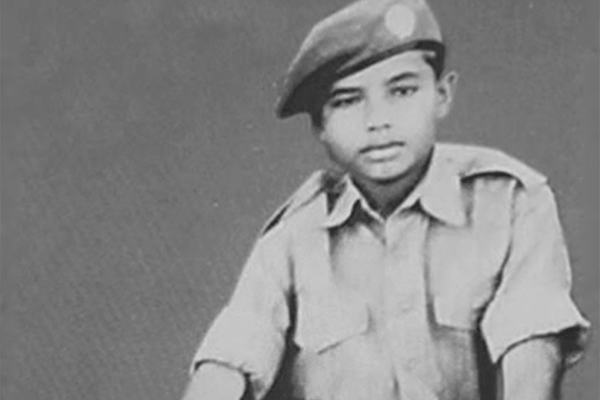 Narendra Modi as a child
Narendra Modi had completed his schooling from the small village of Vadnagar Gujarat. His teachers said in the recent interview that he was an average student but a great debater during the school days. He left his house as well as tea shop after completing his school life and moved for traveling across India. He ran away from home and went to the Himalayas where he stayed with Sadhu (an ascetic holy man) for two years. He visited many religious places in India with his guru(Sadhu).
After two years, he returned to the home and he joined Rashtriya Swayamsevak Sangh as a campaigner in 1971.Along with this, he had completed his Bachelor degree in political science from Delhi University in 1978 and Masters degree in political science from Gujarat University in 1983.
From 2014 with a historic win, Narendra Modi is leading BJP (Bharatiya Janata Party).
He started his political life from Gujarat joining the RSS (Rashtriya Swayamsevak Sangh) in 1971. Narendra Modi joined Bharatiya Janata Party (BJP) in 1987. He played a major role in strengthening the BJP party after the Gujarat Assembly Election in 1990. Due to his dedication and positive vibes to politics, Modi was elected as secretary of BJP national in 1995.He was in the position to successfully help settle internal leadership disputes, paving the way for BJP election victories in 1998.
In the year 2002, for the first time, he participated in the Gujarat Assembly Election and won a seat from Rajkot-II. Finally, he became the Chief Minister of Gujarat. However, his government was accused of not doing sufficient to curb the Gujarat riots of 2002. Thus, Modi was forced to step down as the Chief Minister following opposition from Gujarat.
But, he was elected again as the Chief Minister in 2002, after BJP won the assembly election. In the year 2007, for the third time, he was elected as the Chief Minister of Gujarat and he played a significant role to improve agricultural growth rate, provide electricity to the villagers and ensure the development of the state.
Since becoming the Prime Minister, he has decreased the expenditure on social welfare and has encouraged the privatization of health care. 'Clean India' campaign was launched in the year 2014 which focused on sanitation and toilet construction in the rural village. He launched a "New Health Policy" in January 2015 which mainly focused on controlling tobacco and supporting the health care of the elderly.
His economic policy focused on privatization and liberalization of the economy which is based on a neoliberal framework. Modi Government has successfully increased the limits of FDI in Railways, Insurance, and Defence and encouraged privatization of loss-making public sector companies.
Similarly, his foreign policy focused on improving economic ties, attracting investments and security and regional relations. For this he made many visits to foreign countries becoming a spokesperson for India and delivering a message of India becoming more competitive, confident and secure.
In case of the tourism sector, reported growth has been observed in the number of foreign tourist arrivals after his government came to power. Modi government is working wholeheartedly to make India a world-class travel destination.
He has introduced different policies on education, environment, foreign, defense and sanitation for improving the lifestyle and building integrity of the nation.
Modi is a workaholic and has lived a vegetarian lifestyle. He is also popularly known as the fashion icon for his signature crisply ironed, half-sleeved kurta as well as for a suit. Modi has a protected and established image as a strong, masculine leader, who would be able to take difficult decisions during the 2014 election campaign by BJP.
He is recognized as the second most followed leader in the world since September 2014. His personality has been described by scholars and biographers as energetic, arrogant and charismatic.
According to Ghanchi tradition, Narendra Modi's marriage was arranged by his parents with Jashodaben Modi at the age of 18. They spent only a little time together and separated when Modi began two years of travel, including visits to religious places. Their marriage was never consummated. Otherwise, he could not have become a 'pracharak' in the puritan Rashtriya Swayamsewak Sangh. He kept his marriage a secret throughout his entire life. But he acknowledged his wife when he filed his nomination for a parliamentary seat in general election in 2014.
He has however maintained an intimate relationship with his mother, Hiraben. Modi used to visit his mother on his birthday for receiving his mother's blessing.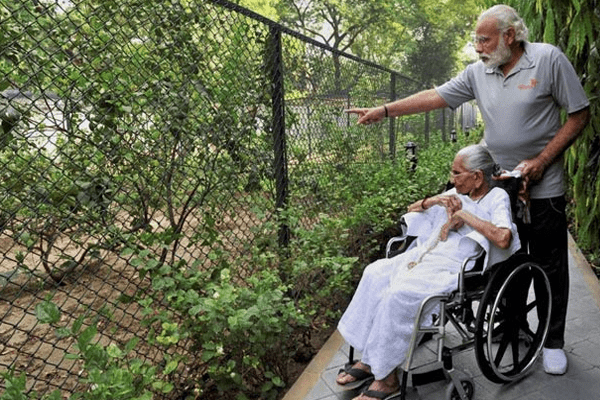 Narendra Modi with Mother Hiraben Modi
Narendra Modi is recognized as the "World's Most Powerful people" in 2014 and ranked at 15 according to the Forbes magazines' list of "World's Most Powerful people". He was honored from FDI magazine in 2009 as the Asian Winner of the "FDI Personality of the Year" award. He was named as "the best chief minister in the country", in a survey conducted by India Today Magazine in 2007.
According to Time Magazine, he was included among the 'Time 100 most influencing people in the world' in the year 2014. Also via Time magazines among the 30 most influential people on the internet, his name comes on the second most followed politician on twitter and facebook in 2015. He won the reader's poll in 2016 as TIME's Person of the Year.