Mitchell Starc was born on 30th January 1990 as Mitchell Aaron Starc. He was born in Baulkham Hills, Sydney, New South Wales. Starc is an Australian left-handed bowler/ batsman who left his mark during the 2015 Cricket World Cup.
Mitchell Starc's debut ODI match was against India in 2010 when his senior baller got injured. Since then he hasn't looked back and has made his family and country proud through his performances.
Early Life &  Career
Mitchell Starc started his career as a wicketkeeper for Northern Districts at the age of 9. However, when he was 14, his club coach saw great potential in him and insisted he would have a prominent career. Well, it turned out to be one hell of a ride for Starc.
Moreover, when Starc was 19, he began serving his home state, New South Wales in 2009. His great performance in the state team won him a lot of praise and was the key factor for him to replace suspended Aaron Bird during the final match of the season. Also, after he gained a spot at the Centre of Excellence in the off-season in 2009, he took 21 wickets and made a half-century during the 2009-10 season against Queensland.
After his marvelous performance, Starc was selected for the 2010 ODI match against India. He even got a chance to play in the 2011's test series against New Zealand. But unfortunately, he dropped out of the team and soon returned in the match against South Africa. He took six-wicket and scored the fastest fifty. It was a game-changing match for Starc as later on, he made his impact in the Cricket World.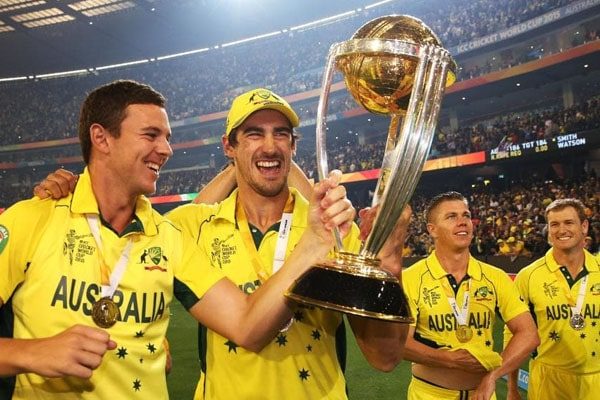 Mitchell Starc took a whopping 22 wickets in the 2015 Cricket World Cup that led his team to victory. Image source: Phil Hillyard.
Furthermore, throughout his journey, his performance in the 2015 World Cup is well appreciated by his fans. Mitchell was the key factor behind Australia winning the 2015 World Cup tournament. He was also awarded the title Man of the Tournament. His hat-trick in the 2015 World Cup will never be forgotten. He had also broken the world record of Pakistani bowler, Saqlain Mushtaq by taking 100 wickets in 52 matches.
Net Worth & Earnings
Mitchell Starc's net worth is not yet revealed to the public. But however, seeing his past performances and his brand endorsements we can say that his fortune would be of thousands of dollars. There are also sites that suggest Mitchell's fortune to be over $13.8million.
As for his brand endorsement, Starc had signed a sponsorship deal with Audi.
View this post on Instagram
Furthermore, Starc has played in many cricket leagues such as Big Bash Leauge and Indian Premier League. As for his domestic club Sydney Sixers, he has been playing for them for quite a bit. He has played for Royal Challengers Bangalore and has earned quite a bit of fame and fortune.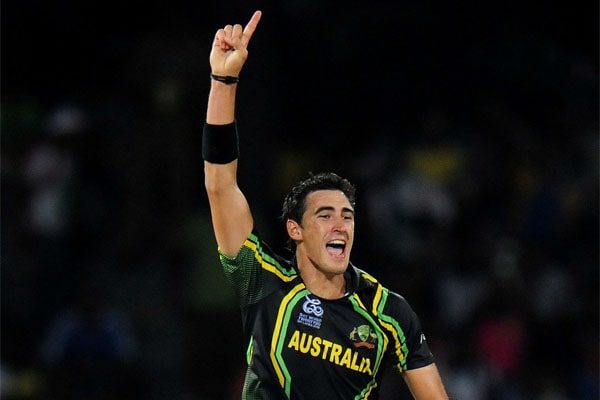 Starc was one of the most expensive players sold in 2019 IPL auction. Image source: Getty Images.
Moreover, Starc was the key bowler for the RCB team and has a reputation of taking at least 1 wicket in every match. So, we can say that he has earned quite a bit of money from his matches. And he also lives quite a comfortable life with his cricketer wife.
Family, Parents & Siblings
Mitchell was born to father, Paul Starc. His father was the first person to coach him and made him familiar with the term cricket. He has three siblings a younger brother named Brandon Strac and two sisters, Amanda Starc and Tay Starc.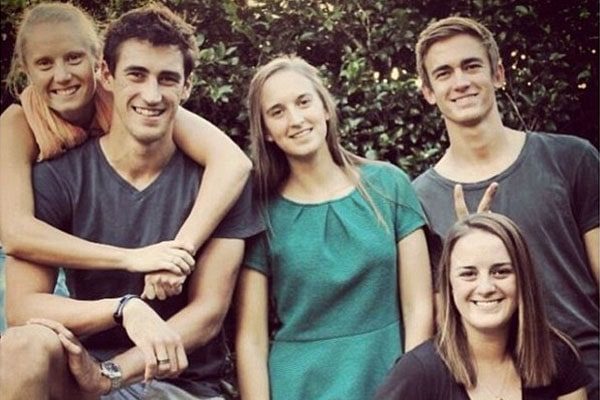 Mitchell Starc has a close bond with his siblings. Image source: Daily Mail.
As for his brother, Brandon is a high jumper who won the Gold medal in 20018 Commonwealth games. Moreover, Starc is quite close to his siblings and is often seen posting pictures with them.
Relationship, Dating & Marriage
Mitchell Starc and his wife Alyssa Healy exchanged their wedding vows on April 15, 2016. The couple met each other when they were 9 as Starc started off as a wicketkeeper. They have come a long way and have been together since their childhood. The lovely couple can be seen holding hands and walking beside one another on many occasions.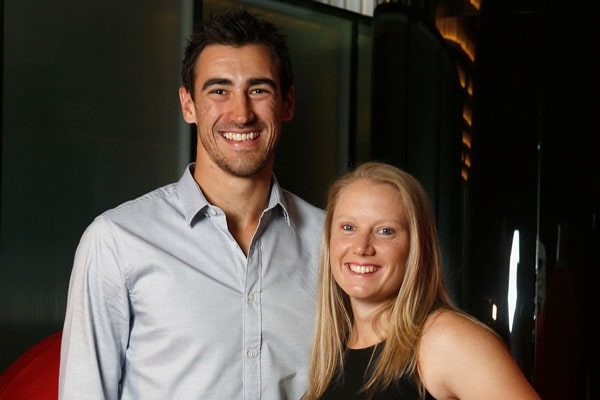 Mitchell and Alyssa started dating since their childhood. Image source: Getty Images.

Mitchell Starc's wife Alyssa is also a cricket player who is a right-handed batter and wicket-keeper. The duo of Mitchell and Alyssa spend a lot of time traveling. Even though when they are separately traveling they are seen supporting one another through their posts. Alyssa was even spotted supporting Starc's IPL match. And the pair is yet to have children.
Mitchell Starc is a dog person and has three dogs. He often uploads their pictures in his Instagram account. He loves taking his dogs to park and see them running.
For more updates on News, Articles, Entertainment and Biography visit SuperbHub