Miki Victoria Sudo or Miki Sudo in short is an American competitive eater. Yes, you read it right, a competitive eater and she is a pro in it.
She gained fame and popularity after winning her first eating competition, i.e. Nathan's Hot Dog Eating Contest where she dethroned the undefeated Sonya Thomas.
Miki was born on the 22nd of July, 1985 in New York City, NY, US.
In 2013, when Miki entered and won a pho eating contest, that was the beginning of her competitive eating career.
Miki Sudo Net Worth and Earnings
The competitive eater, Miki Sudo's net worth is estimated to be at $500,000. Most of her fortune is being collected from the prize money she has received from winning a number of eating competition.
The 32-year-old Miki mainly got fame after winning Nathan's Hot Dog Eating Contest. The winner takes home an impressive amount of $10,000. And since Miki has won the competitions consecutively 5 times, it contributes a substantial amount of money to her $500,000 net worth.

Besides Miki also has got a YouTube channel under her name, Miki Sudo. She usually takes on ridiculous eating stunts, monstrous restaurant challenge, and any other sorts of events where she can showcase her talent and genius.
According to Social Blade, Miki's YouTube earning ranges from $42-$665, which is kind of low looking at her popularity.
But we are pretty sure, her earnings will take a huge leap in the coming future. She also loves taking trips to exotic places, taste the delicious foods they serve there and live a real lavish life.
Nathan's Hot Dog Eating Contest
We might denote Nathan's Hot Dog Eating Contest as Miki Sudo's playground, or else it is an annual hot dog eating competitive eating competition.
The event is usually held on the 4th of July, i.e. on Independence Day, in the US. In recent years the competition has gained a lot of fans following. It is probably due to the stardom of Joey Chestnut and Takeru Kobayashi.
Joey is the defending men's champion, whereas Miki Sudo is the undisputed defending women's champion.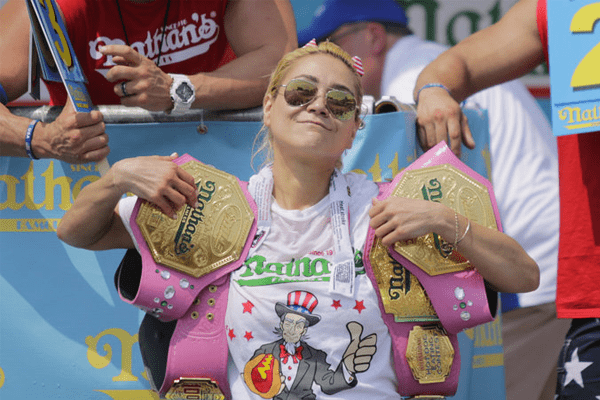 Miki Sudo flaunting her championship belt as she has won the Nathan's Hot Dog Eating Contest for the fifth time in a row. Photo Source: Huffington Post.
Miki Sudo picked up her fifth consecutive belt on the 4th of July, 2018. Though it wasn't her career best of 41 hot dogs but the 32-year-old devoured down 37 franks and buns amid scorching temperatures and stifling humidity.
The women champ, Miki was still pleased as pie with another Fourth of July victory.
If we look back at the achievements of Miki Sudo then it will take us time to look at it all. Though here is a table representing Miki Sudo's Nathan's Famous Hot Dog Eating Competition career.
| Year | No. of Hot Dogs | Position |
| --- | --- | --- |
| 2014 Contest | 37 | First |
| 2015 Contest | 41 | First |
| 2016 Contest | 38.5 | First |
| 2017 Contest | 38 | First |
| 2018 Contest | 34 | First |
Miki Sudo's ex-boyfriend stole her credit card
In 2010, Miki called in a false bomb threat to U.S Airways because of her ex-boyfriend. Miki's ex-boyfriend stole her credit card to book a flight for which she committed such a crime.
Later on, Miki was sentenced to 10 months of home confinement.
Miki Sudo Family
There isn't any much prior information regarding Miki Sudo's family. All we know is that her father is a Japanese and her mother is a European American. So Miki Sudo's ethnicity is kind of a mixture of Japanse, American, and European.
Name of both her parents is yet to be disclosed. She moved to Japan at the age of 5 and lived there for almost seven years before returning to the US again.
For more News and Entertainment follow SuperbHub.