Beauty with brain, Japanese-born Vlogger/Youtuber Mia Stammer has taken over the digital world with her beauty and fashion podcast on YouTube. Mia has been earning a fortune with her channel, MamaMiaMakeup, where she has amassed more than 4 million subscribers.
Besides, Mia also operates self-named vlogging channel where she entertains the audiences with her creative and entertaining daily activities and daily challenges.
Though being born in Japan, Mia found her mojo only when she moved to the United States. It was quite a turnaround since a girl who dreamt to become a nurse in her childhood went on to inspire millions and billions via a social platform.
Birth To Family Details
Mia Stammer was born on 1 August 1994, in the city of Okinawa, Japan, to a Caucasian-American father and Japanese mother. Carrying the mixed ethnicity, Mia labels herself as both white and Asian.
Mia is not the only child in her family; she has an older brother named Andrew who shares a sound bond with her. It was on 2014 when Mia posted the picture of her brother on her Twitter handle comparing him with another YouTube star, Alex Wassabi.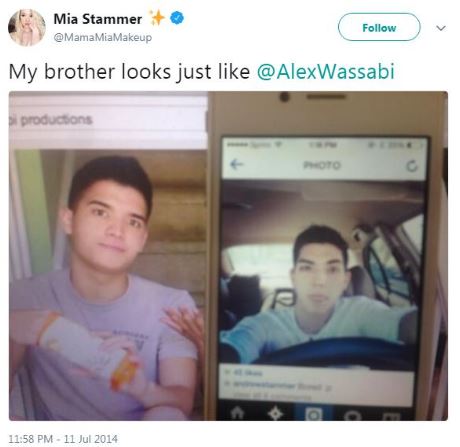 Mia Stammer compares her brother Andrew with YouTuber Alex Wassabi. Image Source: Twitter
Mia moved to Los Angeles, California when she was young. Initially, she served as a waitress at a small family restaurant for 3 years before making social media as her goto career.
Net Worth and Earnings
Belonging to a small town, Mia had an ample amount of time to plan what she could do with her future. Suddenly the idea of social media vlogging popped up in her head. Amused by the thoughts, Mia started her YouTube channel where she began sharing her thoughts with the social audiences. In no time Mia's channel summoned massive popularity; thus, a new social media star was born!
From beauty tips to hair tutorials, Mia's MamaMiaMakeup channel is the perfect blend of all amazing and entertaining things. Courtesy of that, her channel has surpassed over 4 million subscribers.
Besides, the gorgeous social star shares hilarious daily activities to eccentric shopping vlogs through her YouTube channel titled Mia Stammer. Besides, she shares valuable tips to her audiences on how to overcome anxiety attacks and live positively enjoying every color of life.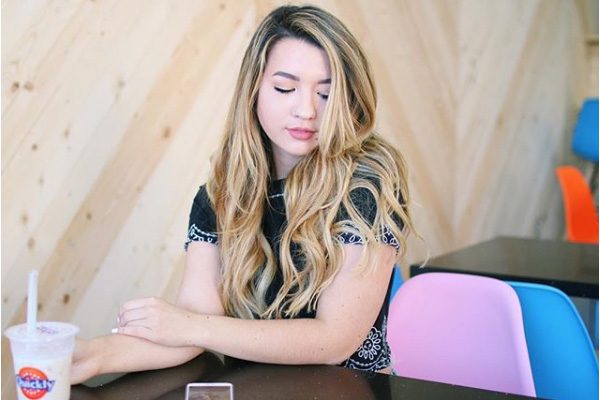 Mia Stammer loves to flaunt her beautiful hair through her social media podcast. Image Source: Instagram
Besides the fun and fame, Mia has successfully strengthened her professional lifestyle with the healthy net worth which is estimated to dwell above $400K.
As per Social Blade, Mia's monthly YouTube earning through her MamaMiaMakeup channel sits between $809 to $12.9K which makes her yearly earning swirl around the figure of $9.7 to $155.3K. Besides, her self-named channel's monthly income ranges from $35 to $556 with the yearly income falling under $417 to $6.7K.
Besides the gorgeous YouTuber owns a Japanese-style house in her residence of LA. Creatively decorated with modern interiors, Mia's living room is surrounded with plants which makes it look more breathtaking.  Other than that, Mia also earns some fortune with her association with the clothing brand Hollister.
Mia's Relationship Stories: Short Flings With Ex-Boyfriends!
Looking at her gorgeous and mesmerizing avatar, it is no exception to guess that the fashion star is living in the charm relationship-wise. In fact, there are numbers of young men who could die for Mia's splendid beauty. However, the 24-years-old beauty queen enjoyed the colors of love in the past but it turned out to be a short-term fling.
Mia previously dated the Men's lifestyle and fashion vlogger, Alex Denmon, who was famous by his nickname Rashnu. However, the couple could only take their relationship to a short distance as they parted ways in 2015.
A year later, Mia found a romantic bond in a fellow YouTuber, Kyle Hatch. The 27-years-old US-born web video star is best known for his self-titled YouTube channel and his collaboration with the Wassabi Production Team– a sketch comedy, parody and challenge video channel.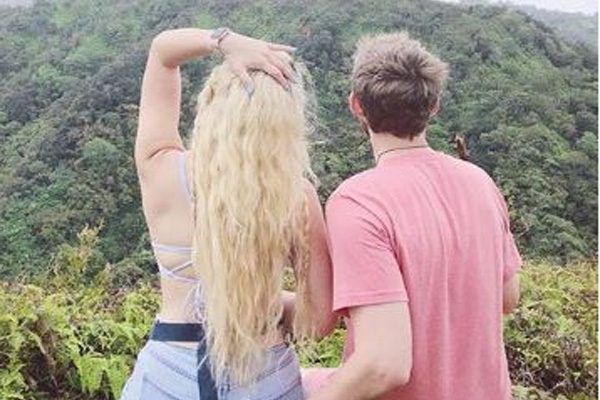 Mia Stammer enjoying a pleasant moment with her ex-boyfriend, Kyle Hatch. Image Source: Instagram
Though Mia didn't hesitate to share her bond with Kyle on her social accounts, the couple's romantic journey came to a sad end in mid-2018 as they decided to head in different ways.
Apart from these, the rumors suggest that Mia also dated a Japanese-born Kiyoshi Muto, who is known as a band technician for We The Kings, an American rock band.
Controversies, Rumors
During the start of 2018, Mia Stammer was surrounded around the controversy as her social media fans accused her of being ashamed of her heritage. They further blasted her for trying to be white and forgetting that she is half Asian.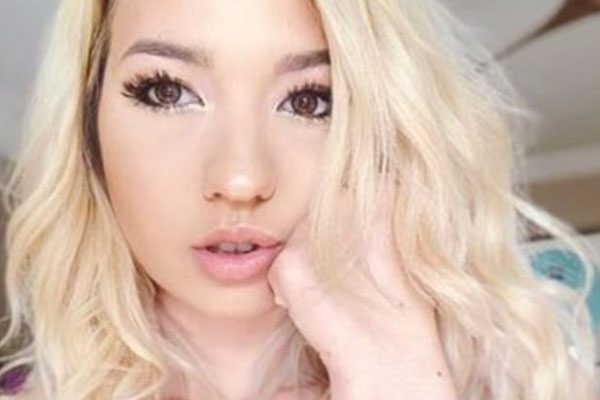 Mia often loves to give different dimensions to her hair. She tries different colors for different looks. Image Source: Daily Mail
These controversial queries found heat as Mia often changes her hairstyle on social vlogs as she has introduced herself as a fashion vlogger. Speaking against the accusation, Mia pointed that she sees herself as both white and Asian and dyeing her hair doesn't mean she is going against her heritage.
Follow SuperbHub for the latest News, Entertainment, Biography, Article, and Health & Beauty Updates!