Metisha Schaefer is a multi-talented German actress, writer, and model,  well known for her role in the reality TV show WAGS Miami. She is a model, who has appeared in various commercials, Magazine covers like Maxim and in 2012 film Rock of Ages. Metisha Schaefer net worth is thus increasing and estimated to be $500 thousand.
Born on March 3, 1985, in Germany, Metisha Schaefer was raised in Cologne throughout her childhood. She has a sister, Leyla.
Schaefer has a German nationality and holds Turkish/Greek ethnicity. Moreover, she can speak five different languages including German, Turkish, and Greek.
According to TV Over Mind, Metisha had hosted a number of TV shows in her hometown and received significant success.
In 2009, Metisha moved to Miami, Florida looking for more career opportunities.
Metisha Schaefer worked as a model in a Brazilian magazine, Accontece. She then starred on the cover of many magazines such as Maxim, Ajoure Men and VBlazin Magazine for men.
Schaefer was also the part of VH1's documentary series "Beverly Hills Fabulous" in 2011. The role gave her the exposure that she needed.
The TV personality Metisha has also appeared in several music videos with well-known famous performers including, Florida, Chris Brown, PitBull, 50 Cent, Jennifer Lopez and Nicki Minaj.
In addition to that, she has also worked as an actress in the show called Levantate on the network Telemundo in 2012.
The year 2012 gave her a break as she got the opportunity to work in Tom Cruise film, Rock of Ages. She also got a leading role in a commercial for Dr. Pepper.
Likewise, Metisha is also famous for her role in the reality television series known as WAGS Miami. The show premiered on E! Television network in October 2016. The series revolved around the wives and girlfriends of professional athletes.
Metisha Schaefer has her fitness app on iTunes, Metisha fitness and is renowned as a fitness model. Her professional career as a model, reality show star, appearance in commercials, host in TV shows and also an actress has increased Metisha Schaefer net worth.
Metisha Schaefer had dated model David McIntosh and Larry English, an American football player.
Metisha and model David McIntosh were often seen together and was also spotted kissing in Miami hotel.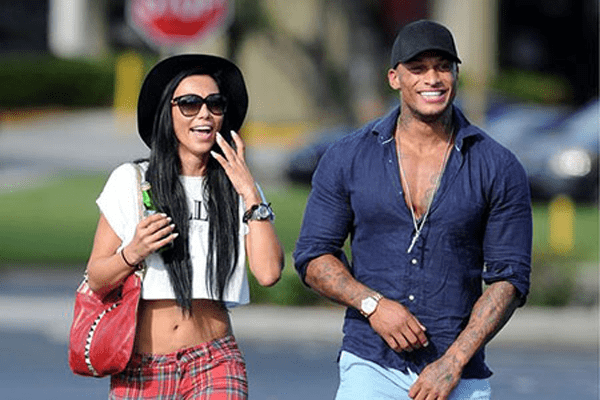 Metisha Schaefer and boyfriend Larry English dated for three years till 2016. 
Image source: Mirror
Metisha was in a relationship with Larry English in 2016. However, they got separated soon and Larry is now another Wags Miami star Nicole Williams's husband. Metisha revealed in the Wags Miami episode that they broke up because Larry had cheated on her.
She was known to be single. However in 2017, according to Eonline, Metisha had given a tiny hint in an interview to her fans as she may be getting into the relationship soon.
But she didn't reveal his name and added that the new guy is based in Miami and is an athlete.
German actress, Metisha Schaefer net worth is estimated to be around $500,000 in 2017. She has been able to accumulate a considerable wealth from her profession.
Metisha receives a reasonable sum of salary from her modeling consignments in around thousands of dollars. She had also received adequate income from Wags Miami reality show in 2016.
Metisha has also been seen posing in Lamborghini Aventador Car that cost around $421,350.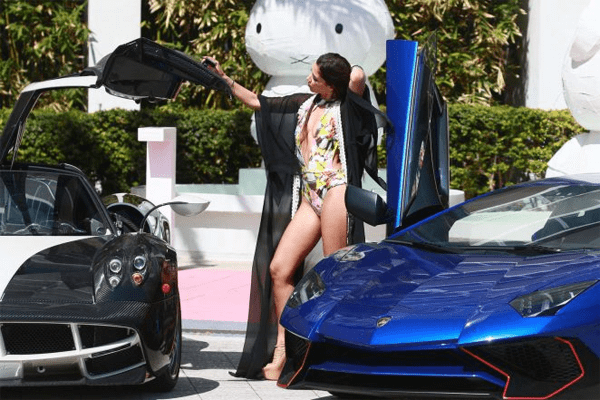 Metisha Schaefer in Floral Swimsuit 2017  posing in front of Lamborghini Aventador Car
Image source: Got Celeb
For more updates regarding Celebrity Biography, stay with SuperbHub.