Meleasa Houghton, Israel Houghton's ex-wife is a lovely woman who always exhibits the love and grace of God.  Also a songwriter, Meleasa is blessed with three children, Mariah, Milan and Israel II(Sonny) with her ex-husband Israel Houghton.
Meleasa was born in March 3, 1964 in the United States. Popular as Israel Houghton's ex-wife, Meleasa has been a lovely mother to three kids, a great daughter, a supporting friend, a loving mother-in-law and a very kind person who has a lot of faith in God.
Meleasa and Grammy Award winning musician Israel Houghton got married in 1994. They first met at Houghton's ministry engagements in Pittsburg. They fell in love instantly. And after four months, they tied their knots.
Meleasa was also a songwriter, and she helped her 'I surrender all' singer husband by co-writing the songs.
They together became parents of a son and two lovely daughters and also established a successful music ministry. Meleasa Houghton net worth was combined earning with her husband as she focused more on working with him.

Melesa Houghton considered Holy is the Lamb singer Denise Graves as her mentor and she often performed and worked for her husband's singing and worship conferences.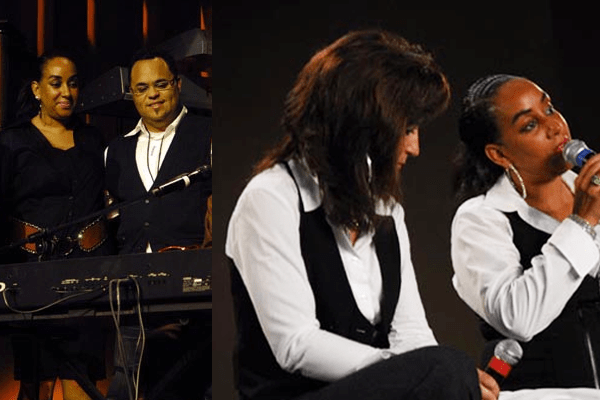 2008: Left: Meleasa Houghton with then husband Israel Houghton, Right: Meleasa Houghton with her mentor Denise Graves in A Deeper Level 08 Worship Conference. 
Source: Debra Ham Photography
Meleasa had been a wonderful wife who is really a strong and faithful christian. After achieving so much together, Houghton's family fans got a  sad news.
Christian Musician Israel, who has also been a worship leader in Houston's  Joel Olsteen church, announced in his Facebook (removed) that he has failed and sinned his marriage five years prior his divorce.
"Many years ago, I failed and sinned my marriage. Though this is new to many, it is not new to us because we have been working through this for more than five years. The challenges in our relationship proved too much to overcome, although we tried."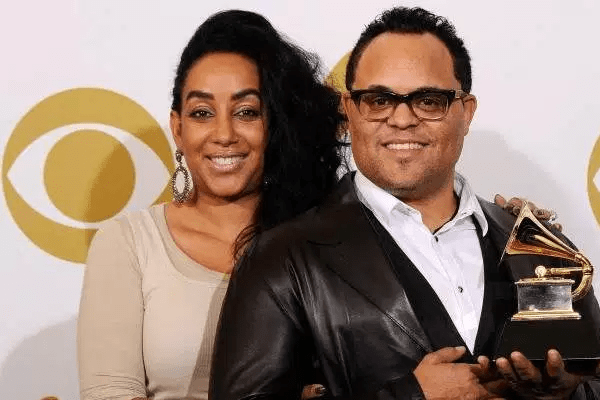 Meleasa Houghton with ex-husband Israel Houghton in Los Angeles 53rd Annual Grammy Awards. 
Source: Heavy
His post was flooded with comments that led Israel to ask everyone to respect his privacy. After over two decades of togetherness Meleasa became Israel Houghton's ex-wife.
In November 11, 2016, Israel however, tied his knot with The Real co-host, Adrienne Bailon , also ex-girlfriend of Rob Kardashian. With his second marriage, speculations started that he might have cheated his wife Meleasa.
But Israel asked his fans to make the calculations with his statement that, he has said he has failed his marriage for over five years before his divorce. But, he met Adrienne in 2014.
Israel added that his wife Bailon is a woman of character and integrity and she should not be blamed for his past indiscretions. He often mentions in his Instagram posts that he loves his wife Bailon very much and marrying her was his best decision.
After divorce, Meleasa hasn't married yet. She is happy and living her life with her three beautiful children. Meleasa's followers in her Instagram often calls her as an inspirational woman. They say that they have learnt a lot from her to be a strong and faithful towards God.
Meleasa has also moved on with her life as she has forgiven her husband and is maintaining a friendly relation with him. As her kids often spend time with their father and step-mother too.
Israel and Meleasa's first daughter Mariah is already married to her longtime boyfriend Byron. While her son Israel II and Milan has grown up to be beautiful souls.
Meleasa also has a God daughter Chandler Hart, She introduced her via Instagram.
Meleasa and Kids forced to leave their Texas home
" We have handled our ministry and family with grace, discretion and privacy. Thus, we are also handling the post-divorce privately with pastoral oversight and assistance for the sake of our amazing kids."
This was what Meleasa's ex-husband said after his divorce. Also known for taking care of two other children from Wedlock, Israel however almost failed to help his three children and Meleasa with their home.
According to Bossip, in 2017, Meleasa and her three kids had to leave their Texas house because Israel Houghton had not paid the mortgage of the house for almost a year. Bank had no option than to take the step.
Israel and Meleasa Houghton's 5,405 house at Texas with 2017 market price of $797,000. 
Source: Bossip
Their house at Houston's suburb have five bedrooms and five and half baths, a jacuzzi, and a pool. The ex-couple had bought the house in 2006 in equity loan with adjustable interest rate and paid monthly payments of $4,687 initially.
Israel was supposed to pay $89,111.54 as per the bank statements but failed to do so. Bossip had reported that in order to fix everything, Houghton needed to pay $608,654.17 as per the court documents.
Later in 2017, it was reported that Israel got a buyer for the house for which he got a relief for some of his debt.
As mentioned earlier, Meleasa lives with her two kids, and a God Daughter. For Meleasa, her family is everything. She loves her son-in-law like her own child and takes care of her mother too.
Meleasa Houghton on January 2018, shared a video of her kids singing. She is really blessed with awesome and talented children.
Be with SuperbHub for more celebrity entertainment and biographies.