Mason Ramsey AKA the Yodeling Walmart kid became an internet sensation after his cover of Hank Williams's Lovesick Blues went viral. 11-year-old Mason hails from Golconda, Illinois and came in the spotlight in early April of 2018.
Yodeling Walmart kid Ramsey is of White/Caucasian ethnicity and is also nicknamed as Little Hank after his favorite artist Hank Williams. Ramsey possesses the western talent and the Internet loves his voice which has taken him from Ellen Show to Coachella and to the Grand Ole Opry.
Early Life & Career
Since Ramsey was three weeks old when he started living with his grandparents Ernest and Frances Ramsey. The Internet may have acknowledged Ramsey's talent after his video went viral but he had been singing since age 3 and is a local country star.

At aged four, Mason opened for famous country singers Josh Turner, Gene Watson, Kenny Rogers and the Bellamy Brothers. Ramsey was six when he learned to play guitar and also sang with Kenny Rogers on Christmas TV when he was seven.
Mason Ramsey's first performance was at the Stars & Steel guitar show at Benton Civic Center. Ramsey attends grade school in Golconda, Illinois. The Yodeling Walmart kid has since amassed 1.5 million followers on his Instagram and has since 25 million views on his YouTube video.
Public Appearance
After the Walmart Yodeling Kid video went viral, Ramsey has been a star and is enjoying his celebrity life. Ramsey made his appearance on the Ellen Show where he received a $15,000 scholarship for his college studies. Mason revealed that the dream in his life was to sing at the Grand Ole Opry where he performed after rocking Coachella Festival.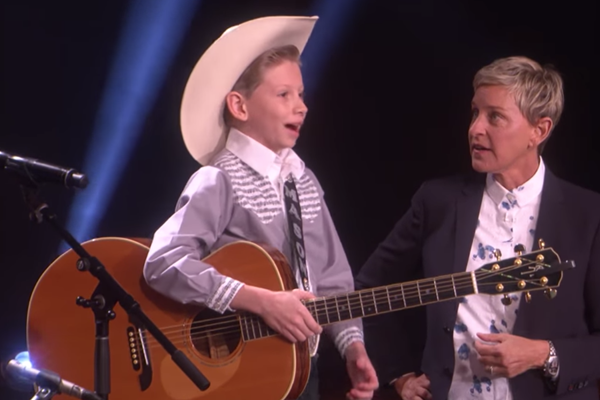 Mason Ramsey AKA Yodeling Walmart Kid performing at the Ellen Show. 
Image Source: Boing Boing
In the Ellen Show, Ramsey says that he was inspired by Hank William Sr. who is also his favorite singer. Mason's cover of the Lovesick Blues reached No. 4 on Spotify's Global Viral 50 Chart, below The Weeknd's "Call out my name", Cardi B's "Be Careful" and Lil Dicky's "Freaky Friday feat Chris Brown".
The Walmart Yodeling Kid secured his college scholarship and his dream gig at the Grand Ole Opry rocking a red bowtie, cowboy boots, and belt buckle. Ramsey was joined onstage by the legendary country singer Ricky Skaggs at the Grand Ole Opry in Nashville.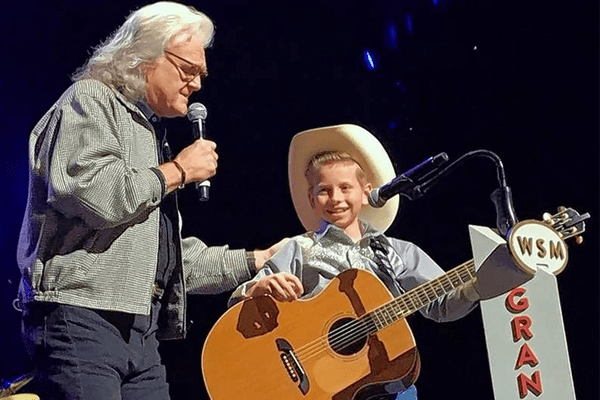 Walmart Yodeling Kid Mason Ramsey performing at the Grand Ole Opry with Ricky Skaggs. 
Image Source: Grand Ole Opry/Chris Hollo
Yodeling Walmart Kid Ramsey rocked the stage on Coachella festival with DJ Whethan. Not only did Ramsey got to perform at the grand stage but also met his famous fan, Justin Bieber. Ramsey met Justin after his performance and shared a couple of words and snapped a selfie.
Also Read: Yodeling Kid Mason Ramsey gave a surprise stagecoach performance.
At a young age, Ramsey has been a sensation and achieved his life goals already and still has a full life ahead of him. Mason Ramsey might release his own records in the near future but he will never be forgotten as the Walmart Yodeling Kid.
Mason Ramsey's Giant Guitar
The Yodeling Walmart kid yodels rocking a country look with a denim and big boots but many have noticed his giant adult size guitar. According to Ramsey's Grandfather, the guitar was inherited by Ramsey from a deceased mentor.

Watch the video of Mason Ramsey AKA the Walmart Yodeling Kid singing Hank Williams' Lonesome Blues.
Mason Ramsey's First Song Famous
Mason Ramsey aka Walmart Yodeling Kid's first song Famous was live on April 26, 2018. Famous is Mason Ramsey's first debut single without his famous Yodeling style.

For More Celebrity News and Entertainment: SuperbHub