Billionaire American businesswoman, Lynsi Lavelle Snyder, aka Lynsi Snyder, was born on May 5, 1982, in Glendora, California, USA. Currently, Lynsi is the owner and president of In-N-Out Burger.
Lynsi Snyder's net worth is $3.6 billion. She was born to parents Harry Guy Snyder and Lynda Lou Perkins. She is the only child of her parents. However, she has two half-sisters Traci and Teri from her mother's side.
Currently, Lynsi Snyder's spouse is Sean Ellingson, with whom she shares one son, Layne Ellingson. She also has a daughter Ella Jade Martinez and sons Silas Diego Martinez and Valentino Guy Torres from her previous marriages. Lynsi has been married four times to date and her ex-husbands are Jeremiah Seawell, Richard Martinez, and Val Torres Jr.
Net Worth And Earnings
Aforementioned, Lynsi Snyder's net worth is a gigantic $3.6 billion. She has managed to amass herself a hefty amount of money from being the owner of In-N-Out Burger, which is a famous American fast-food chain restaurant.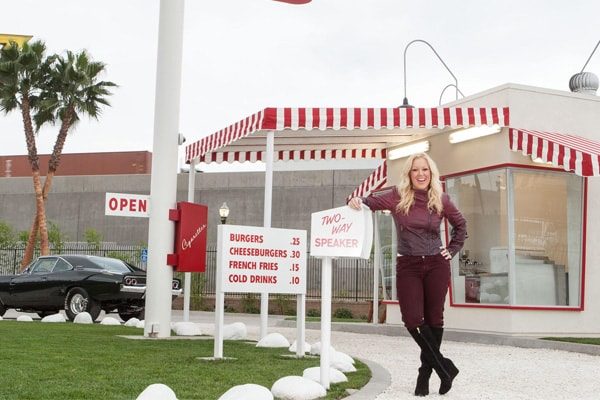 Lynsi Snyder earns most of her money from being the owner of In-N-Out Burger. Image Source: Pinterest.
In 2012, Lynsi was the youngest American female billionaire. Undoubtedly, she earns a ton of money from being the sole owner of her company. Lynsi advertises for her own company and also spent a lot in the advertisement for In-N-Out Burger.
Lynsi also owns a beautiful mansion in California. She previously had a lovely villa, which was sold for $19.8 million, which consists of 18 bathrooms, ten bedrooms, athletic courts, and cabana. She also has a different car collection, including her drag racing car.
Lynsi is a philanthropist businesswoman as she involves in charitable acts and supports charity organizations such as Healing Hearts and Nations and her own In-N-Out Burger Foundation.
Career
Lynsi Snyder graduated from Redding Christian High School. On January 1, 2010, she became the 6th President of In-N-Out Burger. The post of President was earlier served by her grandfather, grandmother, and father.
On her 30th birthday in 2012, she had 50% ownership of the company. And on her 35th birthday in 2017, she covered 100% ownership and full control of the company. In-N-Out Burger has more than 347 restaurants all over the USA.
According to the Bloomberg Billionaires Index, In-N-Out's valuation was $1.1 billion in 2013. Furthermore, she was on #93 on Maxim's annual Hot 100 list.
Family
Lynsi Snyder is the granddaughter of Harry Snyder and Esther Snyder, who are the founders of In-N-Out Burger.
Lynsi Snyder's parents Harry Guy Snyder and Lynda Lou Perkins were separated. She was raised by her mother, along with her two half-sisters, Traci and Teri, from her mother's marriage.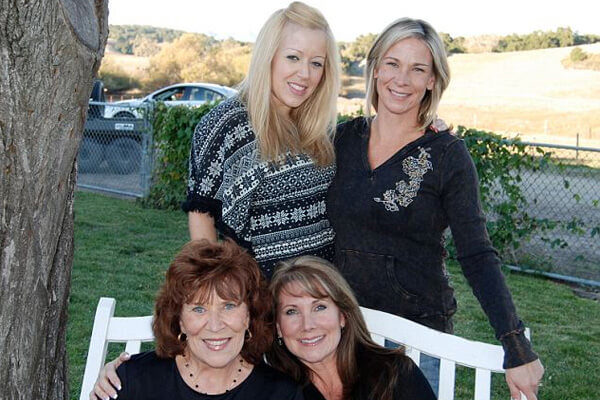 Lynsi Snyder was raised by her mother(bottom left) along with her half-sisters. Image Source: Pinterest.
During her childhood, she used to visit the hospital to meet her father. Sadly, in 1999, Lynsi Snyder's father passed away due to an overdose of drugs. After her father's death, Lynsi tried to overcome her trauma by consuming alcohol and drugs.
Husband And Children
After Lynsi Snyder's 18th birthday, she tied the knot to her high school boyfriend, Jeremiah Seawell, in 2000. The ex-couple got separated in 2003. She also married In-N-Out Burger's former staff Richard Martinez in 2004. The ex-pair was blessed with fraternal twins, Ella Jade and Silas Diego.
Along with Richard, she dated a famous car racer, Val Torres. It is said that Val was the reason behind Lynsi and Richard's divorce. Soon after their divorce in 2011, Val and Lynsi were married and divorced in 2014. The ex-couple share one son, Valentino Guy Torres.
Again in 2014, she shared her oath with her now-husband Sean Ellingson in Malibu, California. The pair has a lovely son named Layne Ellingson. Lynsi Snyder's husband is a native of Los Angeles.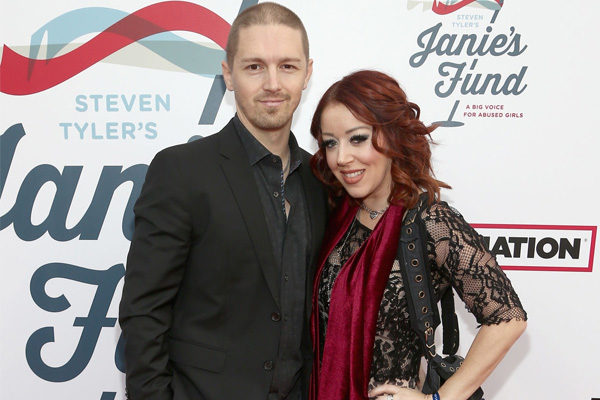 Lynsi Snyder is in a marital relationship with Sean Ellingson and shares one son, Layne Ellingson. Image Source: Getty Images.
For the time being, Lynsi is living blissfully with her family.
Above all, our education system teaches us, how to earn, not how to live. But Lynsi Snyder has learned how to earn as well as how to live. Best Wishes to her for upcoming challenges!
Keep connected with SuperbHub for more exciting News, Entertainment, and Biography.