An American Pastor of Passion City Church Louie Giglio is the founder of Passion Movement and Passion Conference from Atalanta, Georgia. The Passion aims to call a generation to leverage for the fame of Jesus.
Besides, Giglio is also an author of Goliath Must Fall. He is proud to be the door holder. A public speaker Louie Giglio's lifestyle and testimony are impacting a large mass of public in pursuit of a life lived for the God's glory.
Louie Giglio was born on June 30, 1958, to father Louie F. Giglio, Jr. and mother Martha Giglio. Growing up, he spent his childhood with sibling Gina Shaw in Atlanta, Georgia. In 1995, his father died of brain infection.
Louie graduated from the University of Georgia State in 1977. After his graduation, he moved to Southwestern Baptist Theological Seminary and completed his Master of Divinity. Subsequently, he joined Grace Theological Seminary to pursue a Doctor of Ministry.
In 1977, an intense feeling regarding the God Jesus drove him to devote his life to Christ instead of the college lifestyle. Successively, in 1985, Giglio along with his wife organized a weekly Bible study at Baylor University, in Waco, Texas.
Initially, with a very few students, the class crossed from a couple of dozens to hundred to thousand and over 1,600. In 1997, with a large mass of the student, Passion movement began. And the first conference was held in Austin, Texas. The conference lasted for four days.
Though there was less participation of people (i.e 2000) in the early conference, the conference met the estimated standard in his growing days.
In 2013, the conference drew more than 60,000 young adults from 18 to 25, representing 54 countries and more than 2,000 colleges and universities. Passion had hosted larger regional and national events in cities like Seattle, Chicago, Dallas, Los Angeles, and Washington D.C.
After serving a long time for North Point Community Church located in Atlanta, Giglio along with his wife founded the new church termed as Passion Church in 2009.
On February 15, 2009, Passion City Church held its first service in Atlanta, Georgia at the Tabernacle.
At the President Barack Obama's second inauguration on January 21, 2013, the passion Church had stepped onto the national as per the invitation to deliver the benediction.
With the faith God is leading him, he goes on developing modern worship style concerning the young students.
As of 2017, the passion conference remained the largest Jesus-focused collegiate event where more than 55,000 students were present in Passion Conference 2017.
The Giglio also head up sixstepsrecords, a partnership with Sparrow Records, as a part of the Passion movement.
Louie has written many books in his career. He has written I Am Not But I Know I Am: Welcome to the Story of God (2005), Wired: For a Life of Worship (2006), Who is Jesus? Study Guide (2018), and many more.
 He was considered as the national bestseller of books including Goliath Must Fall, The Comeback, The Air I Breathe, and Indescribable: 100 Devotions About God & Science.
As of March 2018, Louie Giglio's net worth is estimated to be $3 million. Louie has devoted his life in the name of god and is now a renowned Pastor in Atlanta. According to the Salary, the median annual salary of the Pastor is $93,760 as of March 2108. Usually the earning ranges between $77,064 and $106,274.
Similarly, Giglio is an author. The average salary of an author or writer is estimated to be $$50,837 per year, according to Payscale. So, we can assume the higher the release and sales of books, the higher is the Louie Giglio's net worth.
Also, Louie along with his wife Shelley is the founder of the Passion Church through which he organized numerous conference and movement and has earned a decent amount of money.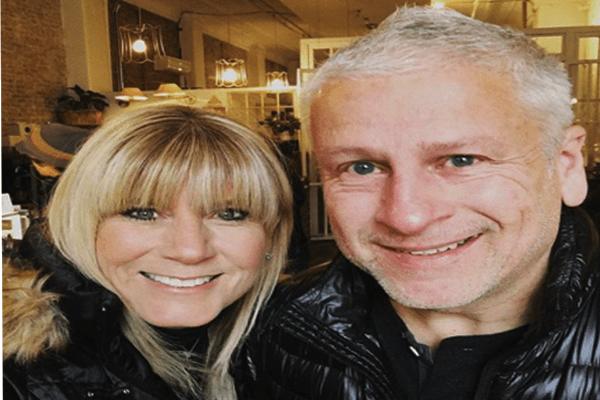 Image Source: Louie Giglio's Instagram
Louie Giglio with his wife Shelley Giglio at Tribeca Performing Arts Center on March 7, 2018
In Passion Conference 2013, the movement and conference raised $3.2 million to fight against child labor, forced labor, human and sex trafficking. The Church also grant more than $3.3 million to the Freedom Campaign.
In addition, he also has covered a numerous worship song including the album Indescribable (April 15, 2008). Sixstepsrecords is his record label. So, he probably might be earning a reasonable sum of money from the songs as well.
A public speaker Louie Giglio married Shelley Giglio in 1986.  The duo is busy to connect young adults with the message of good news. Currently, they are residing in Atlanta, Georgia.
An American native Louie possesses white ethnicity. Cancer is his birth sign. He has white hair and light blue eyes.
He is active on the social pages like Facebook, Twitter, and Instagram.
For newer updates on celebrities stay connected with SuperbHub.