Levi Meaden is a talented Canadian actor and model born in Saskatoon, Canada on September 13, 1987. He is known for his roles in many movies including Alice in the Attic and Pacific Rim: Uprising. Thanks to his acting career, Levi Meaden's net worth is estimated at $10 million.
Meaden spent most of his childhood in Calgary where he attended William Aberhart High School from which he later graduated. The talented actor has only one sibling Colton Meaden.
Levi, from an early age, was really interested in the world of acting and show business. So, from a very young age, he acted in local productions and small theaters. Later on, he moved to Prague to pursue his acting career where he studied film making at Prague Film School. After graduating from the film school, he moved back to Canada. From there onwards, he started working in TV shows and short movies and has since made his way to the big movies.
The actor/model was once the headline of gossip and controversy because of his age gap with ex-girlfriend Ariel Winter.
Net Worth And Earnings
As stated before Levi Meaden's net worth is estimated at $10 million. As we know, the Canadian actor has amassed most of his fortune working as an actor in movies and Tv series. Over the years, Levi has acted in many movies like The 100, Aftermath, Olympus, Incontrol, and The Killing.
He is widely known for his role in Alice in The Attic.
Levi's wealth increased even more, when he appeared in blockbuster movies including War for the Planet of the Apes and Pacific Rim Uprising. Levi Meaden has come a long way from his Canadian roots. He has successfully made his name in the Hollywood scene and his fame is still on the rise.
Career
Levi Meaden's acting career started after he came back from Prague. He started working at a production company where he was encouraged to pursue his passion for acting. Levi then made his screen debut in 2009 around the age of 22, appearing in the sixteen-minute crime-drama Brotherly Love written and directed by Marcus Schwenzel.
Three years later, he made his full-length feature debut in the horror film 1313: Bigfoot Island. Levi then appeared in the first season of CW's fantasy/drama series The Secret Circle.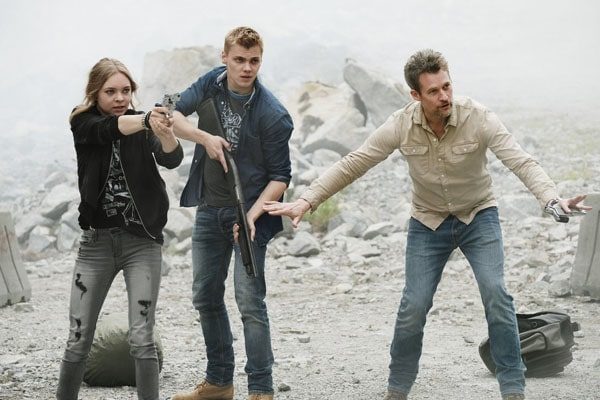 Over the time of his career, Levi has appeared in many movies and TV series. Image source: Eike Schroter/Aftermath ULC/Syfy.
Then in 2014, Levi appeared in three major television series including Almost Human, The 100 and the final season of The Killing. In 2015 he appeared in the fantasy series Olympus and CW's crime drama iZombie. In 2016, he appeared in the debut season of CW's superhero action-adventure drama Dc's Legends of Tomorrow.
Levi also appeared as 'Matt Copeland' the eldest child in the Copeland family, in all 13 episodes of the first and only season of Syfy's apocalyptic-survival series Aftermath.
Afterward, he returned to the big screen with a boom. He also appeared in the 20th Century Fox blockbuster War for the Planet of the Apes, followed by Sci-Fi thriller Incontrol. Later on, he played the leading role in drama-thriller Alice in the Attic, written and directed by Jordan Anthony Greer.
He has also appeared in In Unspeakable (TV Mini-Series) and Agents of S.H.I.E.L.D. The fans have loved and praised him for his work.
Girlfriend, Relationship, and Dating
Levi Meaden's ex-girlfriend is Ariel Winter. The ex-couple had confirmed their love in 2016 and later broke up in 2019. The former pair even got matching tattoos in their bodies and were posting one another's pictures in their social media accounts.
The ex-pair first started dating in November 2016, and eventually moved in together the following year when Ariel was 19 and Levi was nearly 30. After revealing her new live-in situation with Levi to Jimmy Kimmel, the actress found herself having to publicly defend their age difference.
View this post on Instagram
As stated before, they started seeing each other in 2016. At first, Ariel Winter denied being in a relationship with Meaden. However, in November 2016, Levi was seen kissing Ariel and since, their relationship was publicly announced.
Ariel has posted many photos of their time together on Instagram and Meaden has also posted photos on his social media handle. They even posted pictures of them vacationing in China where Levi was filming the sequel of Pacific Rim.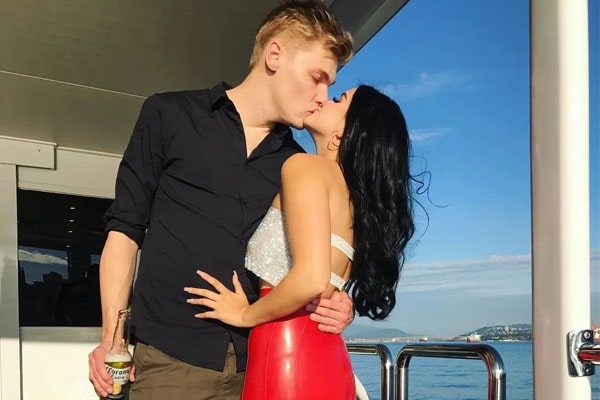 Levi and Ariel started dating each-other in early 2016. Image source: Ariel Winter's Instagram
The first report of their break-up was published by Us Weekly, who noted that the couple hasn't been seen together since August. They also reported that Ariel was spotted with a mystery man at a restaurant in October. Later on, the news broke out that the mysterious man happened to be Ariel's good friend Luke Bernard.
For more News, Articles, Entertainment and Biography visit Superbhub.