An American Model, Sportscaster, TV Host Leeann Velez Tweeden is also the news anchor. Since February 2017, she is working for Mclntyre in the morning on Radio 790 KABC  in Los Angeles. Prior to Mclntyre, she co-hosted LA Today with Roggin & Tweeden on AM570 LA Sports Radio.
Tweeden is an American model and the winner of Venus International Model search. Her unique sense of presenting, acting, and hosting are the integral parts of what she is today. Her character, obviously, would influence the future generation artist towards the right path.
Leeann was born on June 13, 1973, in Manassas, Virginia, the U.S. She is the daughter of Bill Tweeden, a retired Air Force Chief Mechanic, and Catherine from Manassas. Leeann is Spanish, Filipino and Norwegian.
In 1991, she got graduated from Osbourn Park High School. After her graduation, she moved to Hollywood to pursue a career in modeling. Currently, she is working on her degree in Political Science at Santa Monica College.
Being a girl of the racing family, Leeann visited several NFL training camps to know more about pro-athlete. Also, she spent some duration with Major League Baseball's best players at spring training. There, she learned how to throw the ball and play the hot corner.
Leeann first rose to the industry in 1995 as the stylist in the Costume and Wardrobe Department. At the age of 19, she gained a national exposure taking the first position in the Venus International Model Search in 1992.
Then for several years, she focused on magazine covers and articles that range from health, fitness to lifestyle. Successively, she worked out for ESPN Fitness Beach beating 30,000 women at an audition.
In addition, she also modeled for the Hooters and Venus International and Fredericks of Hollywood. She was listed as the Top Hooters of all the time in 2008 and has an appearance in their 1993 & 1994 calendars.
Primarily she served as the hostess at the Hooter in Colorado Springs, Colorado and occasionally made a television debut. She is famous for her critically acclaimed roles Fusion Tv (2002), UFC Tonight (2012), Lavalantula (2015), and Eruption: LA (2018).
In 1995, she made an official appearance from the show Edenquest: Pamela Anderson. Later, Tweeden made a massive appearance on the television shows, series, movies, video documentary, and videos.
Some of her notable performance are Fitness Beach (1998), Piratenet (2002), Party @the Palms (2005), Poker After Dark (2008-11), The View (2017), and many more.
In addition, she has written for Racer X Illustrated, a motorcycle newspaper. Till now, she has 5 pictorials, 2 articles, and 2 magazine cover photos.
According to Metro, Leeann Tweeden's net worth is estimated to be $11 million, as of November 2017. Her modeling career with the renowned team like Hooters and Venus International, Playboy, and Fredericks of Hollywood is adding a decent sum to Leeann Tweeden's net worth. 
In addition, she has almost 160 USO tours on several occasions. She had attended thanksgiving and Christmas ceremony along with Matt Lauer, Wayne Newton, Jason Taylor, and many more.
She is the brand ambassador of FHM,  Maxim, Rosebug & U.F.C, which has propelled her to major spending power. According to Realtor, she was about to sell her Tudor in Los Angeles with an asking price $1.23 million.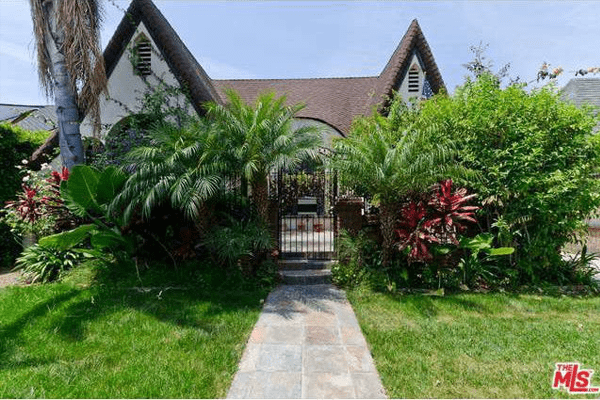 Image Source: Realtor
Leeann Tweeden's sold house Tudor in Los Angeles at a market price $1.23 million
The house with 1,566 square feet area has two-bedroom, expensive furniture, living room, thick palm trees outside the house. As of 2018, she is residing in Los Angeles with her husband and two young kids.
According to Tweeden Facebook profile, she is the owner of the non-profit organization Heroes & Patriots which she had founded back in 2012 with William Snell, a Californian businessman. 
Tweeden married Chris Dougherty on July 4, 2010. Leeann's husband is a retired Air Force pilot for the California Air National Guard.  He is also an American actor and director.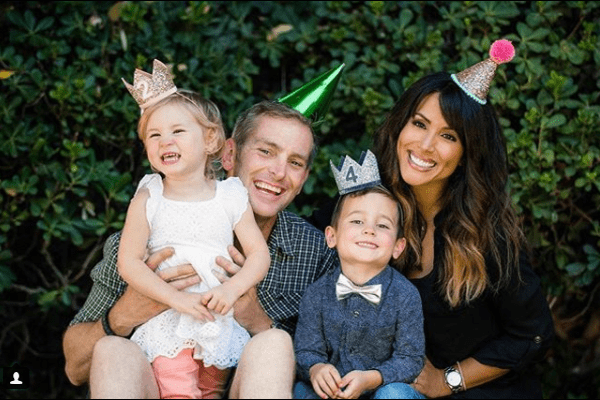 Image Source: Leeann Tweeden's Instagram
Leeann Tweeden with her husband Chris Dougherty and daughters Kane Phoenix Dougherty and Kaia Vale Dougherty celebrating her kid's birthday
The lovebird has a daughter named Kane Phoenix Dougherty (September 9, 2013) and a son  Kaia Vale Dougherty (September 16, 2015).
Together, struggling in their own field, they are maintaining an adequate balance between the professional and personal life.
In 2002, Leeann ranked 77th in the American edition of FHM's Sexiest Girls of 2002 poll. Likely, she listed 14th in 100 Sexiest Women in the World 2005 and 47th in 2006. In 2017, she has revealed the presenter Al Franken allegations.
Tweeden has a height of 5 Feet 8 Inch (1.73 m) and body weight 121 lbs. She is an American native and possesses white ethnicity. Leeann Tweeden has black eyes and brown-blonde hair.
She is a philanthropist. She attended the programs like The Boot Campaign, The Olympic Specials, The USO, and many more. Velez is active on the social pages like facebook, Twitter, and Instagram.
 For newer updates on Celebrities remain in touch with SuperbHub.