LeBron James is an American Professional Basketball Player representing Cleveland Cavaliers since 2014. As of latest update, he scored 41 points, had eight assists, 13 rebounds in game 5 of the 2017 NBA finals. The highest-paid player LeBron James net worth is facilitating him to spend a blissful life.
LeBron James is the winner of NBA Championship for three times, NBA most valuable player Awards four times, two Olympic gold medals, and so on.
Besides, he selected in the 2003 NBA draft as the first overall pick. Tuning the professional career since 2003, he played representing Cleveland Cavaliers (2003-2010), Miami Heat (2010-2014), and Cleveland Cavaliers (2014-present).
By December 2016, LeBron became the first player in the NBA history to 27,000 points, 7,000 rebounds and 7,000 assists. On February 13, 2015, he also elected as the first vice president of the National Basketball Players Association. As per the request of James in 2014, the duration of All-Star break increased the following year.
God-gifted personality LeBron James was born on December 30, 1984, in Akron, Ohio, the United States to father Anthony McClelland and mother, Gloria Marie James.
Moreover, he raised by his mother after his biological father left her mother single. In another word, she holds the responsibility of raising the young kid herself. She was at 16 when she gave birth to LeBron James.
While growing up James faced several problems. He along with his mother moved apartment to apartment for seeking a job. LeBron's mother wanted to see him in a better and stable family environment. So, she allowed James to proceed with the family of Frank Walker.
Frank Walker, who is a local youth football coach. Frank introduced basketball to James at the age of nine.
Firstly, James played the Amateur Athletic Union for the Northeast Ohio Shooting Stars. He along with his team member won the national and local level. Their group consists of James, Sian Cotton, Dru Joyce III, and Willie McGee, which later renamed as "Fab Four". They were inseparable. Thus they made a promise that they would attend the same high school together.
As of academic background, he alongside his mates first attended St. Vincent-St. Mary High School. They made an active participant in the basketball there. A newcomer James averaged 21 points and six rebounds per game for the St. Vincent school's basketball team.
During his high school period, he named Ohio Mr. Basketball and became the first sophomore to the USA Today All-USA First Team. Besides, he enlisted as the best high school basketball player in America right now in SLAM Magazine by Ryan Jones. Apart, he appeared as the first high school basketball underclassman on the cover of Sports.
Likewise, with an average of 29 points, 8.3 rebounds, 5.7 assists and 3.3 steals per game, he twice renamed as Ohio Mr. Basketball. He also stood as the first junior to be named boys' basketball Gatorade National Player of the Year.
Despite several successful histories, he finally ended up the season losing the Division II Championship game.
LeBron James was also a football player for St.  Vincent-St. Mary's football team. However, he did not transform it into the professional career. Later, he decided to stop playing after breaking his wrist during an AAU basketball game.
In 2003, he finally got selected by team Cleveland Cavaliers as the 1st overall pick of the 2003 NBA draft. Then in the first game of the season, he scored 25 points against the Sacramento Kings. The game eventually led him to NBA record for most points scored by Prep-to-pro player. Finally, he renamed as the NBA Rookie of the Year completing the game scoring an average of 20.9 points, 5.5 rebounds and 5.9 assists per game.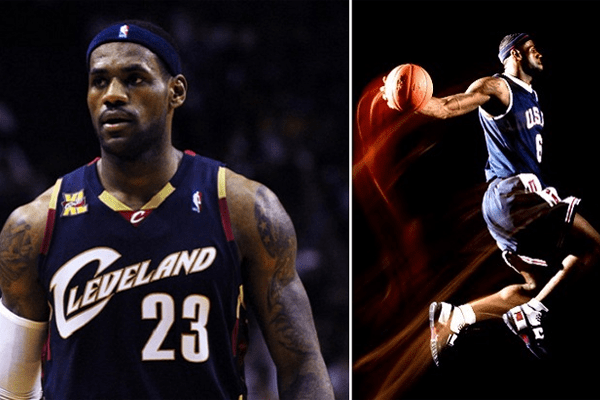 LeBron James's appearance as Cleveland's member
Image Source: The Inquisitr
In 2004-05, he earned his first NBA All-Star Game scoring 13 points, eight rebounds and six assists in Eastern Conference. Finally, with the average of 27.2 points, 7.4 rebounds, 7.2 assists and 2.2 steals per game, he renamed as first All-NBA Team.
Similarly, in 2006 All-Star Game, James hit the victory to East with an average 29 points. Through the considerable achievement, he later renamed as NBA All-Star Game Most Valuable Player Award. With the participation of James, the Cavaliers got qualified for the playoffs for the first time since 1998.
In 2007-08, James also renamed as All-Star Game MVP for the second time behind 27 points, eight rebounds and nine assists performance.
Later on March 21, James played a game against the Raptors as the Cavaliers all-time leading scorer. He won the game and remained as the highest position in the league. Besides, he also created a new record of 30 points as his first scoring title.
The following year, James stood second in NBA Defensive Player of the Year voting. And he made his first NBA All-Defensive Team posting 93 career high blocks and 23 chase-down blocks.
He stood up as the fourth postmerger to lead his team in points, rebounds, steals, blocks, assists in a single season.
Finally, with an average of 28.4 points, 7.2 assists, 7.6 rebounds, 1.2 block per game and 1.7 steals, James became the first member to win the MVP award.
Career with Miami Heat
On July 10, 2010, James became the member of Miami Heat. However, he did not receive positive feedback from the public and the social media.
Thus throughout 2010-11, James played for Miami with an angry face and less joy than before. Firstly, he led the Miami to enter the Playoffs as the East's second seed and advance the team to the Final. But he remained as the most considerable point drop-off  in league history scoring average of 17.8 points per game signified 8.9 point drop from the regular season.
Back with a bang
After the unsuccessful attempt, he spent the off-season working with Hakeem Olajuwon. He appeared with the new personality.
And finally matched their season in franchise history and during 2011-12 season stood as MVP for the third time scoring an average of 27.1 points, 6.2 assists, 7.9 rebounds and 1.9 steals per game on 53 % shooting.
Later in his postseason, he scored an average of 30.3 points, 5.6 assists, and 9.7 rebounds. Thus, he ranked the second best in modern NBA history by ESPN.
Similarly, in February of 2012-13, he scored an average of 29.7 points and 7.8 assists per game. Thus, his performance labeled as "month for the ages" by Sports. Also, he listed the third longest in NBA history.
Apart from his play, James tagged as MVP for the fourth time. However, James missed the position of the first player in NBA history just failing for one vote.
Following, he remained as the Final MVP for the second straight season scoring an average of 25.3 points, seven assists, 10.9 rebounds, 2.3 steals per game for the championship round.
Return to the Cavaliers
By 2014, James returned to Cavaliers. He made several attempts to win the game. And in 2016, LeBron became the highest-paid player in the league for the first time throughout his career.
As a whole, he remained as the sixth highest earning sportsman in 2015 and third in 2016 after Cristiano Ronaldo and Lionel Messi. As of December 16, 2017, James had his 60th career triple-double, winning over Utah Jazz. And he had fifth triple-double of the season.
Net worth
As of 2018, LeBron James's net worth is $400 million. His professional career is the main source of LeBron James's net worth. Thus, he is maintaining an adequate balance between personal and professional life.
As of 2017, James's real estate includes 15,846 sq. feet house in Brentwood averaging $23 million according to Los Angeles Times. The House looks luxurious and the interiors might be equally eye captivating.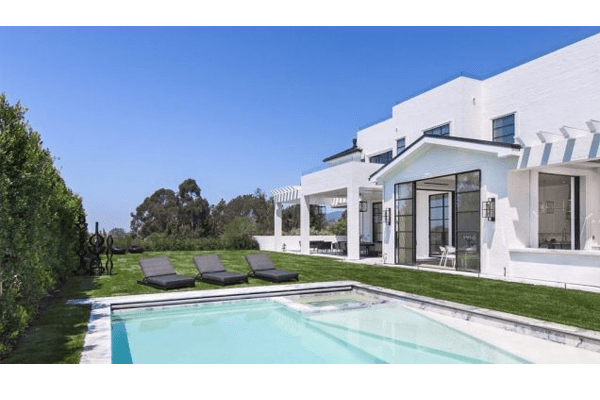 LeBron James Net worth includes his New Mansion in Brentwood
Image Source: Pedestrian TV
Moreover, he also signed a contract with several brands like Nike, Coca-cola, Samsung, McDonald's. Likewise, he also has several appearances in the commercials and print media like Sprite, Nike, Glaceau's vitamin water, and so on. This definitely adds a lot of balance in his accounts.
Personal Life
At the date of New Year's Eve and his 27th birthday, James proposed Savannah Brinson, who was his high school sweetheart. She too accepted his proposal. And they two married on September 14, 2013.
To date, the couple blessed with three children LeBron James Jr. (2004), Bryce Maximus James (2007) and Zhuri James (2014).
Philanthropy
Besides a player, James is an active supporter of the Boys & Girls Club of America, ONEXONE and Children's Defense Fund. Also, LeBron has charity foundation named LeBron James Family Foundation.
As 0f 2016, LeBron donated to Smithsonian National Museum of African American History and Culture worth of $2.5 million. Thus, in 2017 he received J. Walter Kennedy Citizenship award for the NBA for his service and dedication to the community.
Besides, he had donated $20,000 to nominate the Democratic presidential nominee Barack Obama. As a public image, he also listed among the 100 most influential people in the world by Forbes and Times.
Physical Appearances
LeBron James has an average height of 6 Feet 8 Inch and weight 108 lbs. An American native LeBron possesses black ethnicity and Roman Catholicism religion. Capricorn is his birth sign. An athlete James has brown colored eyes and black color hair. His body measurement is 46-17-36.  He is active in the social pages like Facebook, Twitter, Instagram.
Stay tuned with Superbhub to get new updates on celebrities.