Known for Grey's Anatomy, Lauren Stamile has made a massive name for herself in the entertainment industry. Stamile started her career in 1999 and has never seen back once. Throughout her career of more than two decades, she has appeared in several movies, series, and commercials.
The hard work and passion of Lauren Stamile has paid off and earned her money as well as a loyal fan base. Therefore, let's know more about the gorgeous actress more in this article.
Who Is Lauren Stamile's Husband?
The scrub nurse, in Grey's Anatomy for two seasons, Lauren Stamile, is married to a writer, Randall Zamcheck, since 2009.
Lauren Stamile's husband, Randall, is a fantastic personality with an attractive career as a tonic herbologist and a screenplay writer. The pair's meeting was destined as they went to college together but didn't meet there. They had multiple opportunities to bump into one another but had continuously missed one another.
In an interview with Tulsa World, Stamile finally revealed that she had gone to Zamcheck for assistance, who also happened to work in alternative health. Their meeting led them to their engagement and then a wedding on April 24, 2009.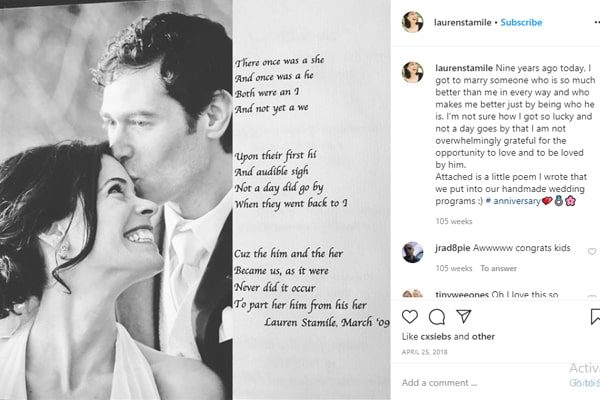 The couple shared their vows in 2009 and still don't forget to share their moments together. Image Source: Stamile's Instagram. 
Since then, the couple has been together, supporting and loving one another every day. Stamile gave birth to two children with Randy Zamcheck but has shielded them from the world very well. Come to think of it, it's not just their parental instinct to protect their children's identity, but they have been shying away from the scrutinized world since the starting of their relationship.
Maybe the hushed-technique was the key to their successful relationship of more than a decade. Let's hope the duo enjoys their relationship for many years.
How Much Is Lauren Stamile's Net Worth?
Aforementioned, Lauren Stamile has been involved in the film industry since 1999 and has appeared in several movies and commercials. According to her IMDb, she has more than 60 credits for an actress, including Burn Notice, Off Centre, Grey's Anatomy, and many more.
Therefore, it is evident that Lauren Stamile's net worth is highly influenced by her income as an actress. Furthermore, she has appeared in a 2000 episode of The Drew Carey Show, then co-starred in Off Centre. Likewise, Stamile's career hit off by guest-starring in many tv shows, including Without a Trace, CSI: Miami, Cold Case, Community, The Good Guys, Crossing Jordan, Tru Calling, The West Wing, Summerland, Scrubs, and Boston Legal.
Appearing on multiple tv-series and independent films like Chaos Theory, Stamile's earnings from her television presence upraised along with her prominence in the industry. Her movie appearance includes Midnight Bayou, Tooken, Overnight, Low Fidelity, Kissing Cousins, The Last Letter, etc. 
Similarly, Lauren Stamile's stage credits include The Miser, Murder on the Nile, Lion in Winter, and Lounge Act. Well, Stamile's income must have escalated along with her noteworthy performances. She has lent her beautiful face for commercials as well, including Old Spice, JC Penney, Summer's Eve, Volkswagen, and Tassimo.
According to Salary, the average salary of an actor is $69,859 annually. However, the salary ranges can vary widely depending on the actor's experience and other factors. Therefore, it is clear that Lauren Stamile's net worth is not just aided by her television career but also by the income from tv commercials. 
Let's hope the Community star continues to grow more in her career and earn reputation along with cash.
Are Lauren Stamile's Parents Doctors?
Lauren Stamile belongs to an intellectual family. She was born on September 12in Tulsa, Oklahoma, the USA to Richard Stamile and Terry Stamile. Stamile's father, Richard, is a physician, and her mother is a nurse. A perfect match.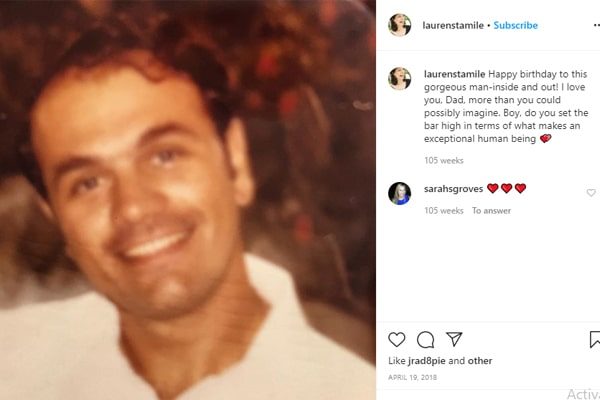 Lauren Stamile's father is a doctor and her mom is a nurse. Image Source: Stamile's Instagram. 
Stamile's parents were very supportive of her career choice, and in an interview, she revealed that her love for entertainment started from her parents. Born in a medical family, she is the third of five siblings. Stamile graduated from Cascia Hall Preparatory School and majored in theater at Northwestern University in Illinois with the full encouragement of her parents.
Lauren Stamile then moved to New York to pursue her career as an actress. NYC treated her pretty well and made her a successful person and a happily wedded woman. Let's hope the Grey's Anatomy star lives her life with excitement and victory.
Don't Miss To Follow SuperbHub For More Updates On Celebrity Entertainment, Biography, and News.