As we know, the participation of women is different sector has grown. Similarly, Female participation in sports field has also increased. Among those females who are indulged in sports, Kyndra de St. Aubin is one.
Aubin is the only, female to dedicate her voice as color commentator in Major League Soccer (MLS). Also, she is an announcer of local TV broadcasts of Minnesota United. Not to mention, Aubin is a former Gophers Women's Soccer player and game analyst for FOX Sports. In fact, she was chosen among five at FOX Sports' coverage of 2015 FIFA Women's World Cup.
Furthermore, she is a wife of her childhood sweetheart, Bobby de St. Aubin, and a mother of a sweet and lovely daughter, Adelynne. As a soccer analyst for MNUFC  and Fox Sports, Kyndra de St. Aubin's net worth can be assumed to be in million.
Aubin was passionate and enthusiastic about soccer and Basketball. Born as Kyndra Hesse to Mr. and Mrs. Hesse in Stillwater, Minnesota, she has achieved a milestone in her career. She grew up with her brother, Justin Hesse who is a TV and Radio show producer. It was Aubin, who flew to Chicago just to watch her brother who produced a Sporting News Radio Show hosted by his mate James Brown.
Aubin completed her High Schooling from Stillwater and went to the University of Wisconsin- Madison to play Collegiate Soccer. Afterward, she transferred to the University of Minnesota. Watching her brother, she developed the interest in Broadcast Journalism. Then in 2003, she completed her graduation from University of Minnesota.
As mentioned she used to play Basketball and Soccer. But when she was diagnosed with Lupus, she had to quit basketball although she didn't give up soccer. Aubin has to face the side effect of medication and also she was the slowest one on the field. In 2008, her kidney started to fail, and she was hospitalized and have to undergo do Kidney Biopsies every few months.
Kyndra began her professional work with Big Ten Network. She then went on to work for Pac-12 Networks. Kyndra then began working with ESPN Radio as a beat reporter for Bucks(NBA), Brewers (MLB), Packers (NFL) and Marquette University Sports. Soon she became the afternoon anchor for SportsCenter.
Kyndra then joined ESPN radio affiliate Arizona Sports 98.7 FM in 2007 as a beat reporter for Suns (NBA, Cardinals (NFL) and ASU Sports. She also became a sideline reporter on Cox Sports. Kyndra has covered Fox Soccer. Kyndra also was one of five who worked as a game analyst for FOX Sports' coverage during 2015 FIFA Women's International Champions Cup.
She also became the part of FS1's coverage of International Champions Cup from 2013-2015.Then in 2017, she returned to Minnesota to join Minnesota United's TV color Commentator. And MU club was in debut on Major League Soccer Season. Then on January  17, 2017, she was joined by experienced broadcaster Callum Williams and Jamie Watson.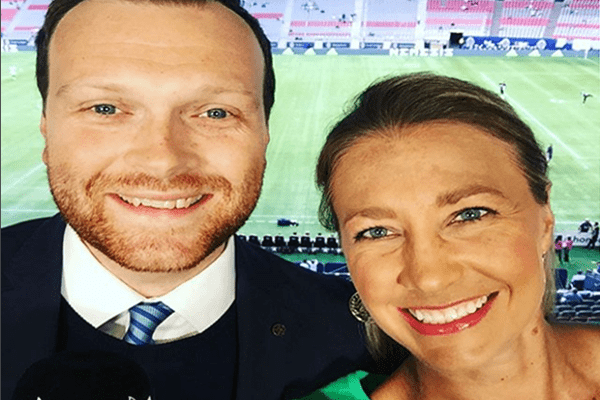 Kyndra de St. Aubin shared a picture with a colleague, Callum Williams on his birthday.
Image Source- Instagram
Kyndra De St. Aubin net worth is known to be very high due to her outstanding work in the field of sports journalism. Kyndra De St. Aubin net worth has been accumulated from her huge salary coming out of her work in ESPN Radio, Arizona Sports 98.7 F, Fox Sports 1, Fox Soccer, Cox Sports, and much more. Kyndra De St. Aubin net worth is expected to increase in coming days.
Kyndra is an experienced candidate who has worked for prestigious Networks like FOX Network and only female Color commentator of Minnesota United's TV. de St. Aubin, initially worked as a reporter for the radio station and covered Milwaukee Wave. Later, the radio station was owned by the different owner and placed it in a different place.  Then, she was upgraded to the higher post.
Afterward, she began working for 100 hours a week to earn some extra cash by doing advertising sales in the morning. Then anchoring in the afternoon and covering the Bucks and Brewers at night. At that stage, such hard work helped to raise Kyndra de St. Aubin's net worth.
As of 2018, she works for MU TV  as a commentator, and she surely gets a salary in thousands of dollars as she has experience of more than 12 years.
Kyndra de St. Aubin's net worth includes her expensive and luxurious Ferrari car. Furthermore, she obviously loves her fortune according to her post on Instagram. One of the Valet was leaning on her Ferrari car, and she was wishing that he quits leaning on her car.
According to True Car, the cost of Ferrari car varies accordingly with its model. But the Ferrari car can range from $188,245 and can be bought up to $400,000.
With her car, she lives with her husband and daughter in a house in White Bear Lake, Minnesota in Ramsey County. Moreover, Aubin likes spent her spare time with her daughter and husband at home. She also celebrates occasions like Christmas and Halloween at home. Not to mention, when her daughter was in her womb, she celebrated baby shower at her house.
Aubin was in ninth grade when she fell in love with a handsome guy, Bobby de St. Aubin. The childhood sweethearts were dating for many years before they tied the knot in 2003. Meanwhile, she also completed her graduation. After the couple celebrated their wedding, they both moved to Milwaukee to find a job.
Then they moved to Phoenix, Arizona to find the job again but never left each other's hand. It was their chemistry and bonding that worked perfectly in their relationship. The couple became parents of a sweet and loveable daughter Adelynnee in 2014. Not to mention, Kyndra loves to be with her most of time, and surely, she is the dedicated mother.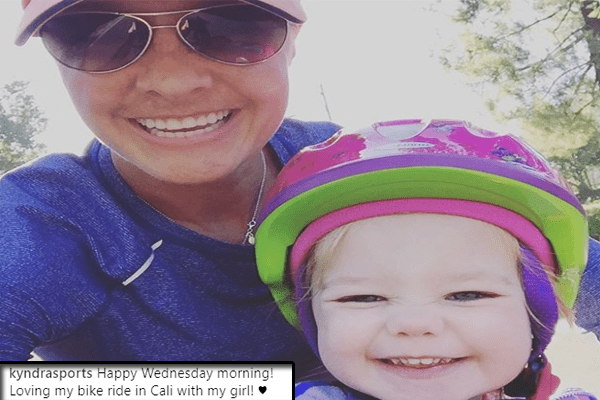 Kyndra is the mother of a sweet little daughter, Adylynnee.
Image Source- Instagram
Also, she visits her hometown  Stillwater, Minnesota to her home. In turn, her father and mother visit her in White Bear Lake, Minnesota. Kyndra posted a picture on Instagram, where her parents were traveling back from her house.

Stay connected with SuperbHub for more Celebrity Biographies and Entertainment News.
This Biography was originally published on 5/7/2017 and updated on 3/29/2018.