Kylian Mbappe is a French professional footballer (soccer player) who plays for PSG in Ligue 1 as well as the French national team. Mbappe is primarily a striker but can play in almost all attacking positions. He is touted as one of the best young forwards in the world right now and has a very bright future ahead.
Mbappe rose to prominence after a stunning season with Monaco, helping them win the league. This earned him a move to French giants PSG. He has been scintillating for the national team as well, becoming the youngest player to score in a World Cup.
Mbappe is also grabbing headlines for his alleged relationship with French sensation Alicia Aylies, the recipient of the title of Miss France in 2017. Though it hasn't been confirmed, it is believed that the two are romantically engaged with each other.
Kylian Mbappe Net Worth, Earnings From PSG, Endorsements
As of 2018, Kylian Mbappe's net worth is $30 million. His main source of income is the money he receives from his club PSG. PSG signed him at the start of the 2017/18 season on loan from Monaco, with a permanent deal to made at the start of the next season for a massive transfer fee of $210.6 million, making him the most expensive teenage footballer in the world.
As far as his salary in PSG  goes, he makes $20.5 million a year from PSG and is one of the highest paid players in the world. Add to that the money he previously made while in Monaco, his net worth is bound to be very high.
In addition, Mbappe also has a few endorsement deals to his name. His most notable endorsement is with Nike, which he endorses along with Sergio Ramos. Nike pays him a ton of money as part of the deal.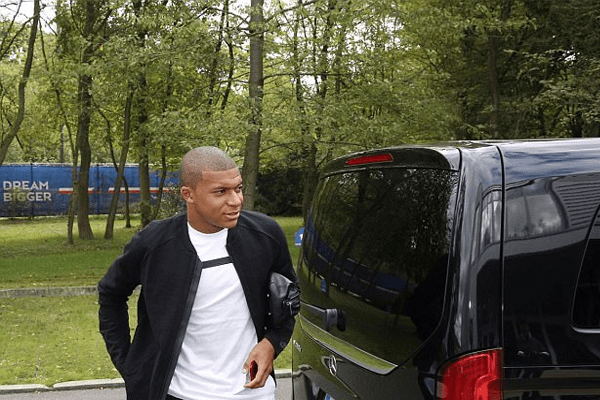 Kylian Mbappe's black Mercedes car.
Image Source: Sport.net
Furthermore,  Mbappe also owns a lovely house in Paris. He also has a collection of cars to his name as well. His car collection includes Mercedes, Ferrari, BMW, Range Rover, amongst others. The total price of his cars easily exceeds a million dollars.
Personal Life, Girlfriend, Dating Alicia Aylies?
Kylian Mbappe is a private person who likes to keep his things to himself. So he hasn't let out much about who he's dating. But many French media outlets are reporting that Kylian Mbappe's girlfriend is actually is gorgeous model Alicia Aylies.
Alicia Aylies is a French model who is best known for winning the title of Miss France in 2017. Though the two haven't commented about their relationship, Alicia did share a bunch of stories on Instagram that heavily focused on Mbappe's goals against Argentina. This had further lent proof that the Alicia is Mbappe's girlfriend.
Mbappe has stated that he idolized Ronaldinho and Christiano Ronaldo growing up. This old picture of Mbappe on his bedroom depicts his respect for Ronaldo.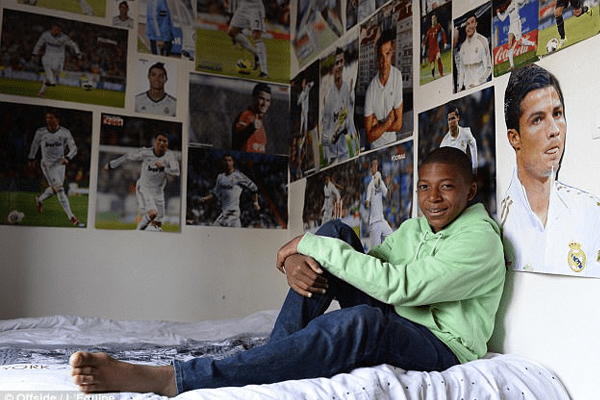 Kylian Mbappe's room filled with pictures of Christiano Ronaldo
Image Credit: Daily Mail
Career Summary
Kylian Mbappe has been playing football since the age of 5. After a decade in the youth teams, he made his senior debut for Monaco on December 2, 2015, against  SM Caen. He found massive success in the 2016-2017 season as he helped Monaco lift the Ligue 1 title.
Mbappe then transferred to PSG in a move that cost over $200 million, making him the most expensive teenager in football. In his first season with PSG, he helped them regain the Ligue 1 title.
Mbappe made his debut for the national side on March 25, 2015, against Luxembourg. He was selected for the 2018 FIFA World Cup. He scored a goal against Peru, becoming the youngest player ever to score in a World Cup for France. Mbappe followed it up with two goals against Argentina, knocking them out of the tournament and receiving the man of the match honors.
For more News, Biography, and Entertainment visit SuperbHub.