Ken Corsini is the reality TV host of HGTV original series Flip or Flop Atlanta and also the founder of Red Barn Homes LLC. Ken along with his wife Anita Corsini has made significant business in real estate sector around Atlanta. Ken Corsini's net worth thus is tremendous. It is estimated to be $12 million as of 2017 according to Romper.
Born on October 28, 1976, in the United States, Ken Corsini has American nationality. His birth sign is Scorpio.
Ken lived with his family in San Jose. When he was in grade school, his family moved to Marietta, Georgia. Ken loved Atlanta so much. He said to HGTV;
"Atlanta is just a gorgeous place to live. With warm winters and green summers, it's no wonder so many people move from other parts of the country to call Atlanta home."
In 1999, Ken completed his education from University of Georgia with a Bachelors in Business degree in Risk Management. After his graduation, he began to work on a Masters degree in Building Construction from Georgia Tech.
While studying, he also worked on his thesis on real estate values in Metro Atlanta. He graduated successfully in 2009.
After graduating from the University of Georgia, Ken worked for 5 years in a company but left the job to start his own business.
In 2005, Ken started Georgia Residential Partners and Red Barn Homes LLC. After two years, he completed his master's degree and became a licensed contractor too. With more qualification and contractor's license, Ken started to have more new opportunities in the construction business.
With the initiation of his business, Ken also used his knowledge to write articles for real estate sites including Realtor.com. This definitely helped in building Ken Corsini's net worth.
After Ken's success, his wife Anita Corsini also changed her career from Maths teacher to Real Estate designer. She also wanted to be a part of her husband Ken's real estate business. In 2007, Anita received her real estate license before their first child was born. And the rest is history.
Ken started to transform old properties into dream houses along with his business partner and wife, Anita Corsini. They flipped over 600 houses in Atlanta before the producers of Flip or Flop show approached them.
Flip or Flop Atlanta is a popular franchise that revolves around the story of the local house flippers. Ken and Anita who transform rundown properties into beautiful modern homes. Being the host of the popular franchise, Ken Corsini's net worth started increasing.
Ken and his wife Anita Corsini became the host of HGTV series "Flip or Flop Atlanta," where they worked on real estate properties around Atlanta. The series premiered on 20th July 2017 in HGTV. The extensive business and construction knowledge of Ken and design skills of Anita Corsini made the show and their business successful.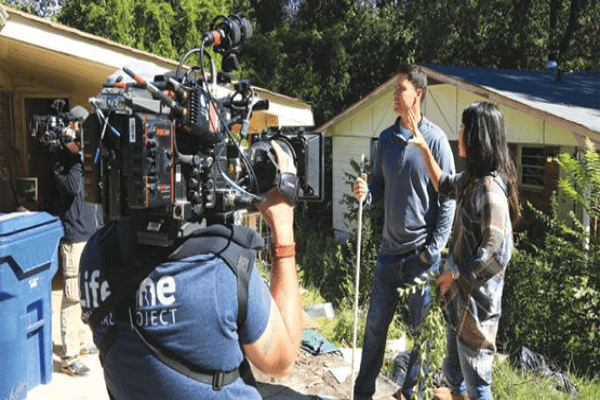 Image source: Atlanta Home Improvement   
Ken Corsini received an amazing salary from the Flip or Flop Atlanta show. Ken and wife Anita Corsini during the taping of Flip or Flop Atlanta.
Ken married to his longtime girlfriend, Anita Corsini. She is not only his life partner but also a partner in his business and career.
According to HGTV, the couple met each other in their college days, where they attended the University of Georgia. Anita was in a study group of Ken's roommate in their junior year. Slowly, Ken and Anita became friends and then soulmates. They exchanged their vows in the year 2000.
After six months of their marriage, the duo started by renting an affordable apartment with sparse furniture in Atlanta. The couple then bought their own plot of 2 acres land in loan after two years. They completed their Red Barn in their plot of land with some chickens. Ken started working from the basement and saw his business growing.
The lovely pair started their business and planned their family in Red Barn. Ken and Anita Corsini are blessed with three children, two daughters, and one son.
In 2017, Ken and Anita Corsini's net worth is estimated to be around $12 million. They earn a considerable amount from their professional career as real estate agents, Red Barn Homes business, and Flip or Flop show.
In the series Flip or Flop Atlanta, Ken with wife earns a massive salary. The couple could have collected around $4-$5 million earning as of 2017-18, as HGTV stars earn according to Huffington Post.
Anita Corsini's net worth is also amazing. However, the duo has been doing everything together. Thus, their net worth could not be separated. Moreover, the couple also has extra income from their Podcast Deal Farm.
The Corsini couple still is in love with Atlanta. They bought a home in 2011  in Lake Hartwell in 4000sq. foot. To describe his house, Ken said
The house flow is odd, but it's large square footage, privacy, being on top of the private lake makes up for it.
For more updates on Celebrities biography, be in touch with SuperbHub.