Jordan Michael Houston, aka Juicy J, is a rapper, record producer, and songwriter who was born on April 5, 1975, in Memphis, Tennessee, USA. The talented rapper is best known for his song; It's Hard out Here for a Pimp.
Juicy J's net worth is estimated to be $25 million. He is in a marital relationship with Regina Perera, with whom he shares one lovely daughter named Kamai Houston.
Net Worth And Earnings
As stated earlier, Juicy J's net worth is $25 million. He has managed to collect massive wealth from his career as a rapper, record producer, and also from different endorsements.
Juicy J is also the owner of a record label company, Hypnotize Minds, from which he earns most of his money. He has released many albums and songs to date. His famous albums with their prices are listed below:
Stay Trippy- $11.49
Rubba Band Business- $10.99
Hustle Till I Die- $7.99
Blue Dream and Lean- $7.99
Also, Juicy J has a YouTube channel where he uploads his songs and music videos.
Furthermore, he is also endorsed by top brands such as CORE Hydration, Red Bull, and several other brands. Moreover, he has also been featured in famed magazines such as Xxlmag, magnetic mag, Hype, the360mag, and many others. Juicy J also has an official website, where we can purchase his latest songs. We believe that he earns an enormous amount of money.
Talking about his assets, Juicy J owns many beautiful cars and a million-dollar house in Tennessee.
Nevertheless, looking at Juicy J's way of life, we can get a clear picture of how wealthy he is and how much cash he must have.
Early Life And Career
Juicy J had a passion for music since his childhood days and used to practice drums on empty jars. He attended Northside High School and bought a recording machine from his high school teacher and started creating music.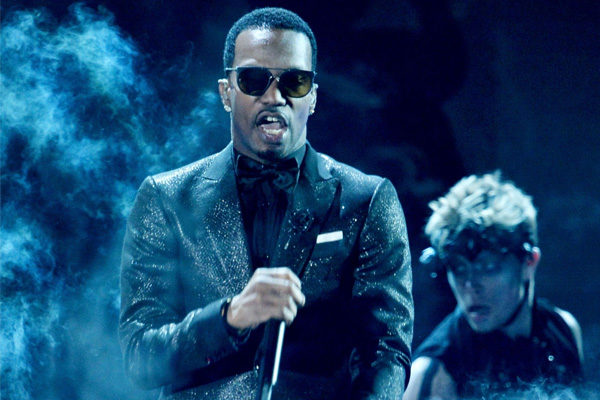 Juicy J used to practice drums on empty jars during his childhood days. Image Source: Getty Images.
Juicy J's musical career started in 1990 when he met DJ Paul. They used to gather local rappers and used to rap all day long. And the duo later founded the popular hip-hop group, Three 6 Mafia and released their debut album 'Mystic Stylz.'
In 2000, they started getting more popular when they released the album 'When the Smoke Clears,' which reached the number six spot in Billboard's album chart. After then, DJ Paul and Juicy J decided to follow their solo careers. Juicy J released his debut solo album in 2002 entitled 'Chronicles of the Juice Man: Underground Album.'
After then, he came with his second album, Hustle Till I Die in 2009. In 2013 he released his third album under a Sony-owned record label, which was titled 'Stay Trippy,' which made at the number 4 spot in the Billboard 200 charts. He released his fourth album 'Rubba Band Business' in 2017. For the song 'It's Hard out Here for a Pimp,' Juicy won the Oscar award for the best original song.
Juicy J was also featured in Katy Perry's song, 'Dark Horse.' He also has collaborated with Wiz Khalifa, Nicki Minaj, Young Thug, Megan Thee Stallion, and Lil Bibby. He also has been nominated for the BET hip hop awards and Grammy awards.
Wife And Children
Juicy J married his long-time girlfriend, Regina Perera on July 5, 2016. The pair have been living happily together. They also share one pretty daughter, Kamai Houston, who was born in February 2018.
View this post on Instagram
Juicy J's wife Regina is a woman of privacy and hasn't revealed a lot about her.
Juicy J's early days were very hard. Thanks to his determination and hard work, it guided him to be the owner of massive wealth and a successful career.
For More News, Entertainment, Biography Keep in Touch With SuperbHub.