Josh Gates is a  travel expert, producer, and host of Travel Channel's Expedition Unknown. Additionally, he is an adventurer who travels roams on a global journey to explore the truth behind iconic legends. For instance, the disappearance of Amelia Earhart in the south Pacific and Blackbeard's missing gold in the Carribean.
Also, he is the former host and co-executive producer of Destination Truth on Syfy channel. As a TV guy and producer, he has earned huge fan following and tons of viewers. Josh Gates net worth is approximately $4 million.
Born on August 10, 1977, Josh is from a small town in Manchester-by-the-sea, Massachusetts.  He spent his childhood that small town. He is a graduate in Archaeology and Drama from Boston's Tufts University.
Josh began his TV career as a contestant on the reality game show, Beg Borrow & Deal in 2002 airing on ESPN.
In 2007, he hosted the Ghost Hunters Live, a show telecasted as Halloween Special. On the other hand, he was the host of Destination Truth airing on Syfy Channel.
The second season of this TV series delivered 1.7 million total viewers and was highest rated second season on a history of Syfy channel. Since 2015, Josh is hosting and producing Expedition Unknown that airs on Travel Channel.
Josh is also a trained scuba diver and photographer. He has traveled over 110 counties, from sweltering African deserts to the icy shores of Antarctica. Also, Josh has participated in sub-sea archaeological excavations in the Mediterranean
He has scaled the roof of Africa on Mt. Kilimanjaro and Climbed the tallest mountains in America, Aconcagua.Josh won the Best Host in the CableFax Awards for Expedition Unknown in 2016. He has appeared in many television shows including TODAY Show in CNN.
Additionally, Josh is an author of a book.  titled Destination Truth: Memoirs of a Monster Hunter which was published in 2011.
Josh, an adventurer, is a married man. He is married to Hallie Gnatovich. These two became a soulmate on September 13, 2014, shortly after the engagement.
The duo met while making Destination Truth. Where Josh was hosting the show and Hallie worked as a researcher.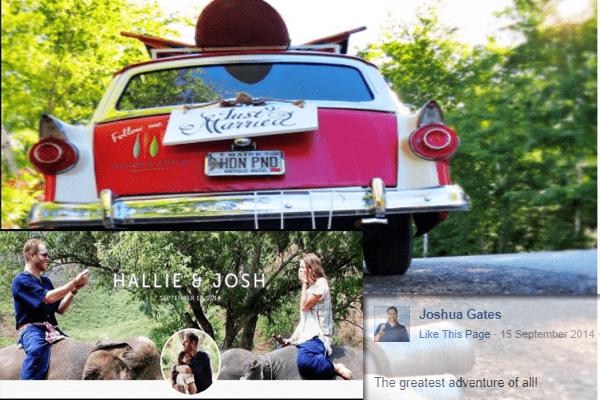 Caption- A picture posted by Josh after two days of marriage.
Image source- Facebook
They together have a son, Owen Gates born in February 2016.  There is an interesting story when Josh got the news of her wife's pregnancy.
Josh was shooting for Secrets of Christopher Columbus when he got the emergency call from her beloved on his emergency satellite phone.
Josh and his wife, Hallie Gnatovich along with a son, Owen resides in Los Angeles, California. As he is travel expert, he travels throughout the world. That means he spent his most of time in vehicles.
While he was in England, he shared a picture of the luxury car, Shagaur.

Also, he takes airplanes for international traveling.
As a host of Travel Channel, he roams throughout the world. For hosting in Travel Channel one gets an average annual salary of $52,000 and ranges from $42,000 to $63,000.
According to Amazon, his book Destination Truth: Memoirs of a Monster Hunter costs $13.05 per book. And the same book costs $11.99 on Kindle.
YouTube Channel, Travel Channel makes estimated monthly earnings of $209-$3.3k and yearly earnings of $2.5k-$40.1k.
Overall, Josh Gates net worth is $4 million.
To know more about celebrities stay with us on SuperbHub.
Published on 10/14/2017, and updated on 2/22/2018.