John Anthony Nicholas Gargano or in short Johnny Gargano is an American born professional wrestler who is currently engaged in the WWE and entertains the audience with his great wrestling abilities in NXT, a division of WWE.
Born and raised in Cleveland, Ohio, US on August 14, 1987. Johnny showed his interest towards wrestling from his early age and at the age of 8 entered the ring for the very first time at Cleveland All-Pro Wrestling (CAPW) just for fun.
While continuing his high school in St. Edward High School Johnny unswervingly joined Cleveland All-Pro Wrestling School to become a professional wrestler. Under J.T Lighting and Josh Prohibition, Johnny started his training to become a professional wrestler. Shawn Michaels, Chris Jericho, and Johnny Saint were the selected few role models of Johnny.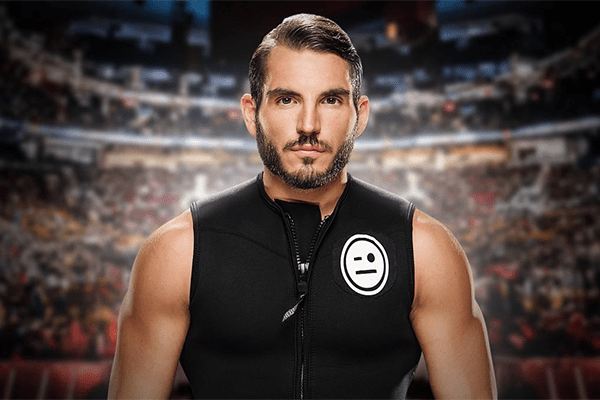 Image Source: WWE
Career
Johnny made his wrestling career debut in 2005 for CAPW. Gargano has a unique style of wrestling which he likes to call it "Lucharesu", a combination of British chain wrestling, Lucha Libre and puroseru. He explains his character as "someone lacking self-awareness and living in his own deluded little world". It didn't take him long to win his first major championship and on October 8, 2006, he was the CAPW Junior Heavyweight Champion defeating Josh Prohibition, M-Dogg 20, and Zach Gowen in a fatal four-way match. Johnny only stayed there for few more months until August 5, 2007.
Because of his physical ailment, his left leg is shorter than his right leg Johnny had a hairline fracture in his back. Doctor asked him to change his career because of his deformity but Johnny was against that and continued his career. Before making his debut in WWE, Johnny started his wrestling career in Absolute Intense Wrestling based in Cleveland. He managed to win a number of titles there like AIW Absolute Championship and won a number of tournaments too.
Along with AIW Johnny even appeared in Ring of Honor and Total Nonstop Action Wrestling (TNA) and also performed in Japan too. Johnny had made a couple of appearance in WWE before but couldn't do very well to please and finally when he took part in the company's tryout camp in June 2015 and only after that began appearing frequently for WWE NXT and signed a contract in April 2016.
NXT Career
Following his career in NXT Johnny didn't have a very bright start. Facing defeats in the very early matches of NXT's career both in terms of individual and tag teams, Johnny finally managed to bag a win against Elias Samson. But still the win didn't manage to make up something out of him, he still went to face defeats, a lot and finally got the chance to showcase his capability teaming up with Tomaso Ciampa and defeating the then NXT Tag Team Champions Dash Wilder and Scott Dawson but later on losing the title to the Authors of Pain, Akam, and Rezar.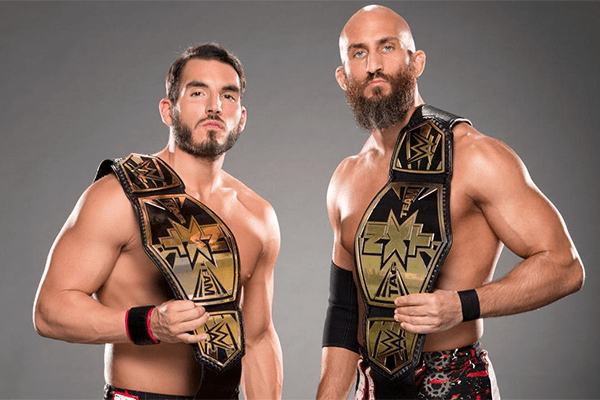 Tomaso Ciampa (Right) former teammate of Johnny displaying their NXT Tag team champions belt, who later on betrayed him.
Failing to regain the title back, Ciampa turns on against Johnny to end their partnership. Moving on with his career Johnny faced a lot of ups and downs where once his own partner betrayed and attacked him ruining his title chances which eventually forced him to leave the job and later on he defeats his old teammate Ciampa to get his job back again.
Love life
Candice Lerae, also a fellow American wrestler got engaged with Johnny on January 2016 and later on during the month of September of the same year they tied their knots and since then they are happily married. Since Candice Lerae is a passionate Disney fan, they got married in the Disneyland.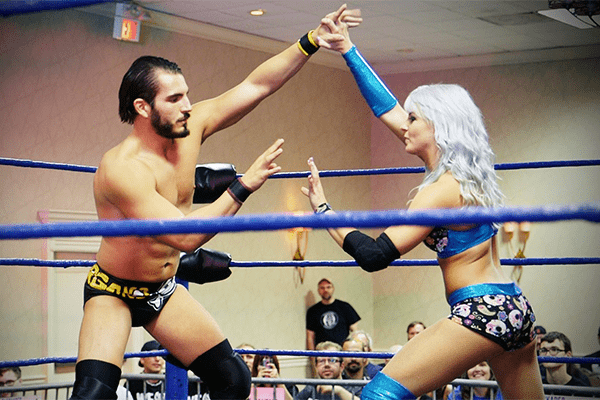 Johnny Gargano and Candice LeRae showcasing their wrestling skills in Absolute Intense Wrestling's 'Battle of the Sexes'.
Net Worth
Since Johnny is a professional wrestler and performs for WWE's NXT. He has a base salary of $100,000 if we add his merchandise sales, PPV bonuses and live event bonuses, he brings in about $500,000 a year.

Superbhub for more celebrity Biographies and News.