American actress Jhonni Blaze is best known for her performances in Frank Chase in the Streets of Harlem, Straight Stuntin Chronicles: Volume 3- The Man in the Mirror (2016). Successful Model, singer actress and of course Twerk Queen Jhonni Blaze net worth is estimated around $100 thousand.
Blaze is also famous for her appearance in the hit VH1 reality series known as Love & Hip Hop: New York.
Blaze's present successful career, however, has a difficult and dark past. From doing whatever she could to help her family financially, to seeing her love being shot right in front of her. Blaze has surprassed a lot.
However, her multiple relationships and arguments with her ex-boyfriends have always been in news too. Let's find out about how stripper Jzapal Jackson became successful model, singer, songwriter and actress Jhonni Blaze and her relationships.
Jhonni Blaze was born on June 10, 1990, in New York City. Her birth name is Jzapal Jackson and was nicknamed as Blaze because of her hot temper by her brother.
Jackson is from a family of German and African American descent. Her parents have total eight children. Jzapal tried to attend Julliard Performing Arts school at age seventeen but sadly was rejected.
At the age of seventeen, she said in an interview with DJ Vlad, she was dancing illegally and she doesn't want to disclose the place. As a college student, Jhonnie was working part time in Applebees and Metro PCS. But she got tired with the lifestyle especially when she knew she had a passion for music.
Then she got introduced to strip game while being in prostitution to make money as she was a bread winner of the family. She was getting around $5000 while being a prostitute.
As all she thought was to make money to protect her family. She became a stripper when someone told her she can make thousand of dollars without having to sell her body.
Jhonni was in a relationship with Brian Washington for several years.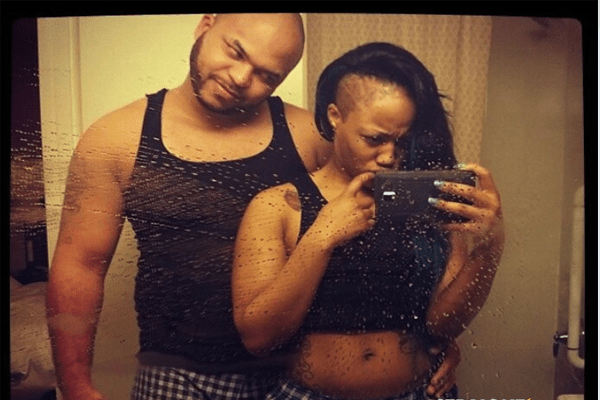 Jhonni Blaze with late boyfriend Brain Washington. Image source: Straight From The A
He was Jhonni's first boyfriend and were supposed to marry one another but unfortunately, Brain was shot and killed on 25th December 2013. Jhonni said that the worst thing that happened to her was loosing him.
The death of her boyfriend took away and ended their beautiful love story. Jhonni said that her boyfriend, Brian had accepted her with all her flaws and background. She added that with her boyfriend's death, she lost a big part of herself.
How did Jhonni's boyfriend die?
Jhonni explained, it was the day of Christmas. While driving, he accidentally almost hit someone. Then he had some arguments and exchanged words with somebody. And he got shot. Jhonni was in the car at the time. It was a worst nightmare for her. The incident affected her very badly as he was the man she loved so much.
Blaze was arrested.  Here is the picture where Jhonni posed for the mug shot after she was arrested and locked up in Atlanta.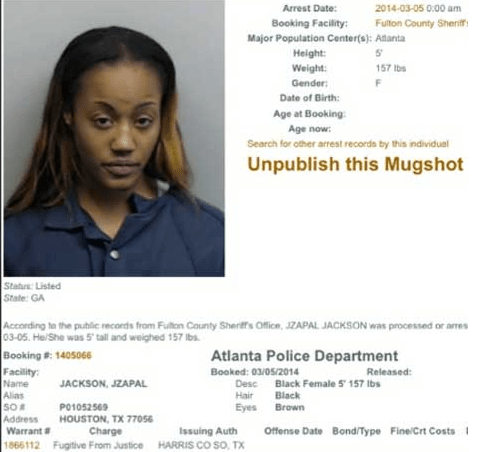 Jhonni Blaze mugshot after being arrested in Atlanta for missing court for assault charge. 
Image source: Hollywood Street King
Later, she spoke out and revealed that the reports are inaccurate and that is not the case. Blaze told her arrest had nothing to do with her late boyfriend's murder case, while she was arrested.
She was locked up for twenty six days. It was obvious that she would be called for investigation and be suspected as a murderer. But the real reason for her being arrested was she fought a girl who threatened her when she was also pregnant with her late boyfriend's baby.
While defending herself, the girl with whom Jhonni fought lost her tooth in the fight. Jhonni got in assault charge for that.
Watch out the video where she explains all from her early life to loosing her boyfriend.

Jhonni then changed her number so that court couldn't get in touch with her.  She had already missed four court dates. She fled to Atlanta to avoid being questioned by homicide detectives.
But when she went to police station to get her card, she got arrested as when they entered her name, they found that she had warrant for missing court for assault.
Later, she started dating Rich Dollars in 2014 but ended the relationship in the same year.
Moreover, Jhonni has dated an American singer and songwriter, Robert Bobby Wilson in May 2015. The relation was so weak that they split within two weeks.
On August 24, 2016, Jhonni came up with the news about how her ex- boyfriend Mister Star Quality assaulted her and knocked her making her loose her teeth.
Rapper Bryshere Yazz Gray was her Jhonni's boyfriend in 2017 but the relationship didn't last long.
Blaze also had sexual relationship with ex-boyfriend, Canadian rapper Aubrey Graham A.K.A Drake whom she reported to have threatened her.
Jhonnie Blaze started her professional career as a model.
Later, after her success in modeling, Blaze started to appear on the cover of several magazines including King, Hip Hop Weekly and TMZ. She earned enormous fame and respect from her modeling career.
View this post on Instagram
Johnni Blaze net worth also includes her earnings from being featured in number of music videos. She has appeared in French Montana's, Chris Brown, Jim Jones, Jadakiss, Young Berg and other's music videos.
She has a business partner named Rich Dollars, who starred in Love & Hip Hop New York too.
Besides, she is also a singer, who released her songs like Ride or Die, Revolver and her single called Problems had 62 thousand likes on YouTube as of March 2018.
Furthermore, she is an actor and known for being featured in films like Frank Chase in the Streets of Harlem, Straight Stuntin Chronicles: Vol.3- The Man in the Mirror.
Also Read: Love & Hip Hop star Nikki Mudarris Profile
You might also be interested in Safaree Samuel net worth
According to Celebrity Net Worth, Jhonni Blaze net worth is estimated to be at $100 thousand. She earns a massive amount from her professional career as the cast of the VH1 reality series Love & Hip Hop New York.
According to Black Enterprises, Love & Hip Hop pays $50,000 to the celebrities who appeared in the show. So, Blaze might have received similar or more amount for her appearance and performance in the show.
Twerk Queen is also a singer and earns a considerable amount from her song and stage shows, which is added to Jhonni Blaze net worth.
View this post on Instagram

Her earnings also come from her acting in movies. Her series Straight Stuntin Chronicles: Volume 3- The Man in the Mirror (2016) was made in the budget $20,000 according to IMDb.
Keep in touch with SuperbHub, for more updates regarding Celebrities Biography and Entertainment.