Jeff Bezos is a celebrity personality known for his success in business career. He is the founder and CEO of world's largest online shopping retailer company amazon. com. Jeff is also known as a pioneer of e-commerce. He became a sensation when he became the world wealthiest person, on Forbes list of billionaires, leaving Microsoft tycoon Bill Gates behind. Jeff faced lots of complications during his childhood. His father left the family alone when he was just three years old. Bezos grew up along with his mother and step-father. He never failed to show his excellency toward education and technology. When he was just five years old, he used to carry a screwdriver to explore his sleeping bed. Jeff is an American retail entrepreneur, inventor, electrical engineer, computer scientist, and philanthropist. Jeff Bezos biography is emotional as well as exciting.
Jeff Bezos was born on January 12, 1964, in New Mexico, the U.S. His original name is Jeffrey Preston Bezos commonly known as Jeff Bezos. This online marketing idol suffered a lot since his childhood. After his father left his family, her mother got married to Miguel Bezos who took his care handsomely. He was sincere and interested towards books and gadgets.
When he grew up, he got the education and completed his bachelors of science degree from Princeton University. After his completion, a software company from Wall Street, New York offered him a good job, which he accepted. Once, while surfing the internet, he found that the use of the web is increasing by 2300% every year.
In a blink of an eye, he thought that, "why shouldn't I start my own business?" He decided to do online business and left his well- earning job at D.E Shaw & Co. It was a difficult situation at that time because he was recently married. In 1994, he founded the online retailing company amazon.com (previously known as Cadabra).
Why did Jeff Bezos name his company "Amazon"?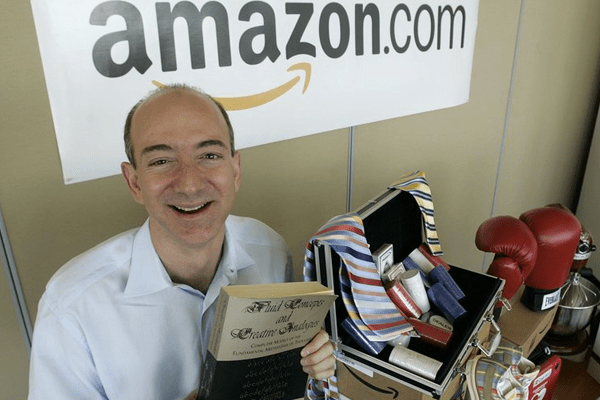 Picture credit: The Seattle Times
Amazon is currently a monster of online retailing. Initially, the company founded in 1994  as Cadabra, Inc.
But after three months, the founder, Jeff Bezos, thought that "a" is the first English alphabet and it will appear first while surfing the internet.
He chose the name "Amazon" because it is the world's largest river and he wanted to make his that time bookselling company larger as Amazon river.
What did "amazon.com" sell at the beginning?
The company was formed in 1994 and started its business in 1996. In the beginning, it began with bookselling and later wide variety of products and services.
The company expanded rapidly selling electronic products, software, garments, groceries, etc.  Currently, Amazon.com is world's most largest internet sales company on the world wide web.
Jeff is the son of Jacklyn Gise Jorgensen and Ted Jorgensen. He was married to Mackenzie S. Bezos Tuttle who is an American Novelist. They together have a daughter adopted from China and three sons.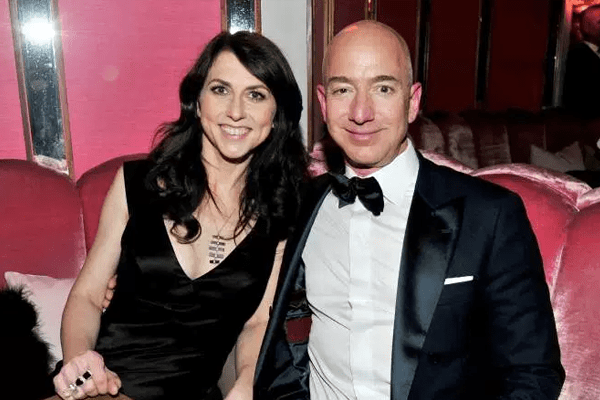 Image Source: heavy. com
His mother was just seventeen and in High School at the time of his birth.
Father, Ted, left his family when he was just three.
The mother then got married to a Cuban, Miguel Bezos. Later his surname became Bezos.
He often displayed technological ability and scientific interest. Once, he equipped an electric alarm to keep his younger sibling away from his room.
He attended Miami Palmetto High School after his family shifted to Miami, Florida.
Jeff attended the Student Science Training program at the University of Florida receiving a Silver Knight Award.
Bezos got his graduation from Princeton University with Bachelor of Science degrees in Electrical engineering and Computer Science.
Is Jeff Bezos still a World's Richest Person?
Earlier on July 27, 2017, Bezos suppressed Bill Gates on the Forbes list of billionaires. He became the world's richest person with an approximate net worth of $90 billion.
But his recognition as the wealthiest person didn't last long as it for a single night only.
Then on October 27, 2017, he retained the position of world richest person in the world with net worth of over $100 billion.
Throughout Jeff Bezos biography, we have known that Jeff doesn't show any hesitation in donating his earnings. Both Jeff and his wife are active in social work and charity.
In 2011, the couple donated $15 million to create the Bezos Center for Neural Circuit Dynamics at Princeton University.
Bezos founded an aerospace company named 'Blue Origin. LLC' to provide low-cost access to private space travel.
He also invented in a life extension research firm, Unity Biotechnology, hoping to slow the process of aging.
Then, donation of $2.5 million to support a same-sex marriage referendum in July 2012.
In 2018, They announced their donation of $33 million to TheDream.US that funds for undocumented immigrants brought to the United States.
Fred Hutchinson Cancer Research Center was overwhelmed by the foundation by receiving $10 million in 2009 and $20 million in 2010 from the organization.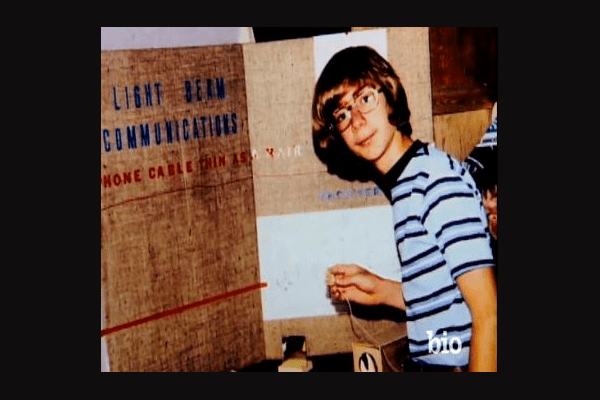 Picture credit: Hongkiat
Jeff bezos biography includes:
When Jeff was four years Old, first mainframe computer arrived at his school. Teachers were unaware of its use but then Jeff studied the manual and used the mainframe.
Jeff Bezos started his office from his Home's garage.
He invested $0.3 million as starting investment.
In his first month, he sold books in 50 states of America and 45 countries.
He packed books in cartoon and himself went on deliveries.
He developed a kidney stone in 2014, and an Ecuadorian Navy helicopter evacuate him from the Galapagos Islands
He played a cameo role as an alien in the movie "Star Trek Beyond."
Bezos is active in politics as well. He met the president at Trump Tower to discuss issues on education, trade, and immigration.
He was announced, 2012 Businessperson of the year, by Fortunate Magazine.
Jeff Bezos biography indicates that he is lively in Social media as well. He has 415k followers on Twitter and 139k on Instagram.
What inspiration can we infer from Jeff Bezos Biography?
Jeff Bezos Biography shows that success is recessive until you try to grab it. You can turn impossible to possible if you have that enthusiasm and passion toward the field.
Just wish to do it and find appropriate resources as Jeff Bezos quotes "People who aren't resourceful, Life is too scant to hang out with them."